Slimfy Review – Miracle Weight Loss Supplement?
Rob Miller | April 30, 2017
---
Product Reviewed:
Slimfy
|
OUT OF 5 | Review by:
Rob Miller
Last Fact Checked On:
---
REVIEWS
QUESTIONS
COMMENTS
---
Home » Fat Burners » Slimfy Review – Miracle Weight Loss Supplement?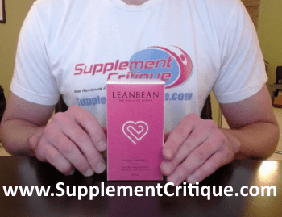 LeanBean Female Fat Burner is the BEST fat burner for women we\'ve ever tested. Read our review here.
We've all been preached to by doctors and dieticians for decades that the key to successful weight loss is a lifestyle change including a healthy diet and rigorous exercise.  This is true for the most part, but supplementing your nutrition and exercise regiment with the "right" supplement can help you overcome any hurdles you may be coming across.
Slimfy is a "revolutionary" new supplement which apparently takes a completely unique approach to losing weight.  Instead of just promising to "burn fat" by taking a pill, they use a 3 stage approach to weight loss.  This supplement is being heavily advertised at the moment, and one of my readers asked me to take a look into it.
Here's what I found out…
What Is Slimfy?
Slimfy is a doctor recommended, high quality, custom weight loss solution aimed at helping men AND women achieve greater weight loss through a unique approach.

I just watched through their video explaining how it works, and here's a quick bullet point list of what they're trying to convey about what makes their program different:
Most diet supplements are crap
Our bodies produce cravings because of our hectic lifestyles
Our bodies build a tolerance to everything, including supplements.
That last point is key…Slimfy points out is that with any supplement (or anything for that matter), over time you tend to build a tolerance.
When you build a tolerance to a supplement, you start to see dwindling effects from it, and as a result need to either take more of it or completely abstain from it to "reset" your tolerance.
What Slimfy promises is to help "eliminate" this tolerance, and it does this by challenging your bodies metabolism.  Their system is broken down into 3 stages:
Stage 1 (Month 1) – Detox and Weight Loss
The first stage to the Slimfy program involves a detox, which apparently helps to release unwanted toxins from your body.  The ingredients in this supplement include organic ginger, milk thistle, hydrangea, saffron, and it's primary ingredient appears to be green coffee bean extract.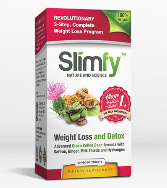 There's been alot of talk about the supposed benefits of Green Coffee Bean Extract, and to be honest, I've never used the substance.  Anecdotally, users of the substance report a wide range of effects, with some saying it works great and others say it's complete bunk.
Scientifically, green coffee bean has been shown in a few clinical studies to help substantially with weight loss.  However, many of those studies are VERY controversial.
For instance, one of the studies published on the National Institute of Health website reported significant reductions in body weight and mass, as well as body fat percentage with NO significant changes to diet.
HOWEVER, this same study was actually retracted because the sponsors of the study (Joe Vinson and Bryan Burnham) could not assure the validity of the data.
The serving size of the Slimfy stage 1 formula consists of 2 tablets, which are to be taken twice daily 30 min. prior to meals.  The stage lasts for a period of one month and is said to "prime" your body for the next stage…
Stage 2 (Month 2) – Enhance Weight Loss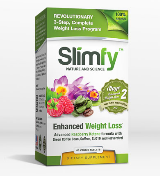 Stage 2 is all about revving up your weight loss.  The ingredients in the stage 2 system consist of a formula that is supposed to combine "2 of the most effective natural weight loss ingredients available"…those ingredients are Rasberry Ketones and, again, green coffee bean.
It also uses a few other notable ingredients, including CoQ10, Reseveratrol, Saffron, and Maqui Berry.  Back to the primary ingredient Rasberry Ketones…
This is another quite controversial extract, and ever since Dr. Oz mentioned Rasberry Ketones in one of his episodes, it took off.  There's literally hundreds of supplements on the market that contain the extract, and they all rave about how great of a fat burner it is.
Many of them cite that it's been clinically studied and proven to work.  One study conducted in mice involved feeding them a high fat diet for 6 weeks without rasberry ketones, and then continuing to feed them a high fat diet for an additional 5 weeks WITH Rasberry Ketone.
The results concluded that the Rasberry Ketones prevented the high-fat-diet-induced elevations in body weight, as well as visceral fat levels.
HOWEVER, the mice in that clinical study were fed 4,761 times the estimated human intake.  So does it work??  Maybe, but it appears to me you'd have to be inhaling a TRUCKLOAD of Rasberry Ketones to get the same benefit.
Stage 3 (Month 3) – Maintenance Stage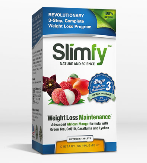 Stage 3 basically involves a "maintenance" stage, and is used to trick your body into not developing a tolerance.The formula is comprised of ingredients such as african mango extract, green tea extract, caralluma febriata, CoQ10, and Lychee extract.
The idea behind this stage is based partly on science.  Studies have shown that most people who have lost weight after a couple of months of dieting tend to regain the weight they've lost, and in some cases gain MORE weight then they've lost in the first place.
Stage 3 essentially is supposed to prevent this "Yo-Yo effect", or put simply, prevent you from regaining the weight you've already lost.
What Are People Saying About Slimfy?
The reviews and testimonials I've been reading regarding Slimfy are mixed, which is no surprise when it comes to weight loss supplements.  On Amazon there are dozens of reviews raving about how effective the product is / was, with may of them posting their before and after pictures.
However, there are a few negative reviews out there, with statements like "don't waste your money on this, it doesn't work", and "no discernible difference" popping up infrequently.
There's a few video reviews on Youtube that seem to be fairly credible, including this one by fitness trainer, speaker, and author, Julieanne O'Connor.  Check it out below:
It's unclear whether or not Julieanne was paid for this endorsement, but one thing is clear…she is VERY happy with her results.  Skeptical at first, she decided to give it a shot after reading over the ingredients and verifying that it was a vegan product.
She says she's lost a tremendous amount of weight in a very short period of time, but stops short of detailing exactly HOW MUCH weight she has lost.  She also noted a dramatic increase in energy, and expressed that she has no concerns about the long term side effects of any of the ingredients in Slimfy.
Where To Buy / Suspicious Billing Procedures
You can order the Slimfy system on their official website, www.slimfy.com.  They offer a few different order choices, including a Buy 2 Get 1 Free, which is essentially a 3 month supply of each one of their Stages.  The price for this totals at $155.20, or basically $51.73 for each product.
Because it's divided up into stages, this order will last you 3 months.
There's one thing I wanted to note that you should watch out for here, and that's their Introductory Kit.  Although it appears they are no longer promoting it, basically what it involved was you could try out a 1 month supply of stage 2 for $87.30 and receive a free 1 month supply of stage 1.
This $87.30 would not be billed until 30 days past the date you ordered it, but because their offer terms and conditions are so confusing, left a very bad taste in alot of peoples mouths.
Most people assumed they were getting a free sample of the product, when indeed they ended up being charged for it.  Again, it appears that they have discontinued this for now, but if you're thinking about jumping on their introductory offer then just be aware of what exactly that entails.
In addition, their refund / return policy is not very favorable.  For example, if you are a new customer and you want to return the product, you have to send back the original factory-sealed, unopened bottles back to them within 90 days of ordering.  YOU are responsible for the shipping and handling fees AND they charge you a "25% restocking" fee on top of it.
I can see why people "might" be a little pissed off about that 🙂  As a result, you can see here that the BBB has issued a rating of F for Slimfy, even though they are not an accredited BBB member.
As of this review, it doesn't appear that you can buy Slimfy in any stores, including GNC, Vitamin Shoppe, Walmart, or corner stores like Walgreens or CVS.  If you're looking for the best weight loss supplements in Walmart, check out this article.
Recommendation
I'm a bit torn on Slimfy…on the one hand, there's a decent amount of positive customer reviews stating the product worked well for them.  And what's nice to see is that these reviews appear to be CREDIBLE, which is often not the case with Amazon reviews.
I guess my main concern is what happens AFTER the 3rd month…do you gain the weight back?  Do you have to keep taking Slimfy for the rest of your life to keep the weight off?  Can I REALLY eat whatever I want when taking this, or do I still need to diet and exercise.
One thing is for sure, Slimy is "right on the money" when it comes to tolerance.  Tolerance with ANY supplement will definitely keep you from keeping any loses you might have experienced, so I always preach that it's best to cycle off supplements to continue getting the best results.
If you've been struggling with endless amounts of diet / weight loss supplements and not losing any weight, Slimfy just might be the answer you're looking for.
Have You Used Slimfy?  Leave Your Review Below!
Our Top Choice For Fat Burners – Instant Knockout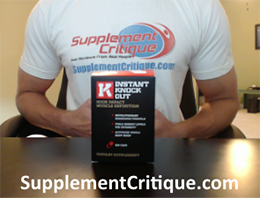 Instant Knockout is a revolutionary formula that's designed to not only boost energy levels, but also help to burn body fat.This supplement can easily help to not only rid your body of that excess fat, but also boost your metabolism.
We tested a one month supply to determine it's effectiveness, and the results shocked us.
Click here to learn more in our official review.

How People Found This Review:
and slimfy, and slimfy review
User Reviews
Dv's Review
I tried the 3 stages of slimfy products. It was hell from day 1 to the end.
I ordered the product and it took almost 2 months for the parcel to arrive, after the first month waiting I wrote to ask my money back and to unsubscribe from the list so I wouldn't get more charges done to my credit card, but still the charges kept coming.
Finally stage 1 arrived and I decided to give it a shot, it worked wonderfully but the magic ended at mid-stage 2 and I regain weight (and even more) during stage 3. Of course I dropped stage 3 and do not recommed this at all

Was this review helpful to you?
15 out of 16 people found this review helpful.
---
Recommend

I would really like to thank the Slimfy team who have put so much kindness into creating these wonderful products. I lost 66lbs, and I have managed to maintain my weight at around 160lbs. Losing this weight and adopting a healthy diet has meant that a long-term sciatica problem is almost gone.

Slimfy really works, so have faith in it!


Was this review helpful to you?

---
Good Health

My friend (who works as a fitness trainer) recommended Slimfy to me. After four months of taking the capsules, I shed 4 kg.

After taking a short break, I will start the next course of pills. The reaction from my body was most encouraging.

Previously, until the end of the workday, I was hardly able to make it to the end each day – I was always fatigued and suffered from headaches. Now I am cheerful, optimistic, and happy during the day!


Was this review helpful to you?

---
Ask A Question
User Questions and Answers
---

What happens after stage 3... will i put the weight back on??? -Nadine

If your continue with your healthy diet and workout plan, you should maintain your weight loss.- Rob
Was this question helpful to you?
3

out of 3 people found this question helpful.
ASK A NEW QUESTION
---

I am 15 and weigh 70 kg. Can I use Slimfy? -AYAN

Most weight loss supplements are not recommended for children under 18.- Rob
Was this question helpful to you?
4

out of 5 people found this question helpful.
ASK A NEW QUESTION
---

Can breastfeeding mothers take slomfy. And someone with blood pressure -Aisha

I wouldn't recommend it, but you should check with your doctor to be sure.- Rob
Was this question helpful to you?
3

out of 3 people found this question helpful.
ASK A NEW QUESTION
---

I am trying to get pregnant . But I need to slim down. Is it safe for me to take the product? -Esther

Most, if not all, supplements recommend against using while pregnant, so I wouldn't risk it if I were you.- Rob
Was this question helpful to you?
2

out of 2 people found this question helpful.
ASK A NEW QUESTION
---

Do I have to take a strict diet with this product as I have already received my shipment but did not get any diet plan. -Christine Jno Baptiste Matthew

You would still need to eat a good diet with a calorie deficit if you want to lose weight.  Check out our calorie calculator to see how much you should be eating.- Rob
Was this question helpful to you?
1

out of 1 people found this question helpful.
ASK A NEW QUESTION
---