Did Tim Allen REALLY Use An ED Pill? Our Investigation Uncovers The Truth
By:
Rob Miller
---
You might have heard the rumors about Tim Allen getting fired from ABC because of controversial comments he made during an interview with Megan Kelly about his struggles with erectile dysfunction.
Apparently, it was an issue Allen had dealt with for years until he eventually found a magical cure.

He supposedly spoke freely about it during their conversation.

Kelly was said to be bothered by the topic, and it was even claimed that she had some harsh words for Allen.
That rumor was spread around by an article titled "Was Tim Allen Fired After Shocking On-Air Confession To Megyn Kelly About Erectile Dysfunction Pills?"
According to the article, Allen's time at ABC came to an abrupt end because of the infamous interview.

Allen's angry outburst after hearing the news his show had been canceled played in the article's favor.
"Stunned and blindsided, to say the least!

This is the network I thought of as my home for over 5 years," Allen tweeted after hearing the news.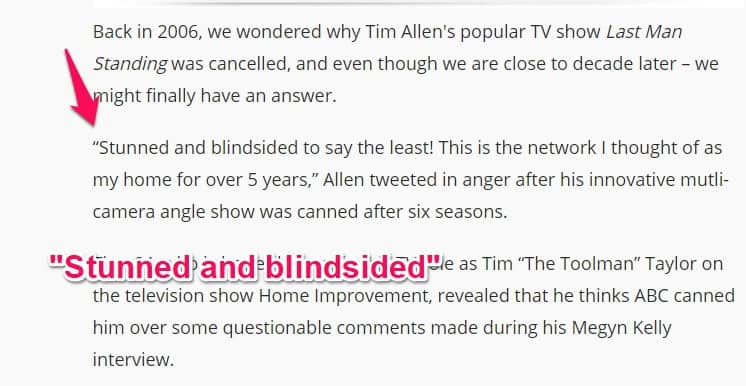 When I actually took the time to watch the interview, it turned out Allen never said anything about erectile dysfunction during his interview with Kelly.

The TV star never even took the conversation towards that direction.
You can watch the full interview here:
[youtube https://www.youtube.com/watch?v=-0vtVpbm_eo]
By the time I found out the story was made up. Thousands had already been duped.

The reluctance of ABC's executives to disclosed a clear reason for firing Allen didn't help.
When prodded for the reason why Allen's show was canceled, ABC executives were not able to come up with a straight answer.

The show had extremely high ratings, so there was clearly a large audience that enjoyed the content.
The rumor continued spreading like wildfire.
ABC president Channing Dungey was tight-lipped when asked about the cancellation, stating it was one of the toughest decisions she has had to make.

She never mentioned Allen's controversial interview with Kelly.
So, what was the real reason Allen's show was canceled?
Allen himself is not sure about the answer to that question.
"I have no idea why they did what they did.

You couldn't have handled this worse… Second biggest show, (ABC) hadn't won a Friday night in 15 years," Allen explained. "They put us out to pasture on Friday and we won Friday. Big night for us. Big night for them. I would have put Roseanne after us.

Use us just to launch shows, if nothing else."
According to Allen, it might have been his right-leaning political views and that of the character he played that really did him in.
"Archie Bunker pushed boundaries, but Carroll O'Connor was not that guy at all.

I am a version of that guy," Allen explained. "But there is nothing more dangerous, especially in this climate, than a funny, likable conservative character.

He is mitigated on the show by a family of women who had a difference of opinions, but Mike Baxter was a likable guy and a principled guy about work and ethics and all this stuff, I think."
While Allen's politics might have had something to do with the cancellation, ABC's claim that it was simply a business move does have some merit.

Generally speaking, as shows become more popular, the cost of production goes up as well.
That is because the show's cast and key staff members gain popularity with the show.

That gives them the leverage to make more demands like bigger paychecks.

Many other popular shows have also been canceled due to increasing production costs.
After five seasons, if a show isn't a hit (like Game of Thrones for example), subsequent seasons become harder to produce despite the show's popularity.
That is because when a new show is created, the producers typically do not generate enough money to cover all their expenses until the third or fourth season.

Last Man Standing was able to secure lucrative cable deals and syndication with various networks, and their viewership was steadily increasing.
There was one big issue though.

ABC does not have ownership of the show, so they do not get any of the additional revenue generated from international broadcasts, reruns, and streaming services.

All that revenue went to the producers of the show, Fox, while ABC basically only made money from advertisements
That means despite the show's success, the money being generated was not enough for ABC to justify renewing their contract with the producers who wanted more money.

Business wise, the decision makes lots of sense.
So there you have it.

Tim Allen was not fired because he talked about erectile dysfunction during his interview with Megan Kelly.
The Culprit Behind the Rumor: Biogenic XR
Ironically, Biogenic XR was not created with erectile dysfunction in mind.

It is actually a performance enhancer that was designed for people looking to gain muscle mass.

Its manufacturers claim it's made from all-natural ingredients, and it helps you build muscle by increasing your testosterone and nitric oxide levels.
Having a stronger sex drive and being able to keep erections longer are simply side effects of having increased nitric oxide and testosterone levels.
As you get older, your body creates less testosterone which is why it becomes harder for you to get and keep erections.

Your testosterone levels are at their peak during your teenage years.
Biogenic XR claims their product will help keep your testosterone levels where it should be which makes it a lot easier to put on muscle and perform sexually.

The nitric oxide boost you get from this pill also helps you down there.
Nitric oxide dilates your veins, leading to improved blood flow and delivery of nutrients to your muscles and penis. Remember what your high-school biology teacher told you?

An erection is simply blood rushing to your penis when you are aroused.
Biogenic XR is also supposed to:
Boost your confidence
Increase the size of your penis
Improve the quality of your sex life
The science behind Biogenic XR makes a lot of sense.

A product that contains the right doses of testosterone booster and nitric oxide would be very beneficial to people with erectile dysfunction.
The problem is, Biogenic XR doesn't do anything its manufacturers claim it does.

It's actually one of those scams pills that give legitimate erectile dysfunction pills a bad name.
Steer fully clear of it if you don't want to waste your money on something that not only will have zero effect on your erectile dysfunction, but also uses quite shady techniques to try and swindle customers out of their money.
Using scams like that involving celebrity endorsements that never actually happened are all too common these days spread across the internet so commonly that you can stumble across them without even trying, but either way they are just plain dumb.
You can read our full review of that one here.
Ask A Question
User Questions and Answers
No Questions Have Been Answered For This Article.