Fertility Factor 5 Review
By:
Rob Miller
Fact Checked On: 2-25-2021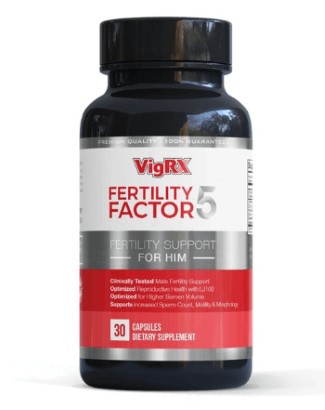 ---
It is estimated that around 40% of fertility issues are to do with the male counterpart of a relationship.
However, many doctors and researchers don't focus as much as they should on male fertility.
Fortunately, supplements like Fertility Factor 5 promise to help men with fertility issues.
As a man, one of the questions you should start by asking is how long you have tried to get your partner pregnant?
Do all the tests show that there is a problem with you? However, the best that most doctors can recommend is zinc supplementation.
That said there is a lot you can do short of taking prescription drugs to improve your fertility issues which zinc supplementation indeed being an excellent start.
It is essential to start by understanding that multiple factors can wreak havoc with your reproductive system.
In fact, a look at the figures shows that around 15% of couples are infertile or find it near impossible to conceive a baby.
However, unlike female infertility, male infertility can cause havoc with a relationship essentially by killing his self-confidence.
Fertility Factor 5 promises to rid your body of male infertility.
However, the question is: how effective is it?
That's what we'll be examining in this detailed review of the supplement.
Special Note: Click Here to visit the official Fertility Factor 5 website.
What is Fertility Factor 5?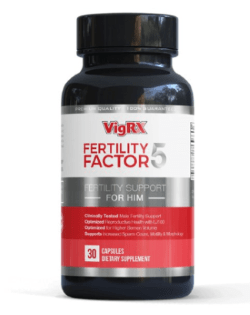 Fertility Factor 5 is a natural, herbal male fertility supplement that's designed by Leading Edge Health, which is one of the top names in the supplement industry.
The supplement, as the name suggests, is designed to help men who are suffering from infertility.
It can help boost their chances of conceiving with their partner.
The way Fertility Factor 5 works is to help improve the quantity and volume of semen produced while minimizing any adverse effects.
Each bottle contains 30 pills, using a formulation consisting of minerals, vitamins and herbs amongst other things which are shown to improve semen quantity and quality.
When used consistently, the supplement has shown to improve all aspects of semen production.
In fact, there are numerous testimonies from men who have been able to successfully conceive with their partners after just a few months of using Fertility Factor 5.
Not only that but many men talk about it improving their relationship.
The recommended dose is one capsule a day which needs to be taken at least consistently for 30 days to see a significant improvement in libido, testosterone levels, energy levels and sexual performance.
All of these benefits are in addition to being able to conceive spontaneously.
Related Article – Maca and Male Fertility: Does It Really Work?
What Makes Fertility Factor 5 Stand Out?
The one thing that stands out most about Fertility Factor 5 apart from the fact that it works is how it works.
Unlike some other supplements, the positive effects aren't short-lived, and there is no reason to stop taking it because you've conceived.
For starters, since it is made from all-natural ingredients, there are no strong adverse effects even if you take more than the recommended dose.
However, the way the supplement works is by accumulating in the body which takes time.
Once there is enough concentration absorbed by the body, it helps to increase sperm quantity, quality, motility and libido, amongst other benefits.
The other thing that stands out is the fact that it renders optimum results within 30 days.
It is something that's claimed on Leading Edge Health's official website, but many men have said that they experienced benefits within the first month.
However, many older men have said that for them, it took up to three months of use to conceive with their partners.
Again, every man is different, and so the product may work differently for everyone.
Still, the outcome appears to be the same, i.e. the ability to conceive, which was previously not possible.
Fertility Factor 5 Formulation
To gain a better understanding of how Fertility Factor 5 works, it is crucial to examine its formulation closely.
We'll go over some of the most prominent ingredients in the formulation and talk about their benefits briefly.
Tongkat Ali LJ100
It is a herb that's native to Asia, but has over the centuries been used for fertility and to boost testosterone.
Now there are two variations of the herb, the other is Tongkat Ali from Malaysia, which according to studies by MIT has been linked to better sex drive and healthier sperm.
The inclusion of this herb is reason alone to buy Fertility Factor 5, but there is more! (we've discussed researchers' findings regarding the benefits of Tongkat Ali LJ100 in the next section).
Panax Ginseng
Numerous male fertility formulas tend to use Panax Ginseng and the reason being that it is excellent for natural male virility.
Many studies have linked the herb to a higher libido and improved sexual health.
Zinc
Doctors tell 99% of infertile men that they should take zinc supplements. Zinc helps to improve sperm quality.
Numerous studies of infertile men show that they often are deficient in zinc, with men who have zinc-rich diets being the most fertile.
Think of zinc being a significant part of the male reproductive system and an even bigger part of conceiving a baby.
Selenium
It is another nutrient that plays an essential role in sperm quality.
Similar to zinc, many infertile men have been found to have low levels of Selenium, with studies suggesting that supplementing with Selenium helps improve sperm development, consequently rectifying male infertility.
Bioperine
Now you can consider this ingredient to be what makes all the above ingredients so effective.
However, you'll be surprised to learn that Bioperine comes from regular black pepper; it is also known as black pepper extract.
However, it rounds off what's already an excellent male infertility formulation.
Clinical Studies Supporting Fertility Factor 5
Fertility Factor 5 has not been clinically studied as a supplement.
However, each ingredient included in the formulation has been studied over the years.
The studies have shown that these ingredients play a vital role in male fertility.
We'll briefly go over a couple of studies below.
Tongkat Ali
A clinical study of Tongkat Ali LJ100 published in the Asian Journal of Andrology showed that 75 men randomly chosen to participate in a trial suffered from numerous infertility issues ranging from low sperm count to poor sperm shape. (Study)
All men shared one thing in common; their urologist told them that conceiving wasn't possible.
Each test subject's semen was analyzed before the study after which they were given 200mg of Tongkat Ali LJ100 each day for nine months.
Incidentally, it is the same quantity of Tongkat Ali LJ100 that's used in Fertility Factor 5.
After nine months, all men showed a 100% improvement.
65% of improvement in sperm concentration, 95% increase in sperm morphology, and 60% would also qualify for intrauterine conception.
15% of those who participated were able to successfully impregnate their partners during the time the study was being conducted.
Panax Ginseng Study
A review of 80 studies of Panax Ginseng was published by The System of Biology in Reproductive Medicine. (Study)
The gist of the review was that the herb showed some very promising results when it came to boosting sexual performance, increasing libido, producing harder erections, increasing sperm count and stimulating the movement of sperm.
Clinical Study of Zinc
San Francisco State University's top male fertility expert Diana Chu published in an article in the Journal of Biology in 2018 detailing numerous clinical studies showing the positive effects that zinc supplementation had on improving male fertility. (Study)
The research showed that zinc helped improve sperm motility considerably.
It also signals the sperm in a way that makes it more motile, increasing its potential to reach and fertilize the eggs.
Selenium Clinical
A peer-reviewed journal published a study in 2018 showing the benefits of supplementation on various semen parameters of infertile men. (Study)
12 men were chosen for the study, and each put through a complete semen analysis both prior and after the study.
Each man received 50mcg of Selenium for three months.
After three months participants had increased sperm count, improved sperm viability, improved morphology, more semen volume and better motility.
Six Months Results with Fertility Factor 5
Many men want to know what type of effects they can expect to experience within the first six months of taking Fertility Factor 5.
The interesting thing about Fertility Factor 5 as compared to other supplements is that 99% of men will start seeing results within the first month.
The results are significant, especially since supplements don't usually work so fast.
We spoke to several men, and each one attested to the fact that they saw results within the first month.
However, every man is different, and there are no guarantees if everyone will see the same results.
The First Month
The vast majority of men will see more semen volume, experience higher libido along with a couple of other benefits in the first month.
Many men we spoke to said that the supplement made a difference in the first two weeks.
A handful of men said that they were able to get their partners pregnant after just taking the supplement for the first month.
The Second Month and Onwards
The benefits from the first month are further compounded through the second month onwards.
Semen volume increases further, sperm motility increases, and so does the viability of sperm.
All of this leads to an exponentially higher probability of getting your partner pregnant.
Most of all, the increased libido the supplement triggers ensures that men have more sex which too plays a role in pregnancy.
Visit the official Fertility Factor 5 website here: www.FertilityFactor5.com
Be Cautious When Searching for Fertility Factor 5
We strongly advise that people in the market for Fertility Factor 5 be cautious of what is being sold.
When we searched online for the supplement, our team discovered several websites selling counterfeit supplements.
Other websites were copying the marketing and branding from Fertility Factor 5 to ride the wave of popularity to sell what could be low-quality supplements.
We spoke to the spokesperson for Leading Edge Health, the company behind Fertility Factor 5 and asked them about all the knockoffs being sold.
In the words of the company, Fertility Factor 5 isn't sold anywhere else other than at the official website.
The official website is where everyone should buy their stock of the supplement.
Not only is the supplement priced correctly on the official website, but the Fertility Factor 5 like all others by Leading Edge Health comes backed by a 67-day guarantee.
Websites selling counterfeits or similar sounding supplements don't offer any guarantees.
Plus the company provides excellent customer support that can be reached at any time for queries.
One of the telltale signs of a company selling a low-quality version of Fertility Factor 5 is that they will be priced significantly lower.
Some websites claim it is a special discount; others may claim it is a better alternative; either way, they should be avoided.
Do I Recommend Fertility Factor 5?
Yes! From my personal experience Fertility Factor 5 works which are why I highly recommend it.
However, personal experience can only take me so far, and it is often biased because I've benefitted from it.
That's why I spoke to several men who have and continue to use Fertility Factor 5.
All men I spoke to agree that the supplement works and is the best alternative to taking prescription medication that comes with a host of adverse effects.
Any man who finds themselves in a situation where they are the reason why starting a family is impossible should try Fertility Factor 5 in our opinion.
Not only is the supplement cost-effective and fast-acting, but Leading Edge Health backs it with a guarantee.
In other words, if you don't see any benefits from taking it within 3 months, it can be sent back for a full refund.
There is a reason why the company is offering such a bold guarantee and hasn't gone bankrupt like they would have if the supplement didn't work.
It is for this reason why we can only recommend it to anyone as the best alternative to any medical or drug-induced procedure.
Ask A Question
User Questions and Answers
No Questions Have Been Answered For This Article.