M.P.S. Muscle Builder Review – Does It Work?
By:
Rob Miller
Fact Checked On: 4-5-2018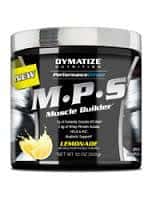 ---
M.P.S. Muscle Builder Overview
Whether you're cutting or bulking, it's bound to happen. You'll see results fairly consistently for a while, then all of a sudden it stops.

Well on the bulking side of things, Dymatize thinks it has the solution in M.P.S. Muscle Builder.

The M.P.S. Stands for Muscle Protein Synthesis, and that's the basic idea.

This bodybuilding supplement supports your efforts so you can see real results of all your hard work.

With M.P.S. Muscle Builder as your post workout, you'll:
Support muscle build up.
Prevent muscle breakdown.
Improve muscle recovery time.
So let's break it downs and see if this stuff really does what it says it does.
M.P.S. Muscle Builder Ingredients and How They Work
The M.P.S. Matrix is the formula's foundation.

It contain:
Chain-Sol, a proprietary bleind of Branched Chain Amino Acids (BCAAs) to improve muscle recovery and repair.
Additional BCAAs L-Leucine, L-Isoleucine, and L-Valine, the real keys to trigger muscle protein synthesis and prevent breakdown.
Whey Protein Isolate to provide the building blocks needed to make muscles grow and support proper insulin levels.
L-Alpha-Hydroxyisocaproic Acid Calcium and L-Alpha-Ketoisoaproic Acid Calcium.

These are metabolites of L-Leucine and they help minimize muscle soreness and support lean muscle mass while increasing the speed of recovery.
The recommended dose is one scoop mixed in 10 ounces of water and taken post workout and/or as needed.
M.P.S. Muscle Builder Pros and Cons
Advantages of M.P.S. Muscle Builder
It comes in Fruit Punch, Orange, and Lemon Lime flavors as well as unflavored in case you prefer to add it to your protein shake.
The ingredients and explanations of how they work are provided by Dymatize.
It mixes easily and absorbs quickly.
Disadvantages of M.P.S. Muscle Builder
There are no M.P.S. Muscle Builder reviews from customers to help sort out whether or not it works.
It's not cheap.
Where to Buy
You can buy M.P.S. Muscle Builder online. The 20-serving tub sells for about $30.
Conclusion
The ingredients are solid and Dymatize does a good job at explaining how they help.The biggest thing holding back a full recommendation here is the fact that there are no customer reviews.

That makes it tough to tell whether or not this stuff is working out in the real world.

That said, I would go ahead and try M.P.S. Muscle Builder if you have the chance.
Have You Used M.P.S. Muscle Builder? Leave Your Review Below!
Ask A Question
User Questions and Answers
No Questions Have Been Answered For This Article.