Pro Peptide R22 Review – Does It Work?
By:
Rob Miller
Fact Checked On: 4-28-2020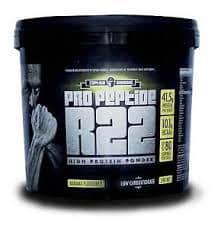 ---
Pro Peptide R22 Overview
For some people, picking a protein powder is just a matter of what's cheapest, or what has the fewest calories if you're trying to lose weight, or what has the most calories if you're trying to gain weight, or what tasted the best.

They figure "protein is protein" so they pick the one that has the one particular aspect they care most about.

But for others, picking the right protein is like a science.

They want just the right combination of just the right proteins and other attributes that their painstaking research has revealed them to need.
Pro Peptide R22 would fall mainly in the category of proteins used by the second group of people.

Made by Captain Anabolic, it's heavily marketed toward bodybuilders and serious gym rats.

With 40 grams of protein per serving and including a healthy dose of BCAAs for post workout recovery, we can see why.

They wanted to take the guesswork out of choosing a protein by providing everything you could need.

But does Pro Peptide R22 deliver all it claims to?
Pro Peptide R22 Ingredients and How They Work
Looking at the nutrient profile is a the first thing you want to do when you're thinking about a protein powders.

Here's what's in Pro Peptide R22 from Captain Anabolic:
Protein: 41.5g
Total Carbs: 3.1g
Sugars: 1g
Total Fat: 1.3g
Saturated Fat: 0.6g
The list of amino acids included is impressive.

There's L-Argnine, L-Leucine, L-Isoleucine, L-Valine, L-Lysine, L-Aspartic Acid, L-Cysteine, L-Glutamic Acid, L-Glutamine, L-Tyrosine, and many many more.

So when it comes to Branched Chain Amino Acids, which you need for optimal post workout recovery, Pro Peptide R22 has you covered.
How Does Pro Peptide R22 Mix and Taste?
As part of being your one "go-to" protein, Pro Peptide R22 claims to have great mixability.

Just use a shaker cup and some water or mild.

They promise it's got low froth and no clumps, and that it tastes great.

The flavor options include Banana, Chocolate, and Vanilla, and it is said to be light on your stomach – ie no bloating.
Pro Peptide R22 Pros and Cons
Advantages of Pro Peptide R22
It packs a whopping 41.5 grams of protein in every serving.
It mixes well even with just water.
It contains 10 grams of BCAAs for recovery.
It's endorsed by quite a few Australian professional bodybuilders.
It's affordable.
Disadvantages of Pro Peptide R22
The only

Pro Peptide R22

reviews I've seen are the professional testimonials.
They don't tell you what kind of protein is used in the formula.
Where to Buy
Pro Peptide R22 is an Australian product.

You can get it at MuscleBeach locations or online. The 80 serving tub sells for about $62.
Buying it online can also rack up a lot in shipping, especially if you are buying it internationally.
Conclusion
Pro Peptide R22 is a good option for a high-protein protein powder.I wish there were more reviews available from regular guys, but the word of the professionals will have to do.

If you're in Australia, I'd say it's a no brainer.

But if you're half way around the world, I'm not sure it's with the hassel.
Have You Used Pro Peptide R22?? Leave Your Review Below!
Ask A Question
User Questions and Answers
---

My grand-son and myself, each with slightly different objectives want to uses R22. He is 17 and wants to build strong,lasting muscles quickly and I am 75 and want to tone up my existing muscles earned through 61 years of various sport activities, with 10 years of exclusive body building/weightlifting, then on/off with various sports. What doses would you recommend for each of us,? -Jean-Claude

We've got a macro nutrient calculator on the website that can help you both out. Just enter your stats and goals, and it will return how much daily protein you need. Here's the link: https://www.supplementcritique.com/protein-carb-and-fat-calculator/- Rob
Was this question helpful to you?
0 out of 1 people found this question helpful.
ASK A NEW QUESTION