SeroVital
Product Reviewed:
SeroVital
OUT OF 5
RECOMMENDED
Any time a supplement calls itself the "fountain of youth," your bs antennae should go up. I know mine does.

I'm all for using supplements to help you reach your goals while you workout and eat right, but supplements do just what the say. They supplement your own efforts.

Unfortunately for all of us, they can't do it for you.

So when a supplement's marketing makes it seem like this is the stuff that's going to change your life forever, you should approach it with a very healthy dose of skepticism.


SeroVital is an HGH Secretagogue that claims it can improve muscle tone, reduce fat, minimize wrinkles, increase collagen, give you more energy, and help you get a better sleep.

Basically, if it's a negative effect associated with aging, SeroVital can reverse it to a significant degree.


What is an HGH Secretagogue
We mentioned earlier that SeroVitalis an HGH Secretagogue, but not everyone knows what that is. HGH stands for Human Growth Hormone.

Our bodies produce lots and lots when we're young, but just like testosterone, production decreases with age.


More HGH is associated with youthfulness in the way we look and feel.

Some people (rich people) get synthetic HGH injections at a cost of about $1500 a month.The alternative is an HGH secretagogue which stimulates our bodies to produce and secrete an increased amount of our own natural HGH.


Customer Reviews
The reviews on this product are either a 5 out of 5 stars, "can't live without it", or a 1 star rating, "just say no to all the hype". So what is it?


It's hard to say, but there is the possibility that many of those perfect 5 star ratings are paid reviews.


In all reality, Serovital HGH deserves a 2.5 to 3 star rating.

While sure, it could help some people, it isn't likely to result in HUGE changes and it isn't the fountain of youth.

When considering the ingredients in this formula, there is some research to back up the claims made by the manufacturer, however, there are also conflicting studies.

Finally, one ingredient in this formula may be considered downright dangerous so consumers should be aware of what they are getting themselves into before proceeding blindly.


SeroVital HGH Ingredients
The ingredients used in this formula are designed to improve pituitary function and increase the production of HGH.

According to some scientific studies, certain amino acids are considered Secretagogues, meaning that they promote HGH secretion.


Here we will take a closer look at the ingredients contained in this formula and determine if they really have an impact on HGH secretion.


As with most of these products, the Serovital HGH label doesn't tell us much regarding the exact amount of each ingredient contained, as they are all lumped together in a proprietary blend.

The company indicates that their proprietary blend weighs 2.9 g when one takes the full, 4 capsule serving.

Fortunately, the SeroVital patent breaks down each of these ingredients and lists exactly how much is in each capsule so we can take an analytical look at this product.

This will allow us to really determine whether the amount of each ingredient contained in this product has any positive effect whatsoever.


We will also analyze any side effects that these amino acids are known to cause in the section below.


L-Lysine HCl – 1,500 mg
This amino acid has the potential to improve protein production and offer support to the immune system.

Since research indicates that L-Lysine in combination with L-Arginine facilitates HGH release, SeroVital is certainly looking to capitalize on these studies.

In this study, 1,200 mg of lysine were administered, while SeroVital contains slightly more than that at 1,500 mg.
L-Arginine HCl – 725 mg
L-Arginine is an amino acid that has received a lot of good press recently.

This amino acid is necessary for the production of nitric oxide, enabling greater blood circulation through blood vessel dilation.

In one study, 5-9 g of L-Arginine were required in order to promote HGH release.

However, when combined with L-lysine, about 1,200 mg of L-arginine has been shown to be effective in increasing HGH levels.

Unfortunately, this product only contains 725 mg of arginine per serving so whether or not it is effective at this concentration level is up for debate.


Furthermore, a combination of using lysine and arginine together in order to raise HGH levels has not been shown to be unanimously effective in all studies.

In one study, older men given 3 g of lysine and 3 g of arginine twice a day for two weeks didn't show any increase in HGH levels when compared to the placebo.


In yet another study on arginine alone, a roughly 6 g dose in 180 pound individuals actually reduced HGH levels when consumed before weight training.


Oxo-Proline – 684 mg
Oxo-Proline has a bad reputation that will be discussed more in the side effects section.

In addition, there doesn't appear to be any peer-reviewed evidence that shows that this amino acid increases HGH production.

Use of this amino acid in this formula appears to be dubious.


N-Acetyl-L-Cysteine – 1 mg
The idea behind including N-Acetyl-L-Cysteine in this formula is due to its ability to increase glutathione levels, offering antioxidant protection.

However, any studies on this amino acid in regards to HGH production are slim to none.


L-Glutamine – 1 mg
Including L-Glutamine in this formula makes sense, as there is one study that indicates that this amino acid increases HGH levels.

However, that study was conducted on a dose of 2 mg of glutamine, while this formula only contains 1 mg of glutamine per serving.


The benefit of consuming L-Glutamine comes in the form of reducing stress, both physically and emotionally.

Glutamine is known for keeping cortisol levels low and allowing endurance athletes to continue pushing on.

In addition, glutamine has been shown to reduce muscle soreness and many consider it to be an anti-aging supplement.


With all the positive studies behind it, glutamine is a great addition to any nutritional supplement.


Schizonepeta Powder – 0.5 mg
Schizonepeta is known for its anti-inflammatory properties, but hasn't been shown to increase HGH production or secretion in studies.


The directions are very specific.

If you use the pill version, you need to take 4 SeroVital HGH capsules on an empty stomach.

It's very important that you do take it on an empty stomach.

That means taking them first thing in the morning, then not eating for 2 hours, or not eating for at least 2 hours before bedtime and taking your dose then. The directions are the same if you're using the liquid concentrate.

You still need to take your daily dose on an empty stomach, though if the taste is too strong, you can cut it with water.


Potential Serovital HGH Side Effects
Oxo-Proline appears to be a potentially harmful ingredient in the SeroVital HGH formula.

Not only does it not offer any benefits in regards to HGH production or secretion, it comes with a whole host of dangerous side effects.


Some studies have indicated that Oxo-Proline promotes the production of reactive oxygen species, meaning that it increases free radical damage, and therefore, accelerates aging.

In addition, an animal study on Oxo-Proline shows that it causes protein oxidation.


Anyone who doesn't want to age rapidly should avoid the SeroVital HGH formula due to this one ingredient alone.

In fact, it is difficult to ascertain why the company put this amino acid in their supplement, as it doesn't offer anything in terms of HGH production in studies.


Consuming L-Arginine has been shown to be cause allergies, inflammation, and low blood pressure in sensitive individuals.


N-Acetyl-L-Cysteine can cause headache, low blood pressure, rashes, fever, and liver problems.


SeroVital HGH Is Clinically Validated?


According to the company website, there is a study directly on SeroVital HGH in regards to increasing growth hormone secretion.

Actually having a clinical study on the product is something that most supplement manufactures can't claim so they have that going in their favor.


In this study, 16 healthy subjects were given SeroVital or a placebo, while analyzing HGH levels 15, 30, 60, 90, and 120 minutes after consumption.

The results after 120 minutes show that growth hormone levels increased 8-fold from baseline in the experimental group.


Sounds Great…But Wait
This study was presented at the Obesity Society in 2012, but has yet to be peer reviewed.

In addition, the overall sample size in the experimental group is extremely small, making it difficult to draw an undeniable conclusion.


Finally, the statement that HGH levels increased 682% is never actually labeled in the clinical study documentation, yet is plastered all over the SeroVital HGH official website.

Rather, it is stated that HGH levels increased from a baseline of 0.17 ng/mL to 1.33 ng/mL.

While basic division will reveal that this is an 8-fold increase, the baseline level that is indicated in this study is not considered a "normal" HGH level in typical people.


Normal HGH levels have a wide range and differ at certain times of the day from 1 to 9 ng/mL for men and 1 to 16 ng/mL for women.
Indicating that HGH levels went up to 1.33 ng/mL in the study still appears astoundingly low based on normal HGH levels.


So yes, the devil is in the details.


This clinical study has red flags all around it indicating that they could be manipulating their data and wording in order to make it seem like their product functions as advertised.


Anti-Aging Breakthrough Everyone's Talking About?


Well, I am not certain that everyone is talking about SeroVital, like their website claims.

If there was something to write home about, everyone would already be taking this product.


There is one woman on Youtube who claims to have used it, here's what she had to say:
Since there are plenty of studies that have shown that a combination of lysine and arginine don't increase HGH secretion, while a study on arginine alone indicates that supplementation may actually reduce HGH secretion, experimenting with a formula like SeroVital will probably not result in much.


Wait, Doesn't Dr. Oz Promote SeroVital?


The short answer is no, Dr. Oz does not promote SeroVital.

He DID do an expose on the powerful benefits of HGH, but not the supplementation kind.


He was talking about ACTUAL HGH injections, not supplements like Serovital HGH that claim to mimic the effects.


However, certain marketers try to make it seem like Dr. Oz is promoting this product by using clever wording or downright lies to hoodwink others. Do not buy into this hype!


SeroVital Pros and Cons
Advantages of SeroVital
The ingredients are all natural.


There is some clinical testing that show a 682% increase in HGH levels 120 minutes after using SeroVital.


You can find lots of favorable SeroVital reviews from people who've used it.

They cite all sorts of benefits like better skin, better muscle tone, and more restful sleep.


Disadvantages of SeroVital
It's expensive.


There are unanswered questions about the clinical testing, like who was it performed by, why isn't it peer reviewed, and what are the longer term results.


There is a money back guarantee mentioned, but no explanation of its terms.


Where to Buy
You can purchase SeroVital online through the product website, but you'll also find it for sale in stores.

Ulta and
productId=66238446">GNC both carry it, and you'll even find it in Costco.


However, if you try to buy it on Amazon, you'll be out of luck.

In fact, I don't believe Amazon sells practically ANY hgh supplements, except for a couple like GenF20 Plus and a few others.


Regardless of where you go, the one month supply costs $99.
Conclusion
It's tempting to try a product with promises like this.

It's especially tempting when they have what looks like some science backing up their claims.


Paying $99 for a couple of amino acids seems excessive and it is.However, people who are after notable results aren't likely to be overly concerned about the price of a product, assuming that it works.

Ultimately, the mixed reviews on SeroVital HGH indicate that there may be a number of paid reviews designed to enhance the reputation of this product.


In addition, the danger of consuming Oxo-Proline, an ingredient in this formula, should give anyone who is thinking about consuming this supplement a reason to pause.


Since some of the amino acids contained in this formula are likely to offer health promoting properties to some individuals, they may be able to benefit from them.

Instead of shelling out $99 a month for this formula, search for a more economical product that contains similar ingredients or purchase each of these amino acids separately (hold the Oxo-Proline) and combine them.
By combining the beneficial amino acids into one personal formula and excluding some of the questionable inclusions in the SeroVital HGH proprietary formula, people who are motivated can make an even better amino acid formula.

Whether or not this concoction will offer a huge increase in HGH production remains to be seen though, given the flip flopping studies on the subject.
Have You Used SeroVital? Leave Your Review Below!


My Top Choice For HGH Supplementation –

HyperGH 14X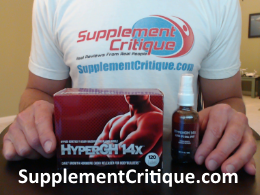 Looking for an effective all natural HGH supplement that really works?

I recently had a chance to test out HyperGH 14X, and my results were pretty amazing.

This product uses high quality ingredients, and is specifically designed to help stack lean muscle, get bigger results from your workouts, and help you recover faster.


Learn how it works in my official review of HyperGH 14X.


How People Found This Review:
and SeroVital Free Sample, and My SeroVital
Free Trial
, and serovital free trial
User Reviews
Works for me
So whenever you take a supplement you have to wonder if any changes are due to taking the supplement or your belief that something is going to change for the better.Placebo effect.



But when something unexpected takes place you gotta believe it\'s the supplement. I am 61 years old and 2 things happened shortly after starting Serovital.

I got erections easier and I produced more semen.

I also seemed to get more out of my workouts. I stayed in better shape without trying so hard.

I was on auto-renew and I went awhile without taking Serovital. It was a hassle waiting two hours to eat something in the morning so I got kinda erratic in taking it.

But I started not feeling as well so I got back on. But now I had too much product.



So I called to postpone any more shipments and the order department couldn\'t have been helpful. No hassles at all.

So that is my experience.

Was this review helpful to you?
16 out of 20 people found this review helpful.
---
User Questions and Answers
User Questions and Answers
---
Why two hours before food and two hours after I take SeroVital? Does food interact with something in the ingredients used to making SeroVital? -Vicki
It simply works better on an empty stomach, but if it makes you queasy, you can go ahead and eat something light with it.- Rob
Was this question helpful to you?
7

out of 8 people found this question helpful.
---
Can Seravitol cause an deficiency in potassium or an elevation in cpk enzymes -Beverly
I haven't heard of these as side effects, and haven't seen any research to indicate as much, but your doctor may have a better understanding.- Rob
Was this question helpful to you?
1

out of 1 people found this question helpful.
---
Are family members with history of cancer able to take SeroVital? -Sharon
There's no issue that I know of, but if you're concerned, you should consult with your doctor.- Rob
Was this question helpful to you?
1

out of 1 people found this question helpful.
---
Sign Up For Our FREE 41 Page Ebook
"How To Get Lean, Ripped, and Strong Quickly"
Includes Three
Free

Bonuses ($23 Value):
Free

"Big List Of Foods You Can Eat" Quick Reference Sheet

Free

Get Ripped Workout Log

Free

Sample Meal Plans

X

Sign Up For Our FREE 41 Page Ebook
"How To Get Lean, Ripped, and Strong Quickly"