Bystrictin REAL Review and Results
By:
Rob Miller
Fact Checked On: 5-4-2018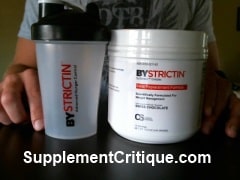 Note: This is just a review. Click Here To Visit the official Bystrictin website.
As you are probably already aware (or maybe you're not), I typically try to focus more on pre workout and bodybuilding supplements here on SupplementCritique.com. Every once in awhile though I see a fat burner / weight loss product that catches my eye, and I get this nagging suspicion that I need to try it out. In today's review I'm going to be talking about Bystrictin, a relative newcomer to the weight loss supplement market. You may have heard the radio ads or even seen them featured in media publications like Cosmopolitan, Glamour magazine, and others. But what is Bystrictin, and does it really work the way they say it does? We explore this supplement in our in-depth review.
Want to skip all the fluff and get to the nitty gritty of my results? Click Here to skip to my personal review and results. (Note: I received this tub of Bystrictin free of charge, but I am not affiliate with the company and I was not compensated monetarily for this review)
What Is Bystrictin?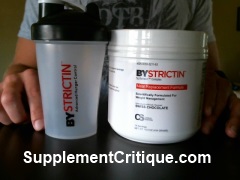 Bystrictin is a protein powder that's manufactured by a company called Century Sciences located in Encino, California. It's intended as a meal replacement formula, and apparently has been scientifically formulated for weight management. Now, almost all protein powders act as a meal replacement, so what makes Bystrictin any different. I decided to dive into the ingredients head first and see what the fuss is all about.
Ingredients in Bystrictin
There are literally dozens of ingredients in Bystrictin, but I'm only going to talk about the noteworthy ones here and how they stand apart in this formula. Click here to see the Bystrictin nutrition label and here to see a full list of the ingredients.
Protein
Bystricin offers up 3 different types of protein, including soy protein isolate, when protein concentrate, and whey protein isolate. Soy protein is beneficial because it helps to not only reduce LDL cholesterol, but also reduce the risk of heart disease and even osteoporosis.
Whey protein concentrate typically have a low level of fat and cholesterol, but Isolates counteract that because they are processed to remove the fat and lactose.
Bariaxin Complex
Bariaxin is actually a proprietary complex that acts to help fill the gastric system, which essentially is fiber from what I can tell. The key actives in Bariaxin are Propolmannan, which is a supercharged and purified version of Glucomannan (a water-soluble fiber) and Slendesta (Proteinase Inhibitor) that helps the release of the CCK hormone (hunger hormone).

The other ingredients in the Bariaxin complex are water soluble fibers.
Luralean Propolmannan
This ingredient is basically another source of Fiber in Bystrictin, and comes from the rare plant "Amorphophallus Japonica", which is typically found in Japan. It works by absorbing water and expanding in the stomach to make you feel full faster. It also helps to control blood glucose levels buy slowing the rapid emptying of food from your stomach, which causes you to feel tired after you eat.
How To Take Bystrictin
According to the instructions, Bystrictin should be taken 1 – 2 times a day as a meal replacement shake. The ideal shake consists of 1 scoop of Bystrictin along with either 8 fl. oz. of water or skim milk, and should be consumed within 15 minutes of mixing.
The company actually offers a wide array of interesting recipes that can be used with the protein powder, including some of the following:
Berry Frozen Treats
1 Scoop of Bystricin Vanilla Bean
8 o.z.

Skim Milk
1/2 cup fresh or frozen berries of choice
1 cup plain nonfat yogurt
Blend until smooth, pour into popsicle containers, freeze and enjoy
Chocolate Peanut Butter Cup (This One Was My FAVORITE!)
1 Scoop of Bystrictin Swiss Chocolate
8 o.z. skim milk
1 Tbsp. reduced fat peanut butter (I substituted with Almond butter)
5 ice cubes
Blend until smooth
Hazel Nut Heaven
1 Scoop Bystrictin Swiss Chocolate
8 o.z. skim milk
1 tsp. reduced fat peanut butter (I substituted with Almond butter)
1 tsp.

Hazelnut spread (Nutella)
5 ice cubes
Blend until smooth
Sometimes, mixing a protein supplement with a blender can be a real chore. There's the hassle of taking it out of the closet, putting it together, adding all the ingredients, then finally having to clean up a huge mess when it's all done. What's great about Bystrictin is they actually included a mixing cup with the powder, which just involves pouring in your skim milk (or water), adding a scoop, tightening the lid, and shake around for a minute or so.
For those that have used protein / meal replacement shakes before, you know stirring with a spoon (or even shaking in a mixing cup) often leaves protein "bunched up" at the bottom of the cup. Very intelligently, the makers of this supplement have included a metallic dome shaped piece that you can drop in the cup and it will literally break apart the stubborn protein that is sticking to the bottom or "bunching up".
Bystrictin Reviews I've Been Reading
After scouring through countless threads/discussions on Bystrictin, I noticed the reviews and testimonials seem mixed. In some cases users saw a significant weight loss and hunger reduction, and in others people said they got no results from it. My nagging suspicion is that the majority of these reviews came from adults who probably have a MUCH higher caloric intake requirement than is suggested on the label (says eat at least 1,200 calories a day, which is literally the bare minimum for most people.
I think to get the best value from Bystrictin you should calculate how many calories you need per day, and reduce your overall caloric intake by 300 – 500 calories per day. We have a great calorie calculator here on SupplementCritique.com that can help you determine what you need everyday to lose weight, click here to use it now.

My Overall Results
Now, I'm not overweight by any stretch of the imagination. I've been a pretty active guy for most of my life, playing a wide range of sports and usually eat pretty healthy. I'm a big proponent of diet and exercise, but of course I also recommend supplements to help you achieve your goals faster.
I started taking the Bystrictin right after my workouts as a post workout shake, something that I do normally. Now, like I mentioned earlier in the review, almost all protein powders act as a meal replacement formula. The difference between this one and the one I normally use (Gold Standard Whey) was that I did NOT feel hungry for hours afterwards.
Typically, as with Gold Standard, I feel "satisfied" for about an hour after I drink it, but like clockwork I am craving something else to eat about an hour later. Not with Bystrictin. I literally had to force myself to eat about 2.5 hours later, and even then I still didn't eat as much as I normally do.
Another thing to note was the taste, it was absolutely awesome! I've tried literally dozens of protein powders / weight loss drinks over the years, and the majority of them leave you with a nasty aftertaste. I was a little worried at first that I would get the same aftertaste with Bystrictin, but it was actually a very pleasant one. It literally (to me at least) tastes like real chocolate, not some synthetic kind.
Now, of course with any supplement there is almost always a downside, and this of course was the case with me. The only side effect I have to complain about with Bystrictin was I had a gassy/bloated feeling for the first few days of using it. This is very common with protein powders, but in my case it was more so with this one in particular. Other than that I had no other side effects to report of.
The Good (Pro's)
Tasted Great!
Kept me full for hours!
Dropped about 3 lb's the first week.
No "artificial sweetener" aftertaste.
Great tasting recipes
Doctor Recommended
Doesn't contain any harmful stimulants
30 Day Money Back Guarantee
The Bad (Con's)
Gave me a gassy/bloated feeling
Rather expensive for a meal replacement formula, costing $79.95 for 2 tubs
Not enough protein for a weight lifter / bodybuilder (only contains 10 grams per serving)
Recommendation
As mentioned earlier in my review, I am not an overweight individual, so a protein shake / meal replacement formula is not something that I personally need. However, I have studied and recommended thousands of different weight loss and fat burning supplements to adult men and women over the years, and I can say with 100% confidence that Bystrictin CAN and WILL work for the overweight individual.
When combined with a healthy diet and exercise, I can see someone easily losing 10 – 30 pounds from using this meal replacement formula. Is Bystrictin a "miracle" weight loss breakthrough? No, there really is no miracle out there, despite what alot of diet pill companies will tell you. But, if you are looking for something that can give you an "edge" in your weight loss goals, than I would highly recommend it!
Top 3 Weight LossAffiliate Disclosure
Instant Knockout is actually a new fat burning supplement I just came across, and got great results.
LeanBean Female Fat Burner is the BEST fat burner for women we\'ve ever tested.Read our review here.
Biohacks your body into instant ketosis to burn fat instead of carbs.

Weight loss, energy, focus, anti-inflammatory, anti-aging.
Ask A Question
User Questions and Answers
---

Will be okay if i drink bystrictin if i take heart medicine for mitral prolaps. Will it make your heart race? -diannah

There are no stimulants, so it shouldn't make your heart race, but because you take prescription medication, you'll need to check with your doctor to be sure there are no contraindications.- Rob
Was this question helpful to you?
1 out of 1 people found this question helpful.
ASK A NEW QUESTION