Gaspari Nutrition AMINOLAST Review – One of the Best?
By:
Rob Miller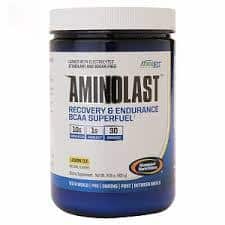 ---
Gaspari Nutrition AMINOLAST Overview
Gaspari Nutrition worked on this recovery supplement for several years. In fact, the release date kept being pushed back because it just wasn't ready yet. The result is Gaspari Nutrition AMINOLAST, and I have to say, it looks like the hard work may have paid off. The word of mouth about this post- or intra- workout recovery product is almost all good. We kept hearing about it, so we're biting the bullet and diving in.
They call Gaspari Nutrition AMINOLAST a recovery and endurance BCAA superfuel. Without sugar or stimulants, this stuff gives your muscles a way to push through, feeling great all the while. The unique formula which uses only high quality BCAAs, and a few other highly specialized ingredients, contains only what is needed and nothing more, not even artificial colors. Like we said above, everybody seems to love this stuff, so let's take a look inside.
Gaspari Nutrition AMINOLAST Ingredients and How They Work
More and more supplement companies are starting to realize that guys are just not buying this whole "proprietary formula" mumbo jumbo. Nobody knows more about what goes into their bodies than bodybuilders. So tell us what's in your supplement already. Gaspari tells us exactly what's in Gaspari Nutrition AMINOLAST.
They've gone all in on BCAAs. Gaspari tells you that the research on Silk Amino Acids is a little sketchy and misleading, so they go with purely BCAAs. And they skip the cheap fillers like Glycine and Alanine. They say the other guys load their products up with these just to up their amino acid content. But really they have no value. Gaspari Nutrition AMINOLAST contains a full spectrum of dipeptide amino acids, including all the BCAAs and EAAs.
Gaspari Nutrition AMINOLAST has also got electrolytes and Ammoject technology which gets the toxic waste by-products out of your muscles. You'll get faster recovery and less soreness as a result.
The recommended dose is one scoop. Put it in 8 to 10 ounces of water and shake. You can drink it before, during, or after your workout, or anytime throughout the day really. They say you should experiment with your timing to figure out when works best for you.
Gaspari Nutrition AMINOLAST Pros and Cons
Advantages of Gaspari Nutrition AMINOLAST
It's got the full spectrum of dipeptide amino acids.
Gaspari Nutrition AMINOLAST reviews are almost all very favorable.
It tastes great, particularly the Orange Mango Twist.
You get strength and endurance without stimulants.
Disadvantages of Gaspari Nutrition AMINOLAST
It can get expensive, especially if you take more than one dose in a day, which some guys do.
Some guys say it's a bit gritty and can be hard to mix.
Where to Buy
You can get Gaspari Nutrition AMINOLAST online or in stores line GNC or Vitamin World. The Gaspari website has a store locator function that'll help you find either a local or online retail source. Retail price for a 30 serving tub is about $35, but look around because we saw it for as little as $25, which isn't bad if you take one serving a day.
Conclusion
Sometimes you find a product that everyone just raves about. Gaspari Nutrition AMINOLAST seems to fit this description. As far as amino acid workout recovery supplements go, Gaspari Nutrition AMINOLASTbelongs at the top of your list.
Have You Used Gaspari Nutrition AMINOLAST? Leave Your Review Below!
User Reviews

5.0 out of 5 Stars (1 Reviews)
Have you used this supplement?
Tommy's Review
Gaspari you've done a fantastic job with Sizeon .I can feel the difference with and without .Thank you

Was this review helpful to you?

---
Ask A Question
User Questions and Answers
No Questions Have Been Answered For This Article.