BSN Hyper FX Review – The Energy Leader?
By:
Rob Miller
Fact Checked On: 4-25-2013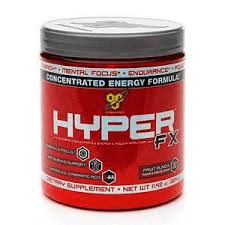 BSN Hyper FX Overview
One thing is for sure. Not all pre workout supplements are the same. Some put their main focus on pumps, others on pure energy, and still others offer a range of different benefits rather than highlighting just one. This is a good thing, cause there are all different kinds of athletes wanting all different kinds of benefits from their pre workout juice.
I consider BSN Hyper FX to be one of those all-arounders. It gives you a boost, but doesn't send you bouncing off the walls and keep you up at night. It doesn't contain Creatine. I guess the idea here is that the guys who want it pre-workout can stack it in. Cause lets face it, not everyone tolerates Creatine well. They also throw in some fat burning and testosterone boosting so your workout and your life get those benefits.

Okay so enough chit chat, lest see what's in BSN Hyper FX.
BSN Hyper FX Ingredients and How They Work
The complete formula is proprietary. They reveal what's in there, but not how much. The highlights are Beta Alanine for muscle energy, strength, and endurance, D-Aspartic Acid for boosting up testosterone levels, Black Pepper for thermogenics, and Caffeine for energy as well as thermogenics. It's also loaded up with Vitamin D and Niacin for energy, metabolism, and immune system support.
Notably absent from the BSN Hyper FX formula is anything for pumps. There are no nitric oxide ingredients. Some guys will definitely miss this.
You're supposed to take 1 level scoop about 15 minutes to half an hour before working out. One key thing to remember about BSN powders is that they are to be stirred, not shaken. And by the way, we have not heard good things about how BSN Hyper FX tastes. Apparently, BSN has not made taste a priority for BSN Hyper FX.
BSN Hyper FX Pros and Cons
Advantages of BSN Hyper FX
It's more affordable than a lot of other pre-workouts out there.
It's creatine-free so you can leave it out or stack it in depending on your preference.
According to BSN Hyper FX reviews, the energy is good and steady, without a crash.
Disadvantages of BSN Hyper FX
A lot of guys say it tastes awful.
It's got less of a kick than what you may be used to.
Not being able to shake BSN Hyper FX up in your cup may be a buzz kill for some guys.
Where to Buy
You can get BSN Hyper FX online or in some retail stores. GNC sells it. The 30 serving tub retails for $39.99, but there are a bunch of sales now, mostly bringing it down to under $25. Look around for a deal. You'll find one.
Conclusion
If you're new to pre-workouts, BSN Hyper FX would be a good one to start with. Lots of guys like it. It's good, but it's not real hardcore. And it's cheap. Aside from the taste, and less face it that's entirely subjective, we don't see any reason not to recommend that you try BSN Hyper FX. If it suits your needs then you just found a great pre-workout supp on the cheap.
Have You Used BSN Hyper FX? Leave Your Review Below!
Top 3 Pre WorkoutAffiliate Disclosure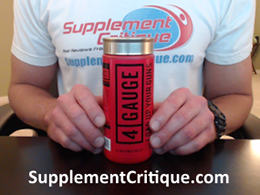 4 Gauge is a brand new pre workout that kicks in FAST and will rev up your workouts.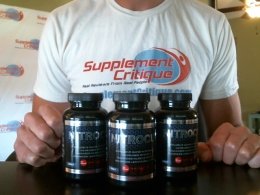 Nitrocut is a VERY effective pre workout supplement for a variety of reasons, see why here.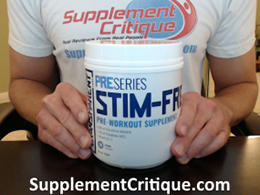 If you're looking for a stim-free pre workout, add Transparent stim-free to your list!
Want To Really Get Ripped?

Click Here To Download My FREE "Get Ripped" Ebook!
Ask A Question
User Questions and Answers
No Questions Have Been Answered For This Article.