gRock Review – Erectile Dysfunction a Thing of the Past?
By:
Rob Miller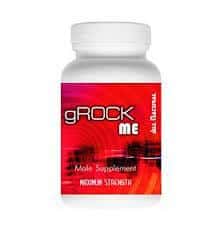 gRock Overview
gRock is a male enhancement supplement in the category of Viagra alternatives.

This means that instead of taking the pill every day, you only take it when you're planning an intimate encounter that you want to be fully ready for.

Billed as an all-natural, organic, American made supplement, gRock claims that the effects last for 3 days, and enable you and your partner both to have the best, most pleasurable sex of your lives.
By taking one gRock pill 20 minutes before sex, you'll experience full "Erectile Refunction" which includes bigger erection size(length and girth), more stamina, greater control, and an end to premature ejaculation.
gRock Ingredients and How They Work
The gRockformula is a little different than what we're used to seeing in most of the herbal male enhancements we see and review.

They include:
Fructus Hycii
Flos Caryophylli
Radix Rehmanniae
Semen Ziziphi Spinosae
Semen Alli Tuberosi
Poria
Fructus Foeniculi
Herba Epimedii
Radix Puerariae Lobatae
Rhizome Dioscoreae
Rhizoma Polygonati
Rhizoma Curculigimis
While the website doesn't explain how these ingredients work to improve sexual proclivity or performance, it does state that the primary mechanism of action is to increase blood flow to the corpus cavernosa, the sponge-like chambers in the penis that engorge with blood when you're aroused, causing erection. The more blood, the better the erection.

If a supplement can improve the flow of blood in and prevent the flow of blood out, then it will help reverse the effects of erectile dysfunction.
gRock Pros and Cons
The Good About gRock
It is all natural and organic.
It is made in the US.
No commitment is required.
The effects may last up to 3 days.
The website includes an informational section on the physical and psychological causes of erectile dysfunction.
The Bad About gRock
The money back guarantee only applies to unopened bottles.
It is expensive.
We couldn't find any gRock reviews from actual users.
Where to Buy
You can find gRock on its official website.

A single pack is currently selling for $9.95 plus shipping.You can save a little by buying a 3 pack, and a little more by buying a 5 pack.

The best deal is the 10-count bottle for $68.95. The only trouble is that you won't be able to return it if you've already opened the bottle.
Conclusion
With no clinical studies, no independent reviews, an unfamiliar list of ingredients, and no satisfaction guarantee, we can't in good conscience recommend that you buy gRock.There are male sexual enhancements and erectile dysfunction aids that cost less and have more proven track records.

Do yourself a favor and look to one of them.
In general, the lack of true user reviews is a pretty good sign a lot of the time that the effects of the supplement in question are not going to stack up very well.
Have You Used gRock?

Leave Your Review Below!
Top 3 Male EnhancementAffiliate Disclosure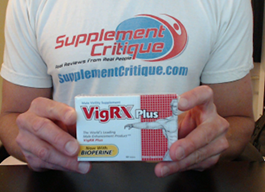 Out of the 100+ male enhancement products Ive tried, Vigrx Plus was the best.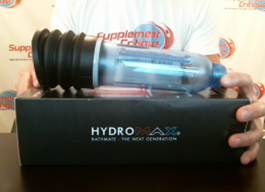 The Bathmate is a proven water-based vacuum pump that can help dramatically increase your size.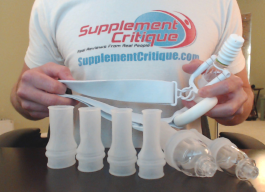 Phallosan Forte is a GREAT option for those looking to grow both length AND girth, permanently.
Honorable Mention/Inexpensive Alternative:Magnum Rings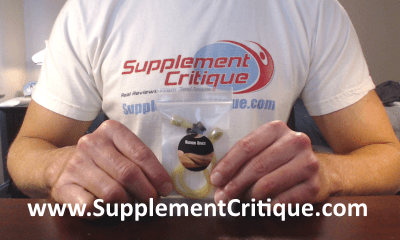 Magnum Rings are a VERY affordable option to getting both girth and length gains, at a fraction of the price of the Bathmate or Phallosan Forte.
Click Here to see our full Magnum Rings review.
5 Star User Reviews

2.8 out of 5 Stars (6 Reviews)
Have you used this supplement?
BEAST
I have been using G ROCK Me for about a year now and this stuff works 100%!!! A little while after taking it, you will feel like a teenager in junior high again, this is no joke and I am 40 years old.

Was this review helpful to you?
35 out of 37 people found this review helpful.
---
It Works!!
I've been using GRock for 2 years and I'm on my 3rd order an I can say it works, to a point of burning out my wife!! Lol!! I'm 54 and it does take a little while 30 min to an hour but a lot less side effect then Viagra and good old rock hard pounding on her!!

Was this review helpful to you?
22 out of 24 people found this review helpful.
---
Want To REALLY Get Bigger?

Click Here To See Products That WORK!
Ask A Question
User Questions and Answers
---

Does it work for diabetes -John

If your ED is caused by diabetes, it could help, but you'll need to check with your doctor to make sure it's safe with your condition and medications.- Rob
Was this question helpful to you?
2 out of 2 people found this question helpful.
ASK A NEW QUESTION
---

With side effects like back aches and nausea can you take part of grock pill -Douglas

If it's causing you uncomfortable side effects, you should discontinue use.- Rob
Was this question helpful to you?
2 out of 2 people found this question helpful.
ASK A NEW QUESTION
---

g Rock have side effects? -Demissew

I haven't heard of any side effects associated with taking gRock.- Rob
Was this question helpful to you?
2 out of 3 people found this question helpful.
ASK A NEW QUESTION
---

Which is rated better G Rock of Viagra? -Gregory

It's difficult to compare them. Viagra is a prescription drug while gRock is a natural supplement designed to come as close as possible to the effects of Viagra, with only natural ingredients. For people able to take Viagra, I assume it would be more effective.- Rob
Was this question helpful to you?
1 out of 2 people found this question helpful.
ASK A NEW QUESTION