Immutol Review – Should You Try It?
By:
Rob Miller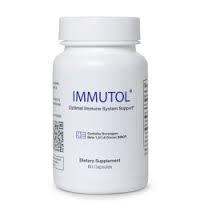 ---
More and more people are turning to alternative medicine and herbal solutions to stay healthy.

Along with all the clean eating programs, there's been a real surge in the population of people who would rather support their bodies in staying health than treat diseases after they show up.

Immutol may be one product that fits well within that lifestyle.
Immutol is an immune boosting daily supplement.

It's been generating quite a bit of buzz, and recently I had a couple readers as me to look into it.

I did, and here's what we came up with.
Immutol Benefits
Immutol makes a very simple promise to boost your immune system.

By taking Immutol daily, according to their marketing materials, you'll see fewer colds this winter, you'll avoid the flu (even without getting a flu shot) and you'll feel better and more energetic all year long.
Immutol Ingredients
There's only one ingredient in Immutol.

That's Norwegian Beta-1,3/1,6-Glucan (or NBG).

You may be familiar with the idea that Beta-1,3/1,6-Glucan can support your immune system.

You may also know that it can help fight against cancer and lower bad cholesterol.

We'll get into all of that a little later, but it's important to know that according to Immutol, their Norwegian Beta-1,3/1,6-Glucan is the only truly effective kind of Beta-Glucan when it comes to supporting immune function.
What Are Beta Glucans?
Beta Glucans are sugars that are taken from the cell walls of bacteria, fungi, yeasts, and plants like oats an barley.

They are present in foods such as oats, barley, an mushrooms.

They can be used as medicine/nutrients in several ways:
There is some evidence to support the protocol of injecting certain types of beta glucans to prolong the lives of late stage cancer patients.
Taking certain beta glucans orally can reduce bad and total cholesterol.
Oral ingestion of specific beta glucans over 4 weeks may reduce the symptoms of an allergy to ragweed.
Certain blends of beta glucans injected intravenously may decrease the risk of post-surgery infections.
They may reduce canker sores.
Taking beta glucans from oats may improve diabetics' insulin and cholesterol levels.
Intravenous use my boost the immune systems of patients with HIV.
Most research is at this point early and inconclusive, but it is promising.

And how effective they are depends in large part on what kinds of Beta Glucans are used, how they are extracted, and how they are administered.
Why Immutol?
The makers of Immutol insist that they use precisely the right kind of beta glucan, processed in exactly the right way, and dosed at the perfect amount to get the best results for boosting the immune system.

First off, that means Norwegian Beta-1,3/1,6-Glucan taking from the cell walls of baker's yeast.
But the most important part to note is that the substance is extracted fully intact.

If this is not the case, you simply won't get the benefits.

Immutol manufacturers have the patent on their extraction method, so you know you're getting only the purest, most effective immune supporting beta glucan.
How Immutol Works
The Beta-1,3/1,6-Glucan in Immutol stimulates the activity of the macrophage, which is a white blood cell, one of the building blocks of the immune system.

The macrophage provide resistance to disease and signal to other cells to go and attack whatever intruders it sees.
Because Beta-1,3/1,6-Glucan is acid resistant, it remains unchanged as it travels through the digestive system.

It's picked up by the macrophages with beta glucan receptors, where it gets to work bolstering your immune system.
How To Use Immutol
The recommended dose is 2 capsules taken up to 3 times a day with meals.

Since there are only 60 capsules in a bottle, that bottle could last you as little as 10 days.
Who Makes Immutal?
The company that makes Immutol is called Immunocorp, based in California., who's goal is to provide products that support healthy immune systems.

Their parent company, SanaPharma, is based in Norway.

They're the ones that have patents on the extraction process, so you know you're getting the best beta glucan you can for your immune system.
Immutol Side Effects
While no supplement can claim to be completely side effect-free, here are no known side effects when taking Immutol according to the dosing instructions.
Where to Buy Immutol
Immutol is sold through the official Immunocorp website.

A single botlle costs $59.95. They offer discounts if you buy multiple bottles at once.The deal for 3 bottles is $125.88. The deal for 9 bottles is $269.73, which is only $29.97 per bottle.Let's say you went for the 9 bottle deal.

That would last you 3 months at the max dose, leaving you with a monthly costs of $89.91.
A money back guarantee is offered for purchases made at the website.They don't specify exactly how it works, but they say it's with no questions asked and no time limit.
Immutol is also available at Amazon.com.

There, they charge $35.89 per bottle.
Immutol Reviews
One good thing about Immutol being available through Amazon.com is that we get to see some customer feedback.In this case, the positive outweighs the negative by quite a bit.

Here's a sampling:
"This is my third purchase of Immutol capsules and I feel great.

My neighbor even commented on how good I looked, as opposed to how I looked prior to taking Immutol… I can really feel the difference in my energy level, and overall health, and I've been taking less than the suggested dose."
and
"I never realized how good Immutol was until I stopped taking it.

I started getting sick more often and catching colds all the time.

I am totally convinced this product works. "
Immutol Pros and Cons
Advantages of Immutol
It's a single ingredient, so you know what you're getting.
There's a money back guarantee.
There are clinical studies to back up the effectiveness of beta glucans to some degree.
Most Immutol reviews are positive.
Disadvantages of Immutol
It can get expensive, especially if you use the max dose.
Conclusion
If you feel as though you could use an immune system boost, and your downing of Vitamin C tabs isn't cutting it, it may be time to give Immutola try.

There's science backing up how it can help you, and even though it's not conclusive or directly involving Immutol, it's a good start.

Just keep the original packaging because if it doesn't work for you, you'll want to take advantage of the money back guarantee.
Check with your doctor to make sure that you are not allergic and that it does not interact with any medications you are on just to be totally sure if you have any doubts.
Have You Used Immutol? Leave Your Review Below!
3 Star User Reviews

5.0 out of 5 Stars (1 Reviews)
Have you used this supplement?
There Are no 3 Star User Reviews
Ask A Question
User Questions and Answers
---

I have stage 4 cancer. Has any research been done to determine it's effectiveness in fighting the actual cancer besides it's help with chemo side effects/ -Beth

As far as I know, it doesn't directly fight cancer. It boosts your immune system generally, but doesn't actually fight cancer.- Rob
Was this question helpful to you?
12 out of 14 people found this question helpful.
ASK A NEW QUESTION
---

Can you stop taking Vitamin C if taking Immutol? -Lou

I don't have the inside track on it, but I would continue taking Vitamin C if you're finding it useful.- Rob
Was this question helpful to you?
9 out of 10 people found this question helpful.
ASK A NEW QUESTION
---

ibs pain and burning in stomach and intestines. Would this product help? -george+

You would have to talk to your doctor about this. I don't see anything in the product information to indicate that it would help.- Rob
Was this question helpful to you?
6 out of 8 people found this question helpful.
ASK A NEW QUESTION
---

isn't yeast a highly allergenic food? Can't it increase candita albicans thus undermining the immune system? -william

Not necessarily. Just like bacteria in the body, there is good yeast and bad yeast, and actually eating too much sugar is more likely to increase candida albicans in your system.- Rob
Was this question helpful to you?
2 out of 2 people found this question helpful.
ASK A NEW QUESTION
---

Has product been effective in treating HIV Aids -jack

Not that I'm aware of, and I think this is something that would be big news!- Rob
Was this question helpful to you?
2 out of 3 people found this question helpful.
ASK A NEW QUESTION