Myogenix AfterShock Review
By:
Rob Miller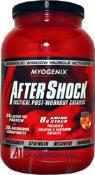 ---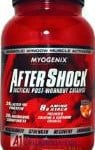 As most people working to build muscle mass well know, the most critical period of time in determining overall mass gain isn't actually during your workout itself, but in the thirty minutes that follow. This period is what is known as the anabolic window. During this time, your body is in prime condition for muscle growth. Unfortunately, it is also during this period that the waste products given off by your muscles can inhibit nutrient distribution and inhibit muscle growth. When we first saw Myogenix AfterShock, the product definitely stood out, so we decided to look into the ingredients and user experience.
How It Works and Ingredients
Aftershock is designed to help you maximize the post workout anabolic window. The product is absolutely packed with ingredients that are designed to help maximize muscle volume while aiding in post workout recovery. There are tons of antioxidants to help destroy free radicals that build up in the blood from excessive oxygen, as well as a vast amount of anabolic whey protein. There are also plenty of mass building carbs as well as a ton of amino acids to help ensure that you are really getting the most out of your workout. Ingredients such as 34 grams of anabolic whey protein, digesting proteins, and 30 grams of mass building carbs certainly do their jobs.
After Shock is absolutely designed to be effective. Activating the muscle cells during the anabolic window is absolutely critical to gaining mass, and this product is designed to ensure that you activate every muscle cell to its fullest potential.

There is a great deal of protein and enough carbs to keep the muscles going, while there are enough antioxidants to destroy the free radicals that actually serve to inhibit muscle mass gain after a workout. All in all, the ingredients in this product are incredibly well thought out.
User Reviews
Of course, the user experience really matters when it comes to supplements, and we have found that even the most hardcore lifters and builders seem to stand behind After Shock, which is available through the company's website. The taste itself isn't always well received, but phrases such as "painless recovery" and "remarkable growth" are pretty standard fare.
"The taste is, well, decent. Not the best tasting supplement I have tried. Is one of the best post workout supplements I have ever tried though. Helped me build a minimum of 5 pounds of muscle in about 2 weeks, and very fast recovery."
Steve-o, Texas
Recommendation
The bottom line with Myogenix AfterShock is that the product was clearly created using the best available science and research. This shows almost instantly and becomes more apparent when you use the product after every workout. The mass gains experienced by many have been significant, and the product doesn't have unpleasant side effects. Between the science that created the product and the number of great reviews, this one is easy to recommend for people needing a post-workout boost to make it more effective.
User Reviews

4.0 out of 5 Stars (2 Reviews)
Have you used this supplement?
absolutely love it. tastes great. i can feel my body soaking it up post workout. this stuff is awesome

Was this review helpful to you?
0 out of 1 people found this review helpful.
---
Great results, but the taste is really brutal

Was this review helpful to you?
0 out of 1 people found this review helpful.
---
Ask A Question
User Questions and Answers
No Questions Have Been Answered For This Article.