Nutrex Research T-Up Black Review
By:
Rob Miller
Fact Checked On: 9-19-2013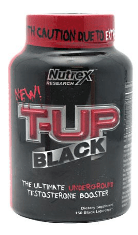 Nutrex Research T-Up Black Overview
If you've been working hard in the gym and are looking for a product that's designed to help you take your results one step further, one such product that you may wish to consider is Nutrex Research T-Up Black.

This product is designed to be one of the more powerful testosterone boosting supplements on the market – so powerful in fact it can be used as a post-cycle therapy supplement for those who are using anabolic steroids.

The product is designed to be used in cycles as well so that your body doesn't start to adapt to it and experience negative side effects, however the drawback in this is during the down phase you may start to see some declines in strength level until you start up again.
Ingredients And How They Work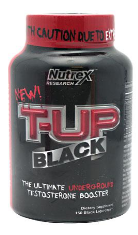 Nutrex Research T-Up Black is composed of an exclusive testosterone boosting complex, sodium D-aspartic acid, massularia acuminate, vitamin B6, folic acid, as well as vitamin B12. Together these ingredients will help to increase muscle strength, evoke a natural increase to your testosterone levels, and may also help to stimulate a greater overall estrogen suppression effect as well.
Pros
Can show a positive increase in testosterone levels by up to 50% in just 12 days
Is backed by research
Can enhance the level of recovery you get after each workout session
Is one of the stronger testosterone boosters available on today's market
Cons
Being that this product is stronger, there is also a higher risk you may suffer from unwanted side effects
Those who use the product on a regular basis may show declines in testosterone levels after coming off it – so you'll need to stay on to keep seeing results
Muscle mass loss may occur should you come off the product
Is one of the more pricey products on the market
You'll be required to take pills numerous times each day
Where To Buy
You can purchase this product online or in stores for around $30-40 per bottle.As you are taking five capsules per day however, it is one of the more costly options to use on a day to day basis.
Recommendation
T-Up black is a very powerful testosterone booster that will enhance your natural levels, but in addition to that, it will also pose the risk of side effects in some men. If you've never used a testosterone booster before, you may want to start with one that isn't quite so harsh to see how your body reacts first.
Additionally, the more intense the supplement you use, the greater the chances are that you will see muscle mass loss when you come off it, so that is something further to keep in mind.

Unless you've used many testosterone boosters in the past, there may be a better option out there that will suit your needs more appropriately.
Have You Used Nutrex Research T-Up Black? Leave Your Review Below!
Top 3 Testosterone BoostersAffiliate Disclosure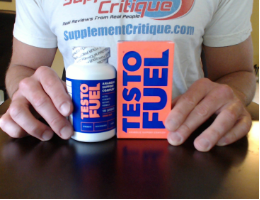 Testofuel is the most effective testosterone boosting supplement on the market that i've tested.

It uses a unique blend of effective testosterone boosting ingredients that will help transform your life.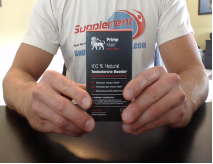 Prime Male is a VERY close 2nd to Testofuel, but contains ingredients to help older men. See why we recommend Prime Male for guys aged 40+, as well as my personal results.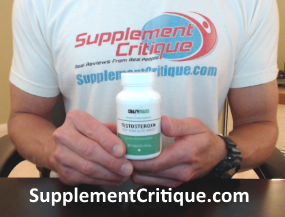 Testoroxyn uses DHEA and other ingredients to help boost free testosterone. See how Testoroxyn is different from Testofuel and Prime Male, as well as my personal results.
Check Out My Top Choice For T Boosters - Testofuel

Click Here To Read My Review
Ask A Question
User Questions and Answers
No Questions Have Been Answered For This Article.