OMG Male Enhancement Review – Does It Work?
By:
Rob Miller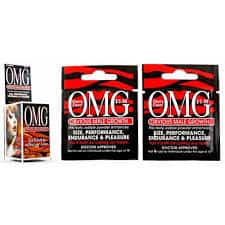 OMG Male Enhancement Overview
Most fast acting male enhancement supplements come in the form of a pill that you take about 30 to 60 minutes before sexual activity so you can be assured that you're ready when she is. Most, but not all.

Some enhancements come in the form of creams or gels that you apply topically.

Some are strips you place under your tongue.

This one, OMG Male Enhancement, comes in the form of little packets of powder.

The primary purpose of this is that it makes it super-fast acting.

You only need to wait 15 minutes for this one to take effect.
OMG Male Enhancement(the OMG stands for Obvious Male Growth) is a cherry flavored powder with the advantage of being easy to carry around and use on the spot.

It promises to improve your situation in terms of size, performance, endurance, and mutual pleasure.

They say "You'll both be calling our name!"
OMG Male Enhancement Ingredients and How They Work
We were fortunate enough to be able to get a look at the OMG Male Enhancement package, hoping we could get a definitive idea of what's in the formula.

This is very helpful information when trying to decide if this or any other male enhancement product will work.

Unfortunately, the label wasn't quite as helpful as we'd hoped.
The only listed ingredients are the fillers and such that make it a tasty, cherry-flavored powder.

They tell us there's Sugar, Citric Acid, Calcium Phosphate, Red Dye #40, Salt, Artificial Flavor, Vitamin C, and Artificial Color.

That's all well and good, but they only list one other ingredient, "A Proprietary Blend of Extracts." This is the heart of OMG Male Enhancement, and they don't tell us what it is.

This is very disappointing as it's truly difficult to judge a product when you essentially don't know what it is.
The instructions say to pour the powder under your tongue about 15 minutes prior to your event.
OMG Male Enhancement Pros and Cons
Advantages of OMG Male Enhancement
No long term commitment is required.
OMG Male Enhancement is convenient.
It's very affordable to try.
Disadvantages of OMG Male Enhancement
There's a warning on the label not to take OMG Male Enhancement with any other medication in a 24 hour period.

They specifically mention heart problems and high blood pressure as potential issues.

This indicates that it's possible that OMG Male Enhancement contains harmful ingredients, but we can't know this because they don't divulge the ingredient list.
There are no OMG Male Enhancement reviews from customers to help us figure out whether or not it works.
Where to Buy
You can purchase OMG Male Enhancement at Amazon and a few other online supplement retailers.

These outlets also sell in bulk to convenience stores so you might be able to buy individual packets there.

The average price per packet is about $3.
Conclusion
Without knowing what's in it, along with having the suspicions we do that it could possibly contain potentially harmful ingredients, we would advise you to seek options other than OMG Male Enhancement.
In general, it should be considered a safe practice to strictly avoid products that don't provide sufficient enough information about what it is made out of because you never know if it has something that you are allergic to or collides with medications that you are currently taking.
Have You Used OMG Male Enhancement?Leave Your Review Below!
Top 3 Male EnhancementAffiliate Disclosure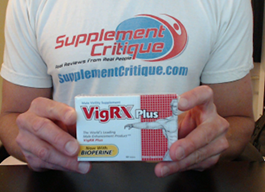 Out of the 100+ male enhancement products Ive tried, Vigrx Plus was the best.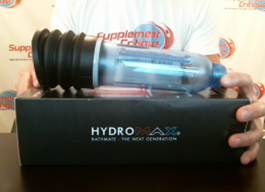 The Bathmate is a proven water-based vacuum pump that can help dramatically increase your size.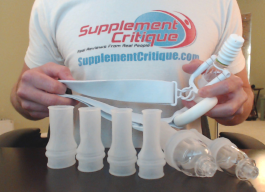 Phallosan Forte is a GREAT option for those looking to grow both length AND girth, permanently.
Honorable Mention/Inexpensive Alternative:Magnum Rings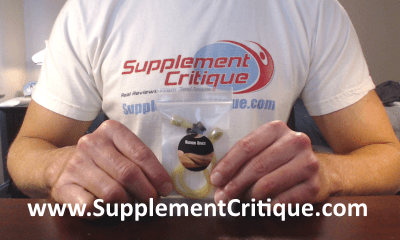 Magnum Rings are a VERY affordable option to getting both girth and length gains, at a fraction of the price of the Bathmate or Phallosan Forte.
Click Here to see our full Magnum Rings review.
User Reviews

3.7 out of 5 Stars (3 Reviews)
Have you used this supplement?
Effective!
I have used the product for over a year - very effective as claimed. Only lasts a day or so, but acts quickly for that last minute surprise!

Was this review helpful to you?
4 out of 4 people found this review helpful.
---
2BRMokresisCool
By
Raul Mokres

,
Apr 18, 2015
I found "O M G" to be fast acting, effective and long lasting.

Was this review helpful to you?
2 out of 2 people found this review helpful.
---
DO NOT TAKE
My boyfriend just tries this stuff. It has very horrible effects. First his whole body was tingly (good sign, i guess) then he got kind of aggervated with everything. He wasnt himself at all and he even felt really weird. After the climax he got cold chills then it made him sleepy. This all happend within an hour and a half.
It didnt really do what it was suppose too. "Extend" "last longer" it was exactly the same. Just dont buy this stuff. It will make your lady so confused on what is happening because its almost like you get mood swings. Especially during sex and it makes it so unenjoyable. Better off without it.

Was this review helpful to you?
2 out of 4 people found this review helpful.
---
Want To REALLY Get Bigger?

Click Here To See Products That WORK!
Ask A Question
User Questions and Answers
---

I have tried every where to find this powder. Amazon, Ebay, GNC you name it. Even all the local Gas Stations and what not. The reason, i love this powder is because it only last one day. Not, like other pills that last for 4 days and what not. Can anyone please tell me where i can buy this powder? I am in Desperate need of this powder. -Royce

I don't see it either. I suspect it was discontinued.- Rob
Was this question helpful to you?
1 out of 1 people found this question helpful.
ASK A NEW QUESTION