Penimaster Pro Review – Is It Better?
By:
Rob Miller
Fact Checked On: 12-9-2014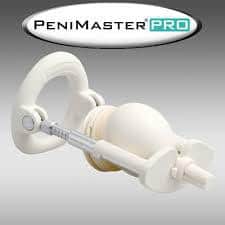 I get a lot of guys asking me which pills they should take to get a bigger penis.

Well, the unfortunate answer is always the same.

No pill will make you have a bigger penis.

It is true, however, that some supplements can increase your sex drive and overall performance – but none of them will have an impact on the physical size of your penis.
For that, you need to do exercises (like the time-tested jelqing stretching) or even better, use an extender device.

Extender devices definitely work and have been used in clinical settings for years.

For many men, though, the time investment associated with these devices is a major problem; You have to wear them for several hours a day and use them for months and months to get the kind of results most guys want.

But, if you really want a bigger johnson, you're going to have to work for it.
Since you have to wear these devices for so many hours a day, finding something comfortable is extremely important.

Of course, companies know this and they all claim to be comfortable and pain-free.

Unfortunately, that doesn't always turn out to be true.

With that said, some are more comfortable than others, and the one we're talking about today – Penimaster Pro – claims to be right up there at the top.
How Penimaster Pro Works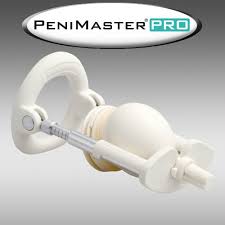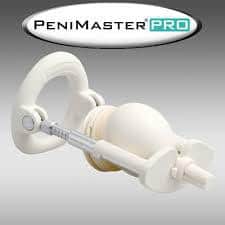 The basic mechanism of the Penimaster Pro is the same as all extender devices.

It provides a pulling tension to the penis.

When this tension is applied for long stretches of time over many days, weeks, and months, it forces the penis to produce new cells to accommodate the "new" size from the stretching.

This stretching is a basic and proven feature of the human body.

Think about a pregnant woman's belly, or the various cultures that enlarge their necks, lips and earlobes.

In fact, some cultures have actually used this same principle to enlarge their penis for centuries.
All this shows that prolonged stretching causes an increase in size.

And this is exactly the principle by which Penimaster Pro – and any extender device – works.

It takes time and commitment, but in the end, it produces results.
What's Different About Penimaster Pro?
Penimaster Pro was designed in Germany so right away that's a plus since we've all heard about the superiority of German engineering.

Obviously, though, this may not be a very strong selling point for everyone.
The biggest difference we seen in the Penimaster Pro, however, is in how it actually adheres to the penis.

Whereas most extender devices use a "noose" or "strap" fixation method that holds the device to the penis for the extended amount of time needed, Penimaster Pro uses a vacuum fixation method.

This method is more convenient and much more comfortable.

It doesn't create friction like the noose or strap do, and it stays securely attached to the head for hours at a time.
At this time, the Penimaster Pro is the only product that uses the vacuum fixation method.
In fact, the original model of the Penimaster uses the traditional noose method.

For the most past, this is the major difference between the two models.

Although they both come in different kits (which I'll detail next) the original Penimaster costs about $170 while the Pro will run a much higher $305.
Your Options
The original Penimaster strictly uses the noose along with a system of tension rods to achieve the desired the results.With the Pro, however, you have some options.
First, you can simply purchase the suction piece for about $194. This is a good choice for men who had previously purchased the Penimaster and would like to upgrade.If you don't have the rods, though, this piece alone won't do you much good.
The next decision you're going to have to make is in regards to the tension system you want to use.

The Penimaster Pro can use either a rod or belt assembly to provide pulling force.

The belt is designed to be smaller, more discreet and easier to travel with.

According to the company, the belt can be worn around your shoulders, your hip or even your knee which allows you to hide it under a variety of clothing.

The company also claims that they belt allows so much natural motion that you can even wear it while jogging or cycling.

This added convenience is a nice touch and could make this product easier to use than it's competitors.
The rod assembly, on the other hand, will provide a higher degree of tension that is also easier to control.

While the belt uses the tension of the fabric itself to pull on the suction device, this system includes spring-loaded rods with easily adjustable lengths to create more steady tension.

Even though it sacrifices some easy-of-use, the rod system will give you more control and faster results.
Both kits include the actually suction piece.

The belt will cost roughly $280 as opposed to the $305 for the rod system.
According to the manufacturer, both of these systems can be discreetly worn under your clothes – which is important feature when you consider the time required with this type of device.
Penimaster Pro Reviews
Almost everyone who's used it seems to claim that it's more comfortable and easier to wear than other devices.And because you can wear it longer and more frequently, you'll get better results and you'll get them more quickly.
As mentioned, the chief concern with these devices is the commitment that it takes and this may simply not be practical for some men.
Penimaster Pro Pros and Cons
Advantages of Penimaster Pro
It's more comfortable than other devices.
It's got positive reviews.
Several kit options
Proven technique
Disadvantages of Penimaster Pro
It's expensive (though that's the case with all extender devices)
It takes real commitment to see results (but again, that's true of all devices)
The company website is a little tricky to navigate.
Where to Buy
You can purchase Penimaster Pro online from the company website.

I do feel like it's worth noting a few things about the website, however, since I think that's usually a good way to get a first impression of the company.

For one thing, the landing page isn't the most impressive thing that I've ever seen and doesn't exactly build confidence in the product.

That being said, the Penimaster Pro does have solid technology behind it and good reviews, so don't let the website chase you away.
Expect to be redirected to several different pages that have totally different looks as you go from the home page to the product catalog and, finally, the purchasing section.

Again, this is a little off-putting but doesn't necessarily reflect on the product.

The prices are also given in Euros initially, but a conversion chart is provided.
Conclusion
The only way to reliably increase the size of your penis is through steady, regular tension.

The technique has been used all over the world for generations to increase the size of a number of body parts. And modern medicine continues to use it.

The technology behind the Penimaster Pro, then, works.
An added benefits of the Penimaster Pro – and the advantage it has over other similar systems – is the use of suction.

This approach creates much less friction on the penis and should offer a more reliable, comfortable fit than the traditional strap method.

Having the option of both a rod and belt system is also a nice touch.

Since both systems are designed to be worn under your clothes, wearing the kit for the required hours each day is a little more realistic than it would be otherwise.
While the price may be a little bit of a shock at first, this is roughly what you would pay for most systems like this.

Remember, though, that the Penimaster Pro is the only extender that we've seen to use suction to offer a high degree of comfort.

If it ends up being on the higher end of the market, it seems like it might be worth it.

You will be spending a lot of time with this device, after all, so it's worth investing in something that you will be comfortable in.
Real, effective penis enlargement requires a lot of determination and dedication.

Extender systems are generally a fairly costly purchase, too.

Unfortunately, there is no quick-fix or magic pill.

If you're willing to make the investment, then your best success will come with a product that's safe, convenient, and comfortable to use. Penimaster Pro appears to be all of these.
Top 3 Male EnhancementAffiliate Disclosure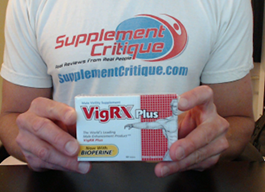 Out of the 100+ male enhancement products Ive tried, Vigrx Plus was the best.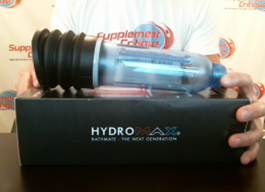 The Bathmate is a proven water-based vacuum pump that can help dramatically increase your size.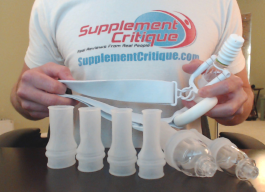 Phallosan Forte is a GREAT option for those looking to grow both length AND girth, permanently.
Honorable Mention/Inexpensive Alternative:Magnum Rings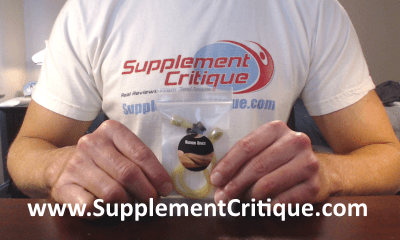 Magnum Rings are a VERY affordable option to getting both girth and length gains, at a fraction of the price of the Bathmate or Phallosan Forte.
Click Here to see our full Magnum Rings review.
Want To REALLY Get Bigger?

Click Here To See Products That WORK!
Ask A Question
User Questions and Answers
---

What do you think of the PeniMaster Pro belt? Is it just as good as the Phallosan Forte? Both products seem to have the same concept. What do you think? -Koh

I haven't tried this one myself, but it looks good, and most reviewers say it's comfortable, which is key.- Rob
Was this question helpful to you?

ASK A NEW QUESTION