Pro JYM Review – Should You Use It?
By:
Rob Miller
Fact Checked On: 10-12-2014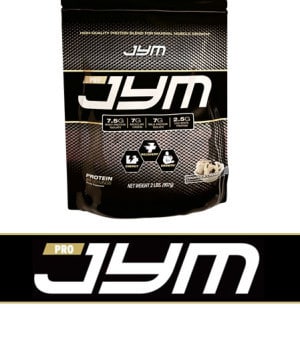 ---
Pro JYM Overview
Supplementing protein is almost a no-brainer whether you're working out for bulk, strength, or weight loss. Protein builds muscle, period.

So when you're working out, you'll need it for that muscle growth and development, again whether your using that muscle to be strong and bulky or to lose weight.

You might think "protein is protein" so I'll just get the cheapest one, but if you do, you probably won't be doing your body any favors.

The trick is to find a quality, good tasting protein at a value price-point, one that meets and exceeds your needs and expectations.
Pro JYM is a protein supplement made by JYM Supplement Science, a boutique supplement line made by bodybuilding enthusiast/Exercise Physiology PhD, Jim Stoppani.

He's partnered up with Bodybuilding.com, and his supplements are getting a lot of positive word of mouth.

Pro JYM is a complete protein powder that seems to be passing the test with almost all of its customers.
Pro JYM Ingredients and How They Work
Each serving of Pro JYM contains 24 grams of protein, and here's something different: Pro JYM lists the amounts of each different type of protein that goes into making up the 24 g.

This is basically unheard of in the industry, and it shows just how deeply Jim Stoppani takes his principle of full ingredient disclosure.
The 24 grams includes:
7.5 g Whey Protein Isolate
7 g Micellar Casein
2.5 g Egg Albumen
7 g Milk Protein Isolate (5.5 g casein, 1.5 g whey)
They break it up by category as well, and it falls out like this:
9 g Whey Protein
12.5 g Micellar Casein
2.5 g Egg White Protein
The reason for the different types of protein largely comes down to absorption rates.

If you don't want spikes and dips, you want several different kinds metabolizing at several different rates.

Whey is fast digesting, so you need the slow digesting protein in Casein and the medium digesting protein in Eggs.
Pro JYM Pros and Cons
Advantages of Pro JYM
The Pro JYM reviews I've seen mostly very positive.
It uses different protein sources for different rates of absorption.
There's no money back guarantee.
Disadvantages of Pro JYM
Some say it's gritty (though there are also plenty of raves about the taste).
It's more expensive than a lot of proteins.
Where to Buy
You can purchase Pro JYM through bodybuilding.com.

The 23 serving tub sells for $32. The flavors are Vanilla, S'mores, Cookies & Cream, and Chocolate Cookie Crunch.
Conclusion
If you're in the market for a new protein powder and you're curious about what the difference between ordinary and quality might be, pick up a tub of Pro JYMand check it out.It may be worth the few extra bucks.
Have You Used Pro JYM? Leave Your Review Below!
Ask A Question
User Questions and Answers
No Questions Have Been Answered For This Article.