Prost Rx Review
By:
Rob Miller
Fact Checked On: 4-5-2018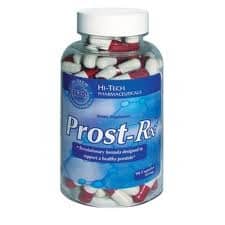 ---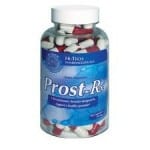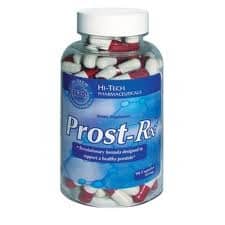 Prost Rx, which is manufactured by Hi-Tech Pharmaceuticals, is an over the counter supplement designed to help relieve embarrassing prostate problems. While there doesn't appear to be an official website, we attempted to learn all we could about this supplement in this review. So what makes this product work? Well we scoured through the internet to find out what customers were saying about it, as well as compared it to other top performing prostate supplements on the market to help you decide if it's right for you.
What is Prost Rx?
Prost Rx is an all natural supplement which is made up of a number of vegetarian ingredients that reduce an enlarged prostate. It contains, among other ingredients, includes saw palmetto and sitosterol, which are active ingredients in several other leading products of its kind. The most important ingredient is sitosterol, which works by inhibiting the uptake of dietary and biliary cholesterol, which lowers ldl cholesterol levels. This, in combination with Saw Palmetto, is a very popular combination that has been show to treat BPH, or benign prostatic hyperplasia.
You can currently purchase Prost Rx on a wide variety of online retailers such as Amazon and Ebay, and it currently retails at around $22.
Reviews of Prost Rx
There are only a few people talking about it online, but Prost Rx seems to work fairly effectively for most men over 40 that try it out. Most customers report very little, if any, side effects and they mention that the product works very effectively at abstaining from having to go to the bathroom every couple of hours. Here is a sample review of Prost RX we came across:
"I would say that I am like most middle aged men that have this problem. I decided to try prost rx after my first brush with another product didn't go too well (bad side effects). Overall, I think this product works great, and its really cheap too. Highly recommended to any guy."
Phil, Florida
Recommendation
We do recommend the use of this product for daily all natural treatment of BPH and other prostate problems. Like most prostate supplements, the fact that Prost Rx contains a potent combination of saw palmetto and sitosterol, and has numerous positive customer reviews, we feel that this product would work great when taken with a healthy diet and exercise. If you have used Prost Rx we ask that you leave your review below.
Ask A Question
User Questions and Answers
---

Hi, Does anyone know the breakdown of the ingredients? On the tub it only says "Proprietary blend 505mcg" Thanks heaps -jack

The full ingredient list for Prost RX includes the following:  Vitamin E (33 IU), Vitamin B6 (13.8 mg), and Zinc (9.9 mg). The proprietary list is made up of Saw Palmetto extract, Phytosterol, Pygeum extract, Belisian Man Vine Extract, Muira Puama extract, Epimedium extract, Quercetin, Nettles extract, L-Alanine, L-Glutamic Acid, L-Glycine, and Lycopene.- Rob
Was this question helpful to you?
2 out of 2 people found this question helpful.
ASK A NEW QUESTION