Prostofine Review – Should You Use It?
By:
Rob Miller
Fact Checked On: 3-26-2015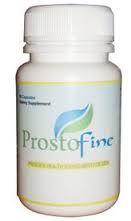 ---
Prostofine Overview
Nearly half of all men will experience an enlarged prostate at some point after the age of 50. Most of their issues will be benign, meaning the only real problem is with symptoms, not overall health. In fact, it's right in the name, BPH – Benign Prostate Hyperplasia.

That means it's not dangerous, just inconvenient to have to run to the bathroom every half hour, just to painfully piss out a few dribbles.

There are prescription medications to address the problems, but they come with doctor visits, expensive bills, and potential side effects.

A much more benign solution comes from herbal supplements, one of which is called Prostofine.
By taking Prostofine, you'll provide the balance needed to maintain a normal, healthy sized prostate, to improve the flow of urine, and to reduce the occurrence of enlarged prostate symptoms.

That's the claim, so let's take a look at the formula and the rest of the information we have, and come up with a reasonable expectation of whether or not it can work.
Prostofine Ingredients and How They Work
There are 3 key ingredients in the Prostofineformula:
Saw Palmetto which is commonly used in prostate supplements for its ability to balance DHT.

Excess DHT is what can lead to an enlarged prostate.
Stinging Nettle which can regulate the flow of urine.
Pumpkin Seed Extract which is known to relieve problems of the prostate.

It's rich in vitamins and minerals, as well as antioxidant anti-inflammatory properties.
It's recommended that you start off taking 2 Prostofine pills per day until you start to notice an improvement.

Once that occurs, lower the dosage to 1 pill a day to maintain the success you've reached.
Prostofine Pros and Cons
Advantages of Prostofine
The ingredients are all natural.
There's a 60 day money back guarantee.
Disadvantages of Prostofine
Though rare, there are side effects associated with Prostofine that include nausea, dizziness, decreased sex drive, loss of appetite, and unexplained bruising or bleeding.
Prostofine is more expensive than a lot of the other prostate supplements available.
We found no independent Prostofine reviews from customers who've used it.
The ingredient list is very short.

There are several additional herbal remedies that could have been added to the formula.
Where to Buy
You can purchase Prostofine online through the official website and a few other online retailers. A bottle contains 90 pills.

This can last anywhere from 45 to 90 days depending on how you use it.

On the website, the bottle sells for $49.95, and the price is similar wherever you look.
Conclusion
As far as natural herbal supplements to address enlarged prostate symptoms go, Prostofine is not your best choice.It's expensive, its formula is limited, and there are no real customer reviews to help steer us in the right directions.
Have You Used Prostofine? Leave Your Review Below!
Ask A Question
User Questions and Answers
No Questions Have Been Answered For This Article.