Prosvent Review – Should You Use It?
By:
Rob Miller
Fact Checked On: 4-5-2018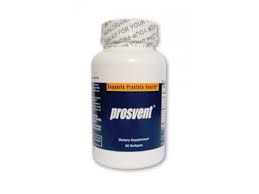 ---
Prosvent Overview
More and more men are turning to natural supplements to relieve minor prostate symptoms and prevent more serious problems in the future. It makes sense.

If your issues are mild, you don't want to get started on a prescription protocol that lasts the rest of your life.

And if you're healthy now, you want to stay that way.

So lots of supplement options have sprung up recently.

The one we're looking at today is called Prosvent.
Prosvent claims to tackle the full range of enlarged prostate symptoms which include needing to wake up several times a night to use the bathroom, not being able to sit through a movie or sporting event without getting up, and poor sexual performance.

These issues are more common than you think. ½ of all men experience them at some time.

According to the website, taking Prosvent is the healthy, natural alternative to surgery and prescriptions.
Prosvent Ingredients and How They Work
The Prosvent formula is all natural, using herbs to combat your issues and symptoms.

Most of them are believed to have a positive effect on prostate health. There's:
Nettle Extract which supports overall prostate health.
Beta Sitosterol which has been clinically shown to reduce urinary symptoms of an enlarged prostate, whether it's from cancer or benign.
Saw Palmetto which is often used to support overall prostate health.
Pumpkin Seed Oil which works with Saw Palmetto to improve urinary health.
Pygeum which blocks prostaglandins which cause inflammation
Lycopene which is an antioxidant to promote cellular health.
Vitamin D which has been shown to support prostate health.
Zinc which is important to all bodily processes.
Instructions are to take 1 Prosventsoft gel twice a day with meals.
Prosvent Pros and Cons
Advantages of Prosvent
The ingredients are all listed and all natural.
There are several different ordering options.
Orders come with free gifts.
Disadvantages of Prosvent
There are tons of negative Prosvent reviews from customers who used it and say it just doesn't work.
The free trial offer is has been misleading to lots of customers who were caught off guard by the automatic re-billing.

The whole ordering process is made very confusing.
Where to Buy
You can purchase Prosvent through its product website or through other online retailers.

A one month supply from Amazon costs $48. At the website, you can buy or try a 60 day supply or a 30 day Some come with free gifts.

Most come with automatic monthly shipments and billings.

There's one option where you can just buy one month outright.

You definitely want to make sure you know what you're signing up for.
Conclusion
With bad reviews and confusing billing, I have to conclude that Prosvent is not your best choice.

The natural ingredients are no doubt beneficial to your health, but there are lots of other supplements with similar ingredients and no tricks or traps.

Skip Prosvent, and go with one of those.
Have You Used Prosvent? Leave Your Review Below!
Ask A Question
User Questions and Answers
No Questions Have Been Answered For This Article.