Sculpt Nation Test Boost Review – Does It Really Work?
By:
Rob Miller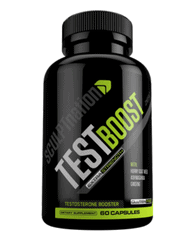 Testosterone is the building block for many aspects of a man's life.
It is the reason why we grew at puberty, why we have facial hair, can build muscle, and much more.
Throughout life, testosterone levels go through many changes.
The most troubling of those changes is when your testosterone levels begin to dip.
It happens to everyone and usually comes around age 30 and begins the gradual downgrade.
Update 12/28! Check Out My Top Choice For T Boosting
If you're looking for an effective testosterone boosting supplement, check out a product called Prime Male.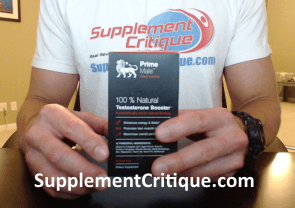 It's by far the most effective all-natural Testosterone boosting supplement we've tested to date, and we've tested 100's of them.
Click Here to read my full review of Prime Male.
The decline takes time, but it has an effect on all aspects of life and can be hard to deal with for a lot of men.
Thankfully, in today's age, you can find testosterone boosters easily.
A testosterone booster's goal is to increase your levels of the hormone and get it flowing.
Many men find their way to testosterone boosters because it is a cheaper and, in some cases, safer alternative to hormone replacement therapy.
You can find a wide variety of testosterone supplements out there today, and many of them are natural ingredient-based formulas.
One such testosterone supplement is Sculpt Nation Test Boost.
Sculpt Nation Test Boost, according to their own website, can help you get your libido up, build lean muscle, increase testosterone production and lose fat.
Their formula features some time-proven ingredients that you may recognize from other similar supplements.
Let's check out Sculpt Nation Test Boost and see how it works, what it's made out of and how effective it really is.
What is Sculpt Nation Test Boost?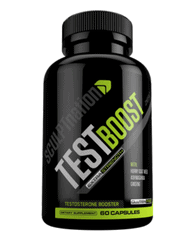 Sculpt Nation Test Boost is a natural testosterone boosting supplement.
One of the aims of the supplement is to help you build muscle and burn off some fat.
Because it naturally increases testosterone, it can also help to improve sex drive and everything that comes along with that.
It also directly addresses erectile dysfunction with a few of its ingredients, including Epimedium (horny goat weed).
How Does Sculpt Nation Test Boost Work?
Sculpt Nation Test Boost works by increasing your testosterone as well as boosting your blood flow.
The result is that, if it works for you, you will have more free testosterone and will be able to perform better both athletically and sexually.
It is a daily supplement and it may take a little while before you see peak effects from it.
They are so confident in Sculpt Nation Test Boost that they offer a full 60-day money back guarantee if you are not happy with your results, or lack thereof.
As with any supplement, it is only as good as its formula.
Let's take a closer look at the ingredients and see what makes Sculpt Nation Test Boost tick.
What Are Sculpt Nation Test Boost's Ingredients?
Tribulus
It has been used to treat many illnesses and ailments, such as eczema, enlarged prostate, erectile dysfunction and infertility. (Source)
There is a myth that Tribulus can increase your testosterone, but in reality, the science shows that this is only true for some animals, not human beings. (Source)
Panax Ginseng
Panax ginseng can be used to treat many cognitive issues such as loss of memory and overall cognitive function and can be used to lower the risk of contracting the flu or other illnesses. (Source)
It is also used take care of erectile dysfunction and even strengthen the lungs for people that have COPD. (Source)
Cordyceps
Loaded with antioxidants, it can help treat inflammation, possibly improve kidney function, and can improve sports performance by stimulating the muscles. (Source)
Ashwagandha
More than anything, it is used to alleviate stress and anxiety. (Source)
It also increases sexual desire and can possibly improve sexual satisfaction. (Source)
Hawthorn Berry
It can be used to treat inflammation, lower your cholesterol levels, impede hair loss, and it can lower your blood pressure. (Source)
Hawthorn berry can also help you with digestion, provide relief from anxiety, and promote heart health. (Source)
Longjack Root
Also known as eurycoma longifolia, it can treat male infertility and sexual dysfunction. (Source)
Epimedium
Often referred to as horny goat weed, Epimedium is an aphrodisiac that boosts sexual appetite and helps with erectile dysfunction. (Source)
Do Any of the Ingredients Have Side Effects?
Tribulus has the potential to cause insomnia, constipation, nausea, diarrhea, vomiting, and stomach pain. (Source)
Panax Ginseng can dizziness, nausea, fluctuation in blood pressure, itchiness, diarrhea and headache. (Source)
Cordyceps mushrooms are believed to be safe and mostly without side effects, however, they can trigger a response from certain auto immune disorders. (Source)
If you take too much Ashwagandha, there is a possibility of stomach pain and vomiting. (Source)
Hawthorn berry can cause vomiting and nausea occasionally. (Source)
Longjack root can cause lead or mercury poisoning if you consume it in excessive quantities. (Source)
Epimedium can cause nausea, dizziness, diarrhea, vomiting, excessive thirst and possibly breathing problems. (Source)
Does Sculpt Nation Test Boost Work?
It certainly works to boost several areas of male health.
As far as significantly increasing testosterone levels goes, I am not quite sure that it does that.
It does however seem to be a great libido enhancer and it does seem to increase athleticism.
Some of the ingredients that it has that are supposed to be responsible for the boost in testosterone have only been found to be able to do that in animals.
There are certainly several ingredients that help with building muscle and overall workout recovery, however.
As far as the sexual effects of Sculpt Nation Test Boost go, it seems to be quite effective.
It features some classic aphrodisiacs and they have garnered their reputation as mood enhancers for a reason.
So in many ways, yes Sculpt Nation Test Boost does work, just not in the exact way that you may expect based on the name and some of the claims that they make.
How To Use Sculpt Nation Test Boost
Sculpt Nation Test Boost is a daily supplement.
That means that not only do you have to take it daily, but that it will only work as well as it possibly can if do so.
In a lot of ways, daily supplements of this kind can be easier than "take as needed" pills.
Especially when it comes to sex where you can't always anticipate it so when it comes time, you have to pop a pill and wait an hour.
With Sculpt Nation Test Boost, that is not an issue.
With that said, I can also see why some people prefer to not add a new supplement to their daily regimen.
You don't need to worry if you skip a dose, but if it works out for you, you probably won't want to.
Where Can You Buy Sculpt Nation Test Boost?
Luckily, they have a website that you can buy Sculpt Nation Test Boost from directly.
In general, when given the option, I usually opt for buying directly from the supplement in question's website.
That way, there is no question of where it is coming from and whether or not it is knockoff.
There are three different options for purchasing Sculpt Nation Test Boost.
You can choose the 1 bottle package with auto refill for $41 or $49 if you choose the one-time delivery option.
For a better value, you can get 3 bottles for $44 per bottle, or for bulk, you can get 6 bottles and pay $32.50 per bottle.
They do offer a 60-day money back guarantee, so you should head to their website to read the terms to make sure that you can take advantage of it if you need to.
Pros +
Natural ingredients
Can enhance athletic performance
Increases sexual desire and energy
Helps with erectile dysfunction
Cons –
Conclusion
At the end of the day, Sculpt Nation Test Boost is a well-rounded supplement.
It does a lot of things right, and it does not go too far over the top in its claims.
The only one of them that I am not sure of is how much it actually increases testosterone production.
Without a doubt, it seems to help with a lot of the things that testosterone plays a role in, but I have not seen enough evidence to say if it boosts it actively.
Some of the ingredients known to have an effect on testosterone have been found to only affect animals in that way.
Beyond that, it is a great supplement.
Its sexual effects are just as good as its energy and sports performance effects.
It does seem to be quite effective in workout recovery and helping you get the most out of a heavy exercise session.
Choosing the 1 bottle option may seem a little pricey if you do it without the auto ship option, but if you can swing it, it is worth a shot.
You can always cancel if you don't like it.
As always, check with your doctor to make sure that Sculpt Nation Test Boost does not interact with anything that you are currently taking.
Top 3 Testosterone BoostersAffiliate Disclosure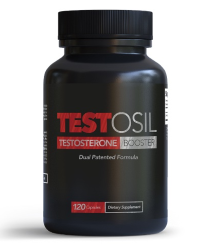 Testosil is the most effective testosterone boosting supplement on the market that I've tested.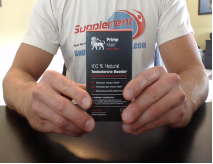 Prime Male is another very effective testosterone booster that uses clinically proven ingredients.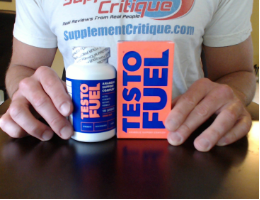 Testofuel is a VERY popular testosterone booster that contains ingredients to help older men.
4 Star User Reviews

3.0 out of 5 Stars (2 Reviews)
Have you used this supplement?
There Are no 4 Star User Reviews
Ask A Question
User Questions and Answers
No Questions Have Been Answered For This Article.