Semenex Overview
Today we're looking at something a little different, though still in the category of male enhancement.  It's just male enhancement in a slightly different way.  Semenex is a product designed to improve the taste of semen.  If you're into oral sex (as if anyone isn't), but your girl isn't a huge fan of the taste of your love, Semenex claims to be the solution you need.
The claim is that Semenexmakes semen as delicious as it is nutritious.  It's been clinically proven and touted in the media to work.  It also purportedly increases semen volume and replaces some of the nutrients lost during ejaculation.
Semenex Ingredients and How They Work
Semenex is a completely vegetarian formula made of a proprietary blend of Pineapple, Broccoli, Celery, Strawberry, Fructose, Cinnamon, Ginger, Nutmeg, Citric Acid, Vitamins B6 and B12, Vitamin E, Calcium, Magnesium,Creatine, Selenium, and Zinc.
The fruity powder provides healthy doses of such essential vitamins and minerals as Vitamin A, Vitamin B6,Vitamin B12, Vitamin C, Vitamin E, Magnesium, Calcium, Selenium, and Zinc.  So while she gets the benefit of your sweet taste, you get the benefit of a healthier body and ejaculate.
The instructions for use are to first clear out your old semen with a couple of ejaculations.  Then mix 2 level scoops with juice or water and drink it for two nights in a row.  You should be ready to go the following morning.
Semenex Pros and Cons
Advantages of Semenex
Several independent Semenex reviews from customers say that it works.
The ingredients are all natural.
The formula contains lots of healthy vitamins and minerals.
It mixes well with water.
Disadvantages of Semenex
By most accounts, it doesn't taste very good.
It's pretty expensive.
There are cheaper ways to sweeten the taste of your semen, like eating certain foods.
Where to Buy
You can purchase Semenex online.  The cost is $45 for a 10 serving tub.  It's possible that Semenex may be going off the market.  This is not confirmed, but several of the retailers that previously sold it are now out of stock.  This is not usually a good sign.
Conclusion
Well, Semenex does work.  That's not in question really.  The question is whether or not it's worth the time and money spent on it.  Given that you can get basically the same results with daily pineapple juice, I'd say probably not.
Have You Used Semenex?  Leave Your Review Below!
Our #1 Choice For Male Enhancement – Vigrx Plus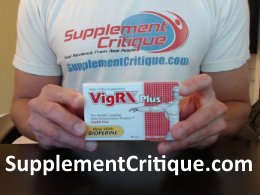 We have personally tested over 100 different male enhancement supplements, and Vigrx Plus stands out as the most effective in terms of results and customer reviews.  Not only is Vigrx Plus designed to help boost overall stamina and libido, but it's also the only product in its category to be clinically studied and PROVEN to work.
Click Here to read more about my specific results with Vigrx Plus
How People Found This Review:
and semenex, and supplements for semen taste
Want To REALLY Get Bigger?

Click Here To See Products That WORK!
Ask A Question
User Questions and Answers
No Questions Have Been Answered For This Article.