Synadrene Review – The BIG Reason To Go For It
By:
Rob Miller
Fact Checked On: 3-31-2020
Contents
What Is Synadrene
Synadrene vs Synadrex
DMAA and the FDA Recall
Synadrene Ingredients
How to Use Synadrene
Synadrene Side Effects
Synadrene Reviews
Where to Buy
Synadrene Pros and Cons
Synadrene – The Bottom Line
Every few years, it seems the weight loss supplement industry gets turned on its head by an incredibly effective new ingredient that finally provides the real help dieters are looking for.

The most popular example is Ephedrine back in the late 1990s and early 2000s.

In an industry dominated by snake oil, its success appeared to be grounded in real results.

Right up until it got banned by the FDA because of a number of adverse events that appeared to be related to its use.
Today, it's DMAA, or 1,3 dimethylamylamine.This ingredient is currently going through one of several rounds of suits and countersuits with the FDA over whether or not it should be considered natural and safe enough for use.

Plenty of supplement makers have removed DMAA from their formulas, but Hi-Tech Pharmaceuticals has chosen to continue to use it in Synadrene.
Related Article: Diet Pills Sold In Stores – An In-Depth Look

What Is Synadrene?
Synadrene is a weight loss pill from Hi-Tech Pharmaceuticals created to simulate the effects of the original and highly popular Synadrex.

With its powerful, stimulant based formula, you can expect benefits to include:
Enhanced mental focus to keep you motivated and on track.
Thermogenic fat burning.
Lasting energy.
Appetite Suppression.
All leading to significant weight loss.
Synadrene vs Synadrex
Synadrex by Metabolic Nutrition is one of the hottest weight loss supplements around.

That's partially because the original version included DMAA. But when the FDA declared DMAA was banned, Metabolic Nutrition capitulated by taking Syndadrex off the market, reformulating it without DMAA, then re-introducing it back into its product line.
While the new formula may appease or even please some users, some want their DMAA, and those are the ones who either have switched or should switch to Synadrene.
Hi-Tech makes no secret of the fact that it's a copycat formula.

When you compare the bottles,you have to look closely to even tell them apart.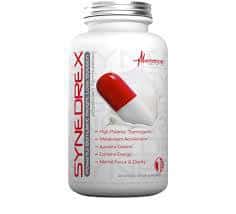 DMAA and the FDA Recall
Back in 2012, the FDA first issued a recall for dietary supplements containing DMAA. Between 2008 and 2013, the FDA received 86 reports of health problems, including 5 dealths.

To be clear, however, there is no proven causal relationship, just a correlation at this point.

The FDA cited another primary reason for the recall – the idea that DMAA is a synthetic, not natural, ingredient, which means it doesn't qualify as an unregulated ingredient in a dietary supplement.
At the time, most supplement manufacturers complied with the recall, but not Hi -Tech Pharmaceuticals.

They decided to fight the ruling on the grounds that DMAA comes from Geranium Oil, a natural source and that there is no evidence that it's unsafe.
As of the summer of 2017, the court battle over the issue has been and still is ongoing.

Meanwhile, Hi-Tech continues to make and sell supplements containing DMAA, and they took the opportunity to step in where Metabolic Nutrition backed off by creating a copycat version (with a few changes) of the popular original formula.
Synadrene Ingredients
Synadrene makes no bones about the fact that it's a stimulant-heavy weight loss pill.

The powerhouse Synadrene Proprietary Blend is made up of a total of 815 mg of:
Methylxanthine (aka caffeine) which is of course the most popular stimulant there is.

It increases energy, suppresses appetite, and even boosts metabolism.

It's basically the weight loss triple threat.
Green Tea Extract which contains EGCG catechins, the powerful fat burning, immune supporting antioxidant responsible for so much of the hype around Green Tea.

And don't forget, Green Tea provides additional caffeine to the mix, which tempering it with the calming effect of L-Theanine.
DMAA which is the subject of so much debate these days.

It's a short term central nervous system stimulant that boosts mental energy as well as focus.

In fact, you may find it in some "brain boosting" nootropic supplements as well.

It's chemically similar to amphetamines, and as such may give a false positive on a drug test.

It's also banned itself by some sporting organizations.

Its first use was as a nasal decongestant, but it is much more commonly used now as a stimulant for all the different reasons one would use a stimulant.

Some known side effects are jitters, crash, blood pressure increase, and heart rate increase.

These effects are all byproducts of the fact that DMAA constricts blood vessels, inhibiting blood flow.
Sulbutiamine which is more commonly used in nootropic formulas.

It's a form of Thiamine that has been formulated to be able to cross the blood brain barrier, and be effective improving mental performance and mood.
Sandalwood Extract which is usually used as an essential oil to produce a sense of calm.

I have not seen any studies or papers written about its benefits to weight loss when ingested.
Yohimbine Extract which is another powerful and somewhat controversial stimulant.

It's also a central nervous system stimulant that can help with energy and metabolism.

It's highly alpha-2 receptive which improves the mobilization of fat for energy.

Yohimbine comes with the potential for side effects as well.

Headaches, nausea, and flu-like symptoms are not uncommon, especially at higher doses.

More dangerous side effects include a severe drop in blood pressure.
Alpha Lipoic Acid which is an antioxidant that shifts glucose from fat cells to muscle, having the effect of both increasing energy and reducing fat stores.

It may also slow the cognitive decline that comes with age due to its neuroprotective properties.
Poly-Thyronine which improves thyroid functioning for better use of fat for energy.

It suppresses appetite while boosting your metabolic rate.
On top of the blend, Synadrene also contains B Vitamins and Chromium.
Vitamin B3 (aka Niacin) which facilitates the bodily process of converting food to energy.
Vitamin B6 supports the immune and nervous systems.
Vitamin B12 helps convert fat to energy, and provides an all day energy you won't get from caffeine/dmaa/yohimbine type stimulants.
Chromium helps control blood sugar and helps reduce cravings.
When compared to the original version of Synadrex, Synadrene's formula is essentially the same minus a couple of ingredients in the original proprietary blend.
How to Use Synadrene
Instructions are to take 1 Synadrene capsule up to 3 times a day.

You'd want to take the first dose shortly before your first meal, and a second dose perhaps before lunch or workout.

I wouldn't take it too close to when you're planning to go to bed.

Chances are it'll make it tough to go to sleep.
Most of the feedback I've seen indicates that 2 pills a day is the right amount for most people.

The max recommended per day is 4.
Synadrene Side Effects
Because most of the ingredients are in a proprietary blend, we don't know what kind of dosages are being used.Given the number of powerful stimulants, it would not be surprising if you felt jittery, nervous, a little nauseous and racy when using Synadrene.
We've also discussed some of the potentially more serious side effects possible with 2 ingredients in particular – DMAA and Yohimbine.

The best way to mitigate or avoid these side effects is to start with a half dose at first, maybe just one dose the first day.

They idea is that it's best to start slowly, measuring how you feel, so you can adjust your dosages to be effective without unwanted effects.
The truth is I do this with every new supplement I try, and I particularly recommend it with the stimulant-heavy ones.
Synadrene Reviews
Hi-Tech's products, including Synadrene, are sold through several retailers, which generally means – and is true in this case – that we have access to a good amount of customer feedback.

Most of the reviews I've seen are positive, though many claim that while close to the original Synadrex, it misses the mark:

Yet, plenty of customers have reported feedback like this:

This next review reminds us that it's very much about expectations and point of view when it comes to being pleased or disappointed.

Lindsey thinks it works great – not the same as the original Sydadrex – but great in its own right:

What I didn't find were any negative reviews about it not working at all or about it producing unwanted side effects.

All in all, the review record for Synadrene is very favorable.
Where to Buy
Synadrene is not available in stores.

At this point, I think most stores are erring on the safe side by not selling supplements containing DMAA.

But there are plenty of online retailers who'll sell it to you.
At the official Hi-Tech Pharma website, the 45-count bottle sells for $69.95. At 2 pills per day, which is the most popular dose, the bottle would last about 3 weeks.Because it's available through many other retailers, you should shop around.

The most common price for that same bottle is about $35.
How Does the Price Compare to the Updated Synadrex?
The current version of Synadrex is sold at a comparable price, also through several retailers, so price isn't really a point on which to make a decision.
When looking for customer feedback on this new Synadrex, however, I found several negative reviews – ironically most of them regarding unwanted side effects, but also in some cases, complaining that it just doesn't work.
One user complained it made her violently sick to her stomach, needing medication to stop the vomiting.Another complained that it made her moody – with depressive feelings and lacking in all motivation.

Still another said Synadrex made him feel drowsy and unmotivated as well.
It's interesting to note that I haven't seen anything like this in reviews for Synadrene, which has the offending DMAA in it.
Synadrene Pros and Cons
Advantages of Synadrene
It's made by a company with a reputation for producing effective supplements and standing up for what their customers want.
Customer reviews skew very positive.
The price is reasonable, especially if you find the right retailer.
Disadvantages of Synadrene
It may have to go away eventually if Hi-Tech Pharmaceuticals loses its fight with the FDA.
There is a chance that if the FDA is right, it could be dangerous, though this would probably only be the case when taken at much higher doses than are recommended.
Synadrene – The Bottom Line
Synadrene isn't the first copy-cat formula made by Hi-Tech in response to other companies complying with the regulatory agencies by pulling their products.

With products like Jack'd Up and HydroxyElite, Synadrene is in good company. Hi-Tech has enjoyed a lot of success with this business model.
At this point, they have a reputation for fighting for what their customers want – supplements that work.

We'd all like to think that the FDA is looking out for us, and in some cases they probably are.

But sometimes, their motives may be less than pure.There is a tight working relationship between the FDA and the companies that research and manufacture prescription drugs.

There are many cases where it is believed the FDA is looking out for them more than the general public.
Hi-Tech Pharmaceuticals thinks this is one of those cases. They believe DMAA is both effective and safe, and they are willing to put their reputation on the line to make sure their customers can still get it.
Judging from a comparison of reviews for both Synadrene and the new version of Synadrex, Synadrene is both more effective and seemingly safer.Some of the side effects mentioned in connection with the new Synadrex seem way worse than anything I've seen connected to Synadrene.

And by most accounts Synadrene works.
Of course, with all the stimulants in the formula, it would be wise to be mindful of this and start off slowly with just one half dose on the first day.

If all goes well, take a whole dose the next day, and gradually build up to 2 or 3 times per day from there.

Once you hit your stride, Synadrene can be an effective tool to help manage your weight loss.
Of course, taking a pill is not enough to get the best and most desirable weight loss results and so you cannot rely solely on taking Synadrene to get into swim suit shape for the warm weather.
Taking Synadrene or other similar products in concert with a rigorous and effective workout regiment is the best way to see the kind of results that you were probably looking for in the first place.
Have You Used Synadrene?

Leave Your Review Below!
Top 3 Fat BurnersAffiliate Disclosure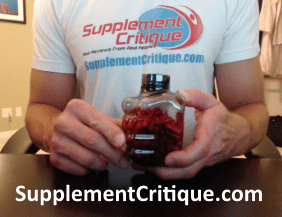 Instant Knockout is actually a new fat burning supplement I just came across, and got great results.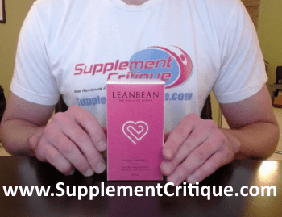 LeanBean Female Fat Burner is the BEST fat burner for women we\'ve ever tested.

Read our review here.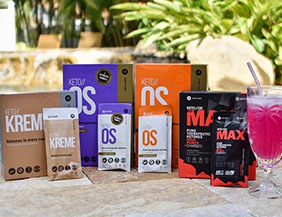 Biohacks your body into instant ketosis to burn fat instead of carbs.

Weight loss, energy, focus, anti-inflammatory, anti-aging.
Ask A Question
User Questions and Answers
No Questions Have Been Answered For This Article.