Viagrowth III Overview
Unusual in many ways, the Viagrowth iii product is packaged for people in the 20 to 35 year age group and is marketed to both men and women. For men it claims to rejuvenate their sex organs, improve their immune system, and generate more powerful erections.
It claims to be able to do these things through the proprietary blend of herbal compounds that are broken out into two formulations – the Harmonizing blend and the Glandular blend.

The first contains Tribulus Terrestris, Eurycoma Longifolia, Avena Sativa, Horny Goat Weed and Yohimbe, while the glandular blend lists Pituitary, Adrenal, Testicles and Liver compounds.
We were quite alarmed by the ingredients in Viagrowth iii, and the failure on the part of the manufacturer to indicate risks for people with high blood pressure or cardiovascular conditions who use this sort of product.

We were also a bit "thrown" by the need for people in their sexual prime (ages 20 to 35) to be seeking ways of enhancing their sexual function.
Where to Buy Viagrowth III
We found Viagrowth iii at several leading retailers of herbal remedies, plus the compound is available directly from the manufacturer's website as well.  Available through a number of retailers and from the manufacturer, Viagrowth IIItends to available for $60 per one-month supply, though some will offer a "two for one" discount.
Pros and Cons
In terms of positive and negative factors associated with the use of Viagrowth iii, we have to admit that we found many more negatives than positives.These "cons" include:
This is a product with very little detailed information provided;
There is no offer of a guarantee of any kind;
There are no specifics about the effects or origins for many of the ingredients;
This is not a treatment for all cases of ED, nor even for traditional patients with ED; and
There is no clinical evidence in terms of the efficacy of this compound.
The positive factors would include:
This is a product for both genders;
It can be purchased at a discount;
There are some known beneficial ingredients; and
There are some customer reviews available.
Viagrowth III Bottom Line
We don't recommend Viagrowth iii because of the vagueness surrounding the ingredients and their safety.

We don't like the lack of the guarantee or sample size, and feel that there are likely to be far more appropriate solutions for those with ED issues.
Have You Used Viagrowth III?  Leave Your Review Below!
Our #1 Choice For Male Enhancement – Vigrx Plus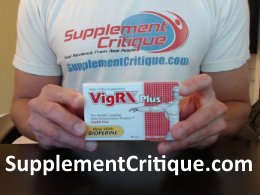 We have personally tested over 100 different male enhancement supplements, and Vigrx Plus stands out as the most effective in terms of results and customer reviews.  Not only is Vigrx Plus designed to help boost overall stamina and libido, but it's also the only product in its category to be clinically studied and PROVEN to work.
Click Here to read more about my specific results with Vigrx Plus
Want To REALLY Get Bigger?

Click Here To See Products That WORK!
Ask A Question
User Questions and Answers
No Questions Have Been Answered For This Article.