Action Fuel Pro and Muscle Forge X Review
By:
Rob Miller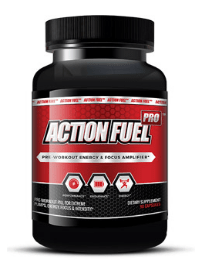 Millions of guys around the country are constantly on the lookout for that next 'breakthrough' that can help push them through their workouts and help to build massive muscle and get cut. And there's certainly no shortage of supplements out there promising to be that breakthrough…
So, when I was browsing through my Yahoo homepage this morning, I came across an ad that proclaimed "The Rock' smashes world record", saying that he (Dwayne Johnson if you don't know who 'The Rock' is) set a new Guinness world record. I clicked on it and it took me to a seemingly innocent page on what looked like the Men's Health official website.
On this page they state that The Rock smashed the Guinness record for "Most Times To Bench Press 200 lbs. in 3 minutes" by taking an innovative supplement combo…
That combo was none other than that of a supplement called Action Fuel Pro and Muscle Forge X. He apparently only had 1 month to prepare for the feat, and packed on 20 lbs. of pure muscle, all while simultaneously burning 10 lbs. of fat…
Holy…S$#t….I'm gonna have fun with this one. Read on to see what I found out…
Why This Ad Is Complete B.S.
First off, "The Rock" never set a Guinness record for "Most Times To Bench Press 200 lbs. in 3 Minutes". I know this because the record doesn't even exist…see for yourself here.
The Rock DOES hold a Guinness World Record, but it is for "Most self-portrait photographs (selfies) taken in 3 minutes", NOT "Most Times to Bench Press 200 lbs. in 3 Min."
Sort of comical that a guy that has built his reputation / legacy on being one tough muther f$#ck and holding ANY record that involves the word "Selfie"…I cringe at the thought, but hey he is worth millions of $ so more power to him I guess 🙂
Will The Real Men's Health Website Please Stand Up…
So, that's red flag # 1…now onto #2…THIS is not the REAL Men's Health website. How do I know this?? Well, for one let's take a look at the url in the browser…
Clearly doesn't say menshealth.com, which is the real site. Then, if you still have the page open, try to click around on things like "Fitness", "Look Better Naked", or even the "Search Men's health" box and see what happens. If you've already closed the page out, here's a quick screencast showing what happens:
As you can see here, no matter WHAT link you click on, it automatically redirects you to the Action Fuel Pro official website. In addition, the supposed author of this article who goes by the name of Richard Mason has been used in countless other false advertisements, including Alpha Rush Pro.
But It's a Free Sample, Right???
All deceptive marketing aside, the ULTIMATE Red Flag here is the billing procedures instituted by those of Action Fuel Pro and Muscle Forge X. When you go to their official sites you are directed to enter your basic information, including name, address, email, and telephone number.
They allude to the "fact" that you can trial the product before you buy, but what they DON'T make so crystal clear is how you will be billed. They say you have to enter your credit card information to pay the modest $4.95 shipping charge for each supplement.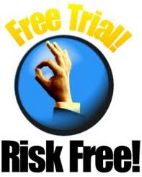 And what you probably COMPLETELY missed was the fine print that is buried below the fold…It reads:
"If you do not cancel within the 14 day trial period, you will be billed $87.47 for the bottle you received and enrolled in the membership program, where a fresh supply will be shipped every thirty days thereafter at an additional charge of $87.47 until cancelled."
for Action Fuel Pro, and:
"If you do not cancel within the 14 day trial period, you will be billed $79.97 for the bottle you received and enrolled in the membership program, where a fresh supply will be shipped every thirty days thereafter at an additional charge of $79.97 until cancelled."
This is what's known in the industry as "auto-rebill, auto-shipment", which essentially means that once the time period is up (typically 14 days), they will bill your credit card a HEFTY amount, AND keep sending you the product month after month.
I have warned thousands (if not tens of thousands) of guys about these supposed "free trials", but often alot of guys get to pages like this way too late.
In some cases, I've heard of some guys getting billed as much as $1,000 because they weren't keeping tabs on their credit card statements.
With all of this said, does the combo of Action Fuel Pro and Muscle Forge X really work? Well, I searched around on the usual websites like Bodybuilding.com, Yahoo Answers, and Amazon, but unfortunately came up short.
Apparently these products are so new that there isn't any anecdotal evidence that they are the real deal, but let's take a look at each supplement individually and see what comes up.
What is Action Fuel Pro?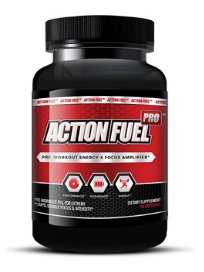 According to the products official website, Action Fuel Pro is a pre workout supplement designed to help you gain muscle, boost sexual performance, and burn away fat and flab. The ingredients listed include a proprietary blend of L-Arginine, Beta-Alanine, caffeine (180 mg) and Taurine, as well as some filler ingredients.
L-Arginine is actually a VERY popular ingredient in countless pre workout supplements, and I can personally attest to its effectiveness. That said, they don't make it clear which TYPE of L-Arginine they are using. 180 mg of caffeine is actually a decent amount, equivalent to about 1.5 X the content in a strong cup of coffee.
However, the use of any type of stimulant (including caffeine) WILL have an effect on your adrenal glands, so it's best to limit use as much as possible.
So is anyone using Action Fuel Pro, and if so, are they getting good results from it??
Well, as mentioned before, finding REAL reviews was literally impossible. The google search results are literally BOMBARDED with fake reviews from affiliate websites that say the product is the best thing since sliced bread.
However, not ONE of these sites has a journal / diary of anyone using it, and there are no before and after pictures of anyone showing off their brand new body. Youtube was equally as worthless, with tons of what look like nothing more then promo videos for the supplement (see below)
What is Muscle Forge X?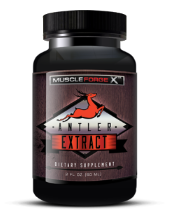 Muscle Forge X is a supplement that is actually made in spray form, and consists of L-Arginine, Epimedium extract, Tribulus Terrestris, and Eurycoma Longifolia, as well as it's primary ingredient Deer Antler Velvet extract (IGF-1). It's supposed to help speed up muscle repair time, shed away unwanted excess fat, and help to boost your stamina both on the playing field and in the bedroom.
If you follow football, you may have heard about the trouble Ray Rice got into when he was accused of using deer antler spray to help recover from injuries sustained during one of his seasons.
The use of Deer Antler Spray is prohibited in the NFL, as well as most other professional sports organizations, the World Anti-Doping Agency (WADA), and the NCAA.
The truth is, Deer Antler Spray DOES work at least anecdotally, but it hasn't been PROVEN in a clinical setting.
Just like Action Fuel Pro, finding credible reviews of Muscle Forge X was nearly impossible.
Recommendation
Don't buy into the hype...it's crystal clear from my research that these 2 supplements will likely NOT give you some extreme gains in muscle and reduction in body fat. The fact that they have to resort to fictitious stories about celebrities using their supplements leads me to speculate that they are only looking at increasing the size of one thing…their bank accounts!
Have You Used Action Fuel Pro and Muscle Forge X? Leave Your Review Below!
Top 3 Pre WorkoutAffiliate Disclosure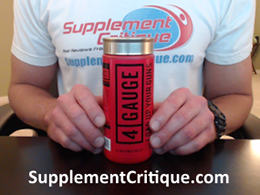 4 Gauge is a brand new pre workout that kicks in FAST and will rev up your workouts.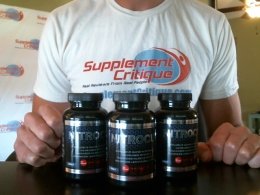 Nitrocut is a VERY effective pre workout supplement for a variety of reasons, see why here.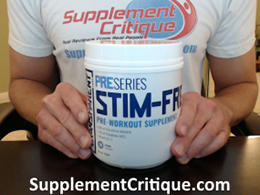 If you're looking for a stim-free pre workout, add Transparent stim-free to your list!
User Reviews

2.0 out of 5 Stars (2 Reviews)
Have you used this supplement?
honest opinion
By
doc rivers

,
Jun 25, 2015
I have been using this product for 2 weeks now and I must say that I do not see much difference. The action fuel pro is good as a pre workout considering it's a lot like drinking 4 cups of coffee and you don't have a whole 20 ounces of fluid in your belly while working out. I have been using the deer antler extract for 2 weeks regularly now and do not see any significant gains or weight loss however I do not feel the same soreness and pains that I felt before.

I exercise on the regular almost daily with the exception of one or two days a week and I feel fine. If you want a product that gives you quick and definite results I suggest the line by Black Dragon labs. I am NOT a spokesperson or anything like that just a regular guy who likes to work out. While I was on deployment I used Black Dragon labs product and felt amazing with an instant noticeable change in my strength and activity.

Plus the products are not as expensive as if you lation Pro or the deer antler extract. All in all I suggest if you use action pro for a pre workout as I feel it does pretty good as far as energy and focus but I would hold off on the deer antler extract. Like I said the other stuff works for me in combination with regular exercise and pre workout but everybody is different and responds differently to different products. My advice try black dragon labs and leave this gimmick behind

Was this review helpful to you?

---
Action fuel pro. Muscle forge X
By
Armando Esquivel

,
Jan 9, 2017
I have used this about a year ago and it really does work i only used it about 3 weeks and stopped. I could really tell it was working arms started getting bigger and my stomach started to get cut. I would buy again. Thats just me though may work different for others.

Was this review helpful to you?

---
Want To Really Get Ripped?

Click Here To Download My FREE
Ask A Question
User Questions and Answers
No Questions Have Been Answered For This Article.