Adipodex Review -Does It Work?
By:
Rob Miller
Fact Checked On: 7-26-2015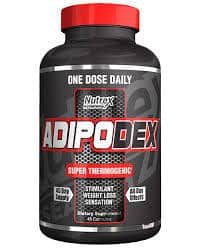 Adipodex Overview
Adipodex is fat burner made by Nutrex Research. Most of their fat burners are in their Lipo-6 line of products, but they've chosen to keep this new entry
separate.

Word on the street is that this once-per-day pill pack a punch, and it's getting quite a lot of buzz, so we decided to have a look.
The idea behind Adipodex is that it takes a whole new approach – using a unique ingredient – to provide the thermogenic burn you need, that clean, long-
lasting energy you want, and the appetite suppression that'll keep you on track with your program, all the way to success.

It's so strong, in fact, that
Nutrex recommends you cycle it 3 days on 1 day off just to keep Adipodex at its highest level of effectiveness.

And if the reviews mean anything at all, it
really is powerful stuff.
Adipodex Ingredients and How They Work
Adipodex is very heavy on stimulants in their propreitary formula.

There's:
Caffeine which of course is a stimulant and fat burner, used in most fat burning and weight loss supplements.

Since it's a proprietary formula, we don't know
how much caffeine there is, but based on customer feedback, it's probably quite a bit.
AMP Citrate which is the unique ingredient we were talking about.

Adipodex claims to be the only supplement that uses this, and that may be true.

It's
chemically very similar to DMAA (which is banned).

It's a stimulant with "feel good" qualities like ephedrine had.
N-Acetyl-L-Tyrosine which increases focus and reduces stress, helping you to achieve that overall good feeling.
Theobromine Anhydrous which is a stimulant that behaves a lot like caffeine, but with longer lasting energy.
Yohimbine HCL which is another stimulant that burns fat and suppresses appetite. But this one is also a bit sketchy.

It may cause serious side effects in some
users.
Bioperine which helps the other ingredients to be absorbed and used more quickly and efficiently.
So there it is.

It's just about completely stimulants.

The recommended dose is 1 Adipodexpill in the morning, and they strongly discourage you from taking
more than 1 capsule in a 24 hour period.

They also recommend that you take it for 3 days then take one day off.

Or alternate days with one of their Lipo-6
products.

This is probably due to the AMP Citrate which is thought to build a tolerance very quickly.
Adipodex Pros and Cons
Advantages of Adipodex
It's powerful.
There are 45 servings per bottle.
There are plenty of Adipodex reviews from customers who say it works with energy and appetite suppression.
It's fairly inexpensive for a fat burner.
Disadvantages of Adipodex
It's loaded with stimulants, possibly too much for some people.

AMP Citrate and Yohimbine may not be safe for all users.
Some reviews, even the positive ones, talk about how this makes you feel high and/or coked up.
You have to accommodate its tendency to build a quick tolerance.
Where to Buy
You can purchase Adipodex online through Nutrex Research and some other retailers.

The 45-count bottle sells for $49.95 on the Nutrex website, but about half
that if you go through Amazon.
Update:
The ingredient AMP Citrate has been banned by the FDA, so Adipodex has been taken off the shelves.Here's a link to the letter sent to Nutrex from the FDA,declaring that AMP Citrate is not an acceptable supplement ingredient.
Conclusion
Adipodex is definitely not for the faint hearted.

I guess there's little question that it gives you energy and suppresses your appetite, but the sheer amount
of stimulants if probably too much for a lot of people.

If you choose to try it, make sure you don't take more than the recommended dose, and discontinue use
if you feel to hyped up or jittery.
Have You Used Adipodex?

Leave Your Review Below!
Top 3 Fat BurnersAffiliate Disclosure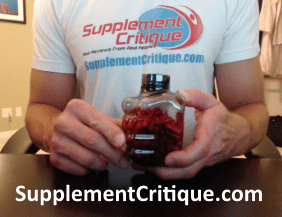 Instant Knockout is actually a new fat burning supplement I just came across, and got great results.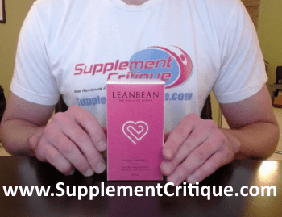 LeanBean Female Fat Burner is the BEST fat burner for women we\'ve ever tested.

Read our review here.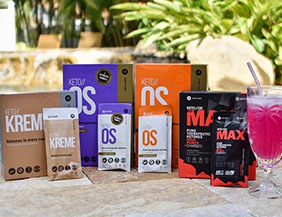 Biohacks your body into instant ketosis to burn fat instead of carbs.

Weight loss, energy, focus, anti-inflammatory, anti-aging.
Ask A Question
User Questions and Answers
No Questions Have Been Answered For This Article.