Vital Strength Hydroxy Ripped Review – Does It Work?
By:
Rob Miller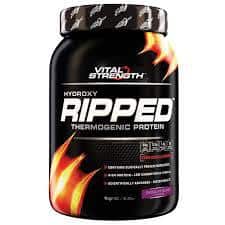 Vital Strength Hydroxy Ripped Overview
It's pretty much a no-brainer that if you're working out, you should be using a protein supplement.

The problem is, there are so many to choose from, it's hard to know which is best.

In a lot of cases, there's not much difference.

The bulk of your choices are primarily whey protein, so you try a few and pick the one the tastes good and doesn't make you feel bloated or gassy.

But then there are some specialty proteins – the ones that serve an additional function beyond helping you meet your daily protein needs.

Vital Strength Hydroxy Ripped is one of those.
They call is thermogenic protein.

In addition to providing protein, Vital Strength Hydroxy Ripped also helps you burn fat.

So if your goal is a lean, ripped, sculpted body, this might be the protein you need.

It also aims to provide some post workout recovery help and general nutrition as well.

Let's take a look at the formula so we can really break it down.
Vital Strength Hydroxy Ripped Ingredients and How They Work
There are 31 grams of protein in each serving, and that's a combination of whey protein isolate, whey protein concentrate, and calcium caseinate.

Together, these have you covered for both immediate and long term post workout muscle recovery.

They include BCAAs and a whole host of other necessary amino acids for muscle growth and rebuilding.
Then Vital Strength Hydroxy Ripped uses thermogenic ingredients like:
Hydroxy Citric Acid which helps use carbohydrates for energy
L-Carnitine which helps break down fat stores
Chromium Picolinate which helps use glucose for energy.
On top of that, Vital Strength Hydroxy Rippedcontains vitamins and minerals to rival a multivitamin.
The recommended dose is 2 scoops mixed with water or skim milk immediately following your workout.

You can take more throughout the day if necessary to reach your protein intake goals.
Vital Strength Hydroxy Ripped Pros and Cons
Advantages of Vital Strength Hydroxy Ripped
It's a complete source of protein, working to rebuild muscle both immediately post workout and longer term throughout the day.
There are lots of favorable Vital Strength Hydroxy Ripped reviews from customers who love the stuff.
It contains vitamins and minerals to rival a multivitamin.
With thermogenics in the formula, it covers fat burning as well.
Disadvantages of Vital Strength Hydroxy Ripped
It's expensive.
There are several reviewers who say it's good, but not worth the price.
Where to Buy
Vital Strength is an Australian company, and their products are easily available there.

If you live elsewhere, you can order it online. A 2 kg tub has 50 servings and costs about $100.
Conclusion
Really the only drawback to Vital Strength Hydroxy Ripped is the price.By most accounts, it's a good solid protein that may have additional benefits for weight loss, but it's hard to justify the super high price tag.
Have You Used Vital Strength Hydroxy Ripped?

Leave Your Review Below!
Top 3 Body BuildingAffiliate Disclosure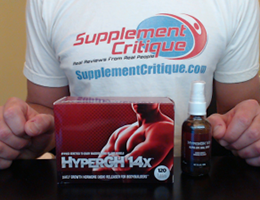 HyperGH 14X is a potent HGH releaser which works great for bodybuilding.

Read more in our review.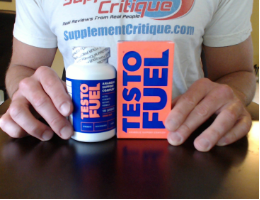 Testofuel is the most effective testosterone boosting supplement on the market that ive tested.

Read my review to learn more.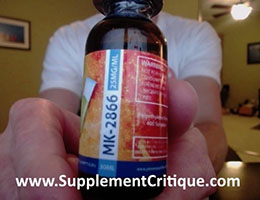 Ostarine is the poster boy for SARMS, and will promote lean muscle tissue growth dramatically.
How People Found This Review:
and vital strength prommuscle review
User Reviews

4.5 out of 5 Stars (2 Reviews)
Have you used this supplement?
post workout
By
Malcolm Clements

,
Apr 13, 2016
I found this product an excellent post recovery shake. I had my doubts and stuck it out for 2 months just taking it once a day after the gym and swim routine.

Balanced with good eating the results have been excellent. I have weeks where I do very little and probably indulge in all things bad but by the time I get back into it the improvements are awsome.

So if you can stay motivated and can afford to buy it Coles for $40 a go then its been the best performer Ive tried and honestly Im not a big supplement taker

Was this review helpful to you?
5 out of 5 people found this review helpful.
---
Great Product
I have been using this product for a few years now. I have lost 20kg, not due solely to this product, but it certainly helped.

I purchase 3kg buckets for only AUD$104. I have compared it to other products & Vital Strength has come out on top especially price per kilo. Highly recommended.

Was this review helpful to you?

---
Ask A Question
User Questions and Answers
---

Why does it have fructose doesn't that contradict the fat burners and isn't fructose the worst type of sugar you could ingest. -simone

You are right, Fructose is not good at all.  My guess is they do it to enhance the taste.- Rob
Was this question helpful to you?
1 out of 1 people found this question helpful.
ASK A NEW QUESTION
---

I weigh around 105 kg and i am about to use protein powders for supplement but I want to ask is that is there any protein supplement which will help me get a lean body? Help me burn my fat faster? -Aboo

Taking a protein supplement is a great way to help lose weight.  Any quality protein will do the trick. My favorite is 100% Whey Gold Standard.- Rob
Was this question helpful to you?
1 out of 1 people found this question helpful.
ASK A NEW QUESTION
---

Just wondering what are your thoughts about cardarine,is it effective for fat loss? -Ashwin

I don't have enough information on it to really have an opinion. This link might help you with what you're looking for: https://www.isarms.com/cardarine-gw-501516- Rob
Was this question helpful to you?

ASK A NEW QUESTION