AfterDrink Review: Does It Really Help With Hangovers?
By:
Rob Miller
Fact Checked On: 4-27-2020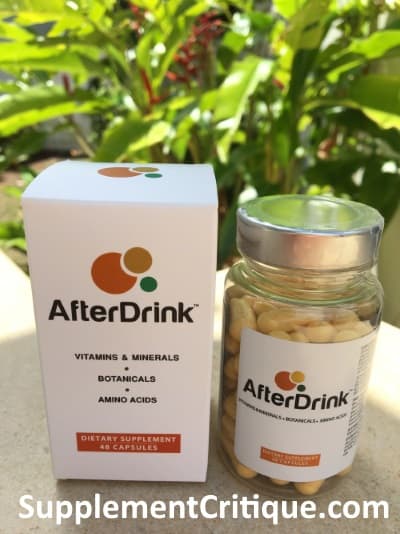 Note: This is just a review. Click Here to visit the official AfterDrink website.
What Is AfterDrink?
We review all kinds of supplements here at supplementcritique.com.

So naturally we were excited to test out AfterDrink which is specifically designed to reduce the symptoms of a hangover.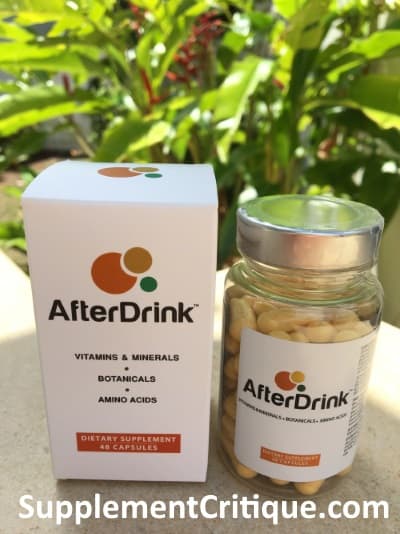 That's right, there's a new category of supplement on the market which claim to take the edge off your hangovers.
Related Article:Top 4 Hangover Pills That Really Work
These hangover pills are really taking off as more and more people are finding out about them and seeing real benefits.
We all know that simple hangover prevention methods like drinking water or sticking to one drink the whole night doesn't work that well.
You still find yourself barely able to get out of bed and when you finally do get out of bed, there isn't much you feel like doing.
So we were happy to finally see a solution to this age old problem.
Our job at supplement critique is to test out supplements personally so that we can give you first hand comprehensive information on which products are best.
We were blown away by our experience with AfterDrink so we are very excited to share how this product could help you with your hangovers.
What Causes Hangovers In The First Place?
To understand how AfterDrink works, we first need to cover why we get hangovers in the first place.

When alcohol is metabolized by your liver, it creates "free radicals".

These are highly reactive molecules which wreak havoc on your insides.
In addition, alcohol is a diuretic which means it makes you urinate more fluid than you're consuming.

The net effect is dehydration.
So in combination, this leaves you with all the typical hangover symptoms including a headache, nausea, low energy and lack of focus.
How Does AfterDrink Work?
Most of the hype around hangover pills is to do with a little known ingredient called dihydromyricetin (DHM).

It's a herbal ingredient that's been used for thousands of years in Asia, but only recently discovered in the US.
Research has shown that it can help your liver increase alcohol breakdown and reduce the buildup of alcohols toxic waste products.
In addition to this, AfterDrink contains another 24 ingredients which are designed to work together as a supercharged antioxidant blend and clear up free radicals from your system.
They include ginger which a research backed natural anti sickness remedy and turmeric which is well known for its anti-inflammatory properties. (Ref: 2, 3)
AfterDrink also contains milk thistle which is another key ingredient that people use traditionally for hangovers.
Alongside this, a combination of amino acids and vitamins work in synergy to produce a supplement thats jammed packed with antioxidants.
Most importantly, AfterDrink is made from totally natural ingredients and doesn't contain stimulants like caffeine or any banned substances.
Here's a quick snapshot of the label below: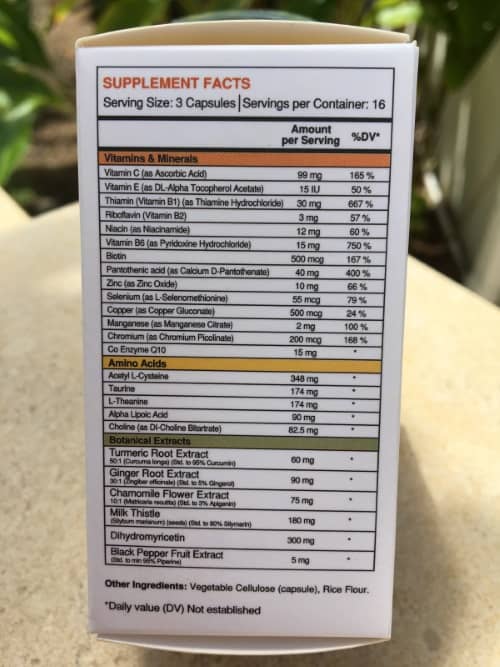 AfterDrink Benefits
Some of the key benefits of AfterDrink include:
Reduces symptoms of nausea

Speed up alcohol break down

Improve energy levels naturally without caffeine

Anti-inflammatory ingredients help reduce headache

Totally natural ingredients

30 day money back guarantee

Sell worldwide
So how do you take AfterDrink?
Hangover supplements are quite different from what we are used to.

You don't take them daily.
Instead you take 3 capsules before you know you're going to be consuming alcohol and then 3 more capsules after your last drink.
This way, your liver is supported throughout the drinking session.
Once you have a hangover, the damage is done and only time will heal your body.

This is why its so important to take these pills at the end of the night.
Sounds pretty easy, so let's see if it actually works as they say.
My Personal Results
I took 3 AfterDrink capsules with a full glass of water before meeting some friends at a bar.

In total I had around 4 large beers and vodka mixer.

When I got home I took a further 3 capsules with another full glass of water and went to bed.
In the morning I could really feel the difference.

Most noticeably I was headache free and had enough energy to go for a workout in the morning (which i'm not normally able to do).
I still wasn't 100% but I guess that's to be expected after a late night.
The effects were most noticeable when I went out the next time and forgot to take AfterDrink and then realized how different I felt in the morning.
Where can you buy it?
AfterDrink is available online on their official website, www.afterdrink.com.
The price for a 1 month supply is $35, and they do have promotions like buy 3 get 1 free bottle, which is backed by a 30 day guarantee.
Who makes AfterDrink?
The company behind this hangover supplement is UK based and they manufacture in the UK and USA only.
Their product is made in a FDA registered facility that follow good manufacturing practice guidelines.
Looking at their formula, they don't use a proprietary blend.We were very happy to see this as it shows the manufacturers are not trying to hide the quantity of their ingredients behind a hidden formula.
In summary, AfterDrink ticks all the boxes when it comes to safety.
Are there any side effects?
AfterDrink uses all natural ingredients with no medicines or stimulants so its a pretty clean product.
As with all supplements, if you've got any health problems or taking regular prescribed medications, its always best to ask your doctor to make sure you're all good.
People commonly have allergies / intolerance to fillers and excipients used in supplements.

AfterDrink does not use any of these which is also a big plus.
Anything else to consider?
Hangover supplements aren't miracle cures.

Imagine them like supercharged antioxidant pills that help dampen the blow from alcohols toxins.
Common sense still applies.

Drink plenty of water throughout your night and ensure you don't drink on an empty stomach.
In addition, stick to lighter colored drinks as these contain less congeners.

Alcohol with high congener content are well known to give worse hangovers.

We all know that hangovers from whiskey or red wine are the worst!
Are there better hangover supplements than AfterDrink?
We have tried some of the leading products on the market (like Cheers hangover cure) and we felt that AfterDrink was superior.
The extra antioxidants and additional anti-sickness herbal extracts give this product the cutting edge.
Recommendation
AfterDrink ticks all the boxes when it comes to an all-round hangover supplement.

They cover all areas of alcohol related damage with a range of premium ingredients.
It's the leading product on the market right now and we think it'll be hard to knock them off the top spot.
Have You Used AfterDrink?

Leave Your Review Below!
Top 3 Hangover RemediesAffiliate Disclosure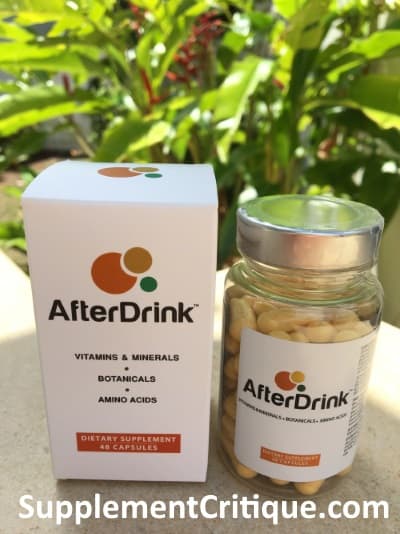 AfterDrink is the best supplement I've ever used to alleviate hangovers. But does it really work for everyone?

Read our comprehensive AfterDrink review to find out.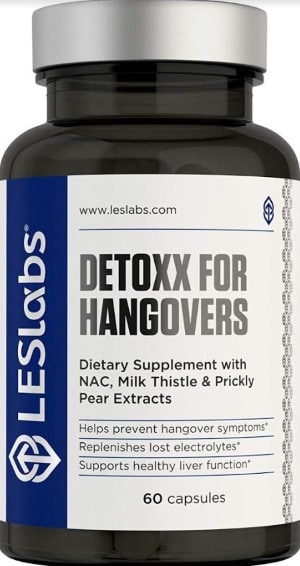 Detoxx from Leslabs is one of the first hangover supplements to come on the market.

Learn more about this hangover remedy here.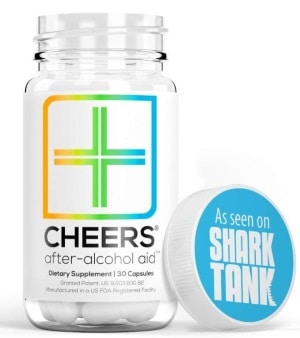 Cheers claims to help alleviate the effects of hangovers, but does it really work?

Read our full Cheers hangover cure review to find out!
Visit The Official AfterDrink Website Here

www.AfterDrink.com
Ask A Question
User Questions and Answers
No Questions Have Been Answered For This Article.