Andro 400 REAL Review
By:
Rob Miller
Fact Checked On: 5-19-2018
Watch my video Andro 400 review, and learn more about the ingredients, side effects, where to buy, my personal results, and more.
If you would like to rad the written version of this video, click here.
Video Transcription
Hey guys.

Rob here again with supplementcritique.com.

And today's review we're going to be talking about andro 400. This is a supplement that is supposedly all natural testosterone booster that's supposed to help your body encourage more of its own testosterone production.

I'm going to talk a little bit about the product first before I dive into my personal results but if you're a little impatient, you want to jump ahead, you could just click on the link below the description box.

It'll take you to my website supplementcritique.com and where I talk about my personal results with it.

I actually tried it for about three weeks. So I had some things to say. I will say that.

Anyway, andro 400, like I said, all natural testosterone booster.

As you already know most guys already know, once you hit the age of 30 you start to lose testosterone and about a rate of one percent per year.

That doesn't really sound like a lot but it kind of adds up over time.

And you definitely tend to feel it as it starts to happen. You definitely start to feel more sluggish, your libido kind of just plummets, you lose interest in sex, you're not as strong, you can't perform, you know, in the bedroom or even athletically as effective.

And obviously, that sucks, you know, that's a part of getting older.

But andro 400 promises that they'll change all that and it will do so through literally one ingredient.

It's called Eurycoma longifolia and it's the only ingredient that's found in this particular product.

Other than like rice flour and gelatin, which is what the capsules are made of.

The way that Eurycoma longifolia works is it's it supposed to increase the level of free testosterone in your blood by blocking the action of the sex hormone-binding globulin, which basically means shbg.

What it does is it attaches itself to free testosterone molecules and binds them up, making them ineffective.

So with Eurycoma longifolia acting on the SHBG, the testosterone molecules can remain free and active.

Now, these tend to work by increasing the amount of nitric oxide in your blood which comes with a totally different product that's called Andrew 400 max.

And that includes L-Citrulline and L-Arginine.

And the way that they work is to help open up your blood vessels so that blood can flow through more freely and easily.

And overall that gives you better athletic performance, better erections and all sorts of other stuff.

Andro 400 max, totally different product, is actually recommended for guys over the age of 50 that need to lose like ten pounds.

So if you're in the market for buying a product like this and you're below fifty or even forty-five, stick with this, Andro 400. And if you're older than that then I would go with the Andro 400 max.

Anyway, I've had a lot of guys ask me over the last couple months whether or not there's a lot of side effects with this particular supplement.

Throwing my personal results, I didn't actually notice any but just like with any supplement there's always a possibility.

I've done a little bit of research and from what I could tell in WebMD, it's pretty safe, the Eurycoma longifolia, and there shouldn't be any problems with it.

But um they found insufficient evidence for, you know, any kind of impact on athletic performance, testosterone or muscle strength, libido, those kinds of things.

So while it doesn't really cause any side effects, they didn't really find any positive benefits from it.

I looked at around a lot of the different reviews of this particular product, and by and large, they're not very good.

Most of the guys that wrote reviews about this.

I saw them on the like websites like complaintslist.com and ripoffreport.com, and they didn't paint a very good picture.

Most of the guys were basically saying that it didn't work but the vast majority of them are actually just complaining about the free trial.

And the way the free trial works is you basically you're signing up for a sample right.

So you pay four or five dollars for shipping, and what they tell you and very small, you know, fine print, is that the free trial is just that, it's a free trial.

So you have a trial period that you use the product for and at the end of that trial they end up billing you. And they bill you a lot.

I think it's somewhere in the range of like 55 or 60 bucks or something like that.

A lot of guys don't realize that and they get into this thinking they're getting a sample when the reality is they're just getting, you know, a trial.

They're getting a chance to use it first, you know, for a specific period of time.

You can call them up on their customer service phone number.

I'll post that in the description box below in case you need to cancel it for some reason but you have to do that within 14 days of ordering.

If you don't then they're gonna end up charging you.

I've tested a lot of different testosterone boosters over the years.

I've tried neugenics, Tesla fuel, test X 180, all sorts of different ones and personally speaking, I kind of detail this on my website.

Personally speaking, I saw better results with practically all of them.

And a good majority of those supplements actually already contained Eurycoma longifolia.

So on its own Eurycoma longifolia is not the best but when compared, you know, when stacked up and compared with other ingredients, it actually has the potential to give you some sort of benefits. As far as my personal results.

I'm 35 years old, I'm in pretty good shape, I'm not some jacked up muscle head but I work out, you know, four or five days a week, maybe more depending on, you know, how the weather is.

But I tend to play a lot of beach volleyball, basketball.

I'm pretty active in sports and my natural testosterone levels are actually pretty stable for a guy my age.

I've never really experienced the effects of low testosterone but obviously, you know, being 35 years old, there's a difference between that and being 20 years old.

And obviously, I've noticed some differences over the years.

Let's see, I'm reading off my notes here.

So I took this for about three weeks and it looks like in the first few days I noticed an actual significant boost in libido.

I noted that what was most apparent was that I seemed to me lasting much longer I usually do.

So typically I'll orgasm anywhere within five to ten minutes during sexual activity but with Andro 400 I seemed to be lasting, you know, anywhere between 15 and 20 minutes.

Other than that though, other than, you know, the increase in libido and decrease in premature ejaculation, I didn't really notice any other benefits.

There was no increase in energy, I wasn't sleeping better, I wasn't losing weight and I definitely didn't notice any muscle gains from it.

So whether or not it had any kind of impact on my testosterone levels is kind of a mute point.

I mean, sure I could go and get a blood test and check it out.

It's not really practical for me because I test out so many of these products.

So I kind of just go based on, you know, how it makes me feel.

But all in all, I did not really notice hardly anything with this particular supplement.

You can find this online on their website Andro400.com a single bottle costs around 35 bucks f you buy it straight up.

If you do the free trial version I think it's a little bit different.

I checked through all the major retailers Walmart, GNC, Vitamin Shoppe, CVS, none seemed to carry that, carry this, and also on Amazon actually.

You can find that on eBay, there are some guys that are selling it on there.

My guess is that they bought maybe a four or six month supply or something like that, and they just didn't have any good results with it, so they're getting rid of it.

Anyway, that's pretty much all I have Andro 400. I have a lot more detailed information on my website supplementcritique.com.

If you click on the link below it'll take you there, and if you have any particular questions about the supplement or anything else you can leave them in the comment section below or send me an email to info@supplementcritique.com and I'll be back soon with another review.

Take Care.
Top 3 Testosterone BoostersAffiliate Disclosure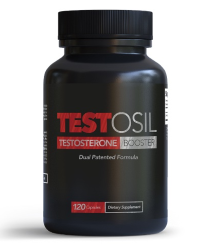 Testosil is the most effective testosterone boosting supplement on the market that I've tested.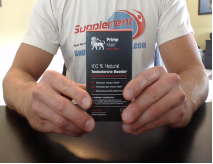 Prime Male is another very effective testosterone booster that uses clinically proven ingredients.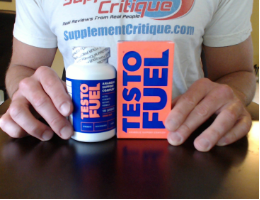 Testofuel is a VERY popular testosterone booster that contains ingredients to help older men.
Ask A Question
User Questions and Answers
No Questions Have Been Answered For This Article.