AptuLux Review – Should You Use It?
By:
Rob Miller
Fact Checked On: 4-5-2018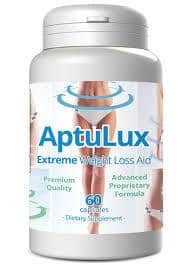 If you pay attention like we do, you'll see a new fat burning supplement comes out nearly every week.

We even come across several that promise you can lose the weight without changing your diet or workout habits.

I like to think we're smarter than that, but I get that people struggle and want every advantages they can possibly get.
Losing weight is hard.

If you can find something that might help so much it can even do it for you, you sit up and take notice.
AptuLux falls into that category.

They promise long term weight loss results using fast acting and safe ingredients, and they promise you can accomplish all this without even working out.

We took a closer look at the claims, ingredients, pricing, and customer results, to come up with a reasonable conclusion about whether or not AptuLux can do all that it claims.
AptuLux Ingredients
AptuLux uses Garcinia Cambogia as its primary ingredient in focus.

You've no doubt heard a lot about this wonder plant ever since it was highlighted by Dr. Oz as the next great weight loss ingredient.

Within the Garcinia Cambogia is a substance called HCA, or Hydroxycitric Acid.

HCA is thought to help suppress appetite, increase serotonin levels to help curb emotional eating, and regulate cortisol levels which affect your stress response.
(As a side note, the AptuLux website claims that HCA stands for Chlorogenic Acid. This is not true.

Chlorogenic Acid is a completely different weight loss supplement ingredient found in Green Coffee.

HCA stands for HydroxyCitri Acid, which is indeed the substance found in Garcinia Cambogia.)
The rest of the AptuLux formula includes:
White Kidney Bean which may block the digestion of carbohydrates.

Instead of being digested, they're eliminated as waste.
Apple Cider Vinegar which is all the rage in the clean eating movement.

Among its other health benefits, it may stimulate the breakdown of increased fat.
Gymnema Sylvestre which may help decrease cholesterol.
Cascara Sagrada which is a natural laxative to help keep your digestive system running smoothly while making sure to reduce bloating.
Aloe Vera which can increase our metabolism and also provide laxative benefits as well.
Clinical Studies
The AptuLux website mentions that most products just promise to work with no evidence to prove it, but the ingredients in AptuLux have been clinically studied.

However, they only mention a single study of HCA with Gymnema Sylestre.

The problem is the study was very small, and they used a dose far larger than what you will find in AptuLux.
How To Use AptuLux
The recommended dose is 2-4 AptuLux capsules a day with water about 30 minutes before meals.

You can take 1 pill at a time, once or twice a day.

You can take 2 pills at once, once or twice a day.

Or you can take a similar combination, like 2 pills before breakfast and 1 pill before lunch.

Caffeine is not listed as an ingredient, so taking it late in the afternoon shouldn't affect your sleep, if that's what works better with your schedule.
AptuLux claims that you don't need to engage in a strict diet or heavy workout plan in order to lose weight.

This is technically true, but misleading.

They use the words "strict" and "heavy" to make what they're saying true.

After all, the best way to lose weight effectively and over the long term is to do it relatively slowly using a diet and exercise program that you can incorporate into your routine, and stick with permanently.
The participants in the clinical study mentioned above ate 2000 calories per day and went for daily walks.

This is not strict or heavy in most senses, but it enabled moderate weight loss for the mildly obese subjects in the study.
Where to Buy
AptuLux is only available online through their official website.

But unlike lots of other weight loss supplements, they don't offer a "free trial" that turns into a nightmare of repeat monthly billing.
If you want just a one month supply (what they recommend for anyone wanting to lose about 10 pounds), the cost is $59.99. Buying a 2 month supply gets you a third bottle for free, bringing the per bottle price down to $39.99. That's the recommendation for someone wanting to lose about 20 pounds.If you buy 3 bottles, you'll get two free, making your per bottle cost just $34.99. This package is recommended for people wanting to lose 30 pounds or more.
There is a money back guarantee, but it's a little misleading.They specifically say there's no "misleading fine print" and that they'll refund you for any reason, but when you read further, there is misleading fine print.

The refund will only apply to unopened bottles, so in effect, if you only buy one bottle, you don't get to try it and return it if it doesn't work.
AptuLux Reviews
We didn't find a whole lot of customer feedback about AptuLux, but what we did find was decidedly mixed.

Some people professed to have had success using AptuLux along with a diet and exercise program:
Jessie says: "I took this product for about three months now and combined with diet and exercise.

As a result, I was able to drop 30 pounds."
But many more claimed that it didn't work, and when they tried to get a refund, they found out about that "misleading fine print":
Ronald says: "I purchased one bottle and used as directed for almost 30 days.

Then I sent an email asking for a refund and the reply states the refund is only for unopened bottles.

How can I determine if the product works unless I open the bottle?!

Rip-off."
AptuLux Pros and Cons
Advantages of AptuLux
The ingredients are all natural.
There are some clinical studies supporting the effectiveness of some of the ingredients.
Disadvantages of AptuLux
Dosing of the ingredients in AptuLux doesn't likely match the dosing used in clinical trials.
The money back guarantee claims to be hassle free, but customers who've tried to use it say otherwise.
There are plenty of AptuLux reviews stating that it just doesn't work.
The website talks about HCA and calls it Chlorogenic Acid, which is an entirely different thing.
Conclusion
The thing about Garcinia Cambogia supplements is that the evidence is just inconclusive.

There is some anecdotal indication that it does some good, but most of the clinical studies come up short.

For that reason, it's unlikely that AptuLux lives up to its hype.
On top of that, the company misidentifies its main ingredient, they mislead their customers on the money back guarantee, and they get mostly pretty bad reviews.
Given all of that, AptuLux doesn't get our highest recommendation.
Have You Use AptuLux?

Leave Your Review Below!
Top 3 Fat BurnersAffiliate Disclosure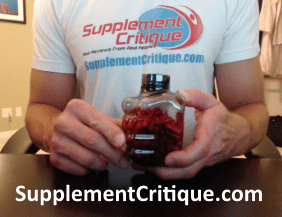 Instant Knockout is actually a new fat burning supplement I just came across, and got great results.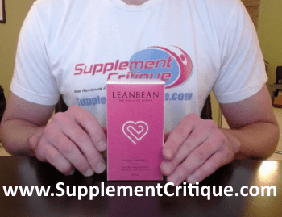 LeanBean Female Fat Burner is the BEST fat burner for women we\'ve ever tested.

Read our review here.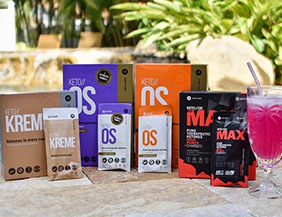 Biohacks your body into instant ketosis to burn fat instead of carbs.

Weight loss, energy, focus, anti-inflammatory, anti-aging.
Ask A Question
User Questions and Answers
No Questions Have Been Answered For This Article.