Alpha Limit Review – Should You Use It?
By:
Rob Miller
Fact Checked On: 1-21-2016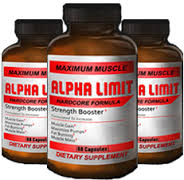 Alpha Limit promises to be what's called an Extreme Strength Booster.

That puts it into the Pre-Workout/Bodybuilding supplement category.

And with promises like:
Gain Insane Amounts of Strength
Build More Muscle
Maximize Your Pumps
Incinerate Fat
Boost Energy
Increase Endurance
I wouldn't blame you for wanting to try it.

But there's more to understand about a supplement than just the promises it makes.

That's why we break it down and look at it from every possible angle.
How Alpha Limit Works
There's a lot of conflicting information floating around the internet about how Alpha Limit works.

Several of its affiliate websites say it's a natural testosterone booster, meaning it works with your body to help increase the amount of testosterone it produces naturally.
But other related websites, and the official Alpha Limit website itself, tell a slightly different story.

These claim that Alpha Limit increases endurance and strength more directly with ingredients specifically targeted to nitric oxide increases and other workout benefits.
A look at the ingredients ought to straighten out the confusion, so we'll get to that next.

But it's important to note that just the fact that the confusion exists is telling, and can be used to help form an assessment of the seriousness of Alpha Limit.
Alpha Limit Ingredients
Surprise, surprise.

There's plenty of confusion when it comes to ingredients as well.

There's practically a different list on each and every website that even mentions Alpha Limit.

We choose to go with the list taken from the official website, but even there, we're left confused.

I'll explain.
The website shows an image of what they present as the Alpha Limit label.

On it, the ingredients are listed as a 1450 mg proprietary blend of L-Arginine AKG, Creatine, and L-Citrulline Malate, along with 100 mg of caffeine.

If this is indeed the ingredients list, Alpha Limit is definitely more of a pre workout supplement than a natural testosterone booster, and the benefits would be as follows:
L-Arginine AKG is a precursor to nitric oxide.

Nitric oxide is a vasodilator that opens up your blood vessels, allowing an increased amount of blood to flow through.

When more blood flows to your muscles during workouts, that blood causes the pumps that make you look and feel vascular, and it delivers more oxygen and nutrients so your muscles can work harder and longer, giving you better results.

The nutrients also help your muscles recover better and faster so you're ready to go hard again for your next workout.
Creatine provides energy for your fast twitch muscles, the ones you use when lifting.

ATP is the actual energy that's used by muscles, but it can't be stored in any great amount.

Creatine can be stored, then converted to ATP when you need it.

If you saturate your muscles with creatine, your muscles will have the energy to push more weight, getting you bigger and stronger, faster.
L-Citrulline Malate prevents the build up of ammonia, thus fighting muscle fatigue during workouts.

It can also increase the amount of L-Arginine in your blood, which in turn increases nitric oxide for the benefits mentioned above.
Caffeine, of course, provides temporary energy and focus to help you get through your workouts mentally.
The recommended dose is 2 capsules a day, probably best taken about half and hour to an hour before working out, or before a meal on your rest days.
Remember when we mentioned ingredient confusion?

Well in addition to what's pictured on the label, the official Alpha Limitwebsite talks about the benefits of another ingredient.

It talks about how Beta Alanine can reduce symptoms of fatigue during workouts. This is true.

Beta Alanine in the proper dosage can reduce the lactic acid buildup that causes muscle fatigue.

But I'm confused as to why Alpha Limit is talking about it on their website when it's not even in their supplement.
Where to Buy Alpha Limit
You won't find Alpha Limit in stores or on big name online retail sites like Amazon.com.

It's only available through its official website, which you can reach by clicking through from one of their affiliate websites.

Ordering means signing up for their free trial offer.

Now, we've talked about these many times before.

We even wrote a whole article about them and how the scam works.

But this one is slightly different.
When you order Alpha Limit, you'll pay $4.95 up front and receive a bottle containing a one month supply. 10 days later, they'll charge you the full price of $148. The differences between the Alpha Limit free trial and other free trials are:
You're not signed up for monthly shipments and payments.It's a one-time order, and they won't send you anything else unless you place another order.

Most free trials involve ongoing membership in their autoship program.

This is not the case with Alpha Limit.
You cannot call and cancel to avoid being charged.

Alpha Limit will charge you the full amount 10 days after your order.

You're not getting anything free at all.

You're not even getting a chance to get it free. It's just a delayed charge.

You can return your product for a refund after you've been charged, but there's a restocking fee, and you have to make sure there's "substantial" product left in the bottle.
Alpha Limit Complaints
It's not hard to find customer complaints regarding Alpha Limit, and they're almost all in reference to the shocking surprise of the $148 charge 10 days after placing their order.The company has an F rating with the Better Business Bureau (http://www.bbb.org/atlanta/business-reviews/vitamins-and-food-supplements/alpha-limit-in-norcross-ga-27586717) because of all the billing complaints.

Here's one that sums it up pretty well:
"10 day free trial ends up being 2 day free trial. No emails detailing shipping info.

Then get slapped with $148.00 charge after ten days!Should be bold type that after ten days you will be charged full price… People who want or need help to improve themselves shouldn't have to be ripped off or cheated to find a product to help them.

Pretty sad that companies can get away with stuff like this."
Alpha Limit Pros and Cons
Advantages of Alpha Limit
Disadvantages of Alpha Limit
It's unclear whether it wants to be a testosterone booster or a pre workout supplement.
There's lots of confusion surrounding what the ingredients really are.
They say it's a free trial, but it's not free at all.

It's really $148!
There are tons of consumer complaints about Alpha Limit.
Conclusion
With so many workout supplements on the market, I don't see any reason whatsoever to choose Alpha Limit.Instead, look for something you can trust.
Have You Used Alpha Limit?

Leave Your Review Below!
Top 3 Pre WorkoutAffiliate Disclosure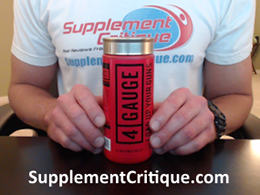 4 Gauge is a brand new pre workout that kicks in FAST and will rev up your workouts.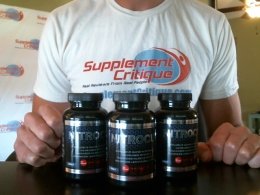 Nitrocut is a VERY effective pre workout supplement for a variety of reasons, see why here.
Want To Really Get Ripped?

Click Here To Download My FREE "Get Ripped" Ebook!
Ask A Question
User Questions and Answers
---

Whats the age limit on this product? -delroy grea

Like most supplements, it's not recommended for anyone under 18.- Rob
Was this question helpful to you?

ASK A NEW QUESTION