Author:
Dr. Brian Straub, Pharm.D.
Brian Straub is a medical science liaison and licensed clinical pharmacist. He graduated from the University of Pittsburgh School of Pharmacy in 2011, and is also a registered yoga instructor.
Happy Hippo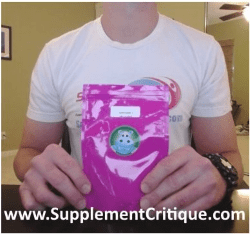 Coming in at a close 2nd, Happy Hippo delivers the goods, albeit at a slightly higher price tag.
Dr. Brian Straub, Pharm.D. Last Updated: October 23, 2018
Dangers Of Kratom – A Pharmacist Shares His Thoughts Note: This article was written by Brian Straub, a licensed pharmacist. The views expressed below are his opinion. Reviewing Kratom supplements in an unbiased wayRead More
---
Dr. Brian Straub, Pharm.D. Last Updated: October 15, 2018
Testofuel is the best testosterone booster we've ever tested, and we've tested dozens. With that said, like any other supplement it does have to potential to cause some interactions with prescription medications. We hadRead More
---
Dr. Brian Straub, Pharm.D. Last Updated: October 12, 2018
Probiotics Overview Over the past decade there has been a very clear trend towards the use of probiotics.Bacteria live in our gut in a natural balance and directly affect the functioning of the humanRead More
---
Dr. Brian Straub, Pharm.D. Last Updated: October 9, 2018
Nugenix is a very popular testosterone booster that you can find both in stores and online. I get a lot of medical questions from people who are thinking about taking this supplement. We've hiredRead More
---
Dr. Brian Straub, Pharm.D. Last Updated: October 9, 2018
Possible Prescription Drug Interactions and Medical Warnings For Noxitril Noxitril is a very popular testosterone booster that has been on the market for several years now. I get a lot of questions regarding whetherRead More
---
Dr. Brian Straub, Pharm.D. Last Updated: October 9, 2018
Possible Prescription Drug Interactions and Medical Warnings For Vigrx Plus Vigrx Plus is one of the most popular supplements we've reviewed on SupplementCritique.com. I get dozens of questions every month from a wide varietyRead More
---
Dr. Brian Straub, Pharm.D. Last Updated: October 9, 2018
Rhino 7 Drug Interactions and Warnings (https://www.supplementcritique.com/rhino-7-review/) There are many possible drug interactions that can occur with Rhino 7, as well as potential interactions with certain medical conditions. We have listed all of theRead More
---