Cellucor Alpha Amino Review – Does It Work?
By:
Rob Miller
Fact Checked On: 8-29-2015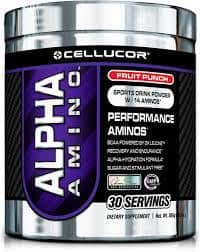 ---
Cellucor Alpha Amino Overview
Cellucor Alpha Amino is designated as an intra workout formula, but per the instructions you can use it any time of day, up to 4 times daily in fact.

With zero calories and lots of amino acids, its goal is to keep your muscles in a state of readiness and repair, so it's supporting your best muscle performance, whether it's by giving it your everything for those last 2 reps or recovering after the fact.

With just about everybody a fan with C4, Cellucor has a lot to live up to with this product.

So we took a look to see if it delivers.
Cellucor Alpha Amino promises to fuel your inner alpha.

Taken during your workout, it replenishes you with hydration and fortification.

Post workout, it helps you recover and rebuild quickly, setting you up to succeed at even higher goals the next time.

But since it takes more than name recognition to make a great product, let's take a look at the formula.
Cellucor Alpha Amino Ingredients and How They Work
Cellucor Alpha Amino is sugar free so it has that advantage over traditional sports drinks, but it doesn't skimp on hydration.

To that end, it's got:
Chia Seed
Raw Coconut Concentrate
Hydromax
Together, these three will increase the concentration of fluid in your body's tissue where it's needed when you work this hard.
For recovery, BCAAs are present in abundance, along with a full compliment of 14 amino acids for protein synthesis.

The BCAAs are in the recommended 2:1:1 ratio with 3 kinds of Leucine in the center stage position.

There's L-Leucine, Leucine Nitrate, and Leucine Peptides, all working to build and preserve your hard earned muscle mass.
The recommended dose is one scoop mixed in 8-12 ounces of water or other cold beverage.

They don't make a specific recommendation of exactly when to use it, but they caution you against taking more than 4 servings in a day.
Cellucor Alpha Amino Pros and Cons
Advantages of Cellucor Alpha Amino
It's got a comprehensive amino acid formula, not just a dusting like some.
The

Cellucor Alpha Amino

reviews show overwhelmingly positive feedback.

Customers love the taste and mixability, and they comment how they are well hydrated during and less sore after their workouts.
It comes in Fruit Punch, Grape, Icy Blue Razz, Lemon Lime, and Watermelon flavors.
It's sugar-free and calorie-free.
Disadvantages of Cellucor Alpha Amino
It could get expensive if you drink it throughout the day.
Where to Buy
You can purchase Cellucor Alpha Amino online through Bodybuilding.com or Amazon, or you can walk in and get it at your GNC store.

The 30 serving tub costs $29.99 at Bodybuilding.com whereas at GNC you'll pay $70 for 60 servings ($60 if you're a member).Look around for your best price and flavor deals.
Conclusion
Cellucor Alpha Amino is a very popular intra/post workout recovery and hydration drink.

Customer feedback is almost completely enthusiastically positive.

If you workout out hard and want an amino acid supplement for replenishment and recovery, you should check this out.
Have You Used Cellucor Alpha Amino? Leave Your Review Below!
Ask A Question
User Questions and Answers
No Questions Have Been Answered For This Article.