GAT Testagen Review – Does It Work?
By:
Rob Miller
Fact Checked On: 5-2-2021
GAT Testagen is advertised as the testosterone booster for guys who don't think testosterone boosters work.

It's for anyone who's skeptical about the possibility that you can boost your body's own natural testosterone to enough of a degree to actually make a difference in workout and sexual performance.

It's designed to be fast acting, and to increase your size, power, strength, determination, and focus, as these are all things that improve with increased testosterone levels.

And if does this without the need for prescriptions and without the side effects, like the dreaded increase in estrogen that prohormones will produce.
That is, after all, the appeal of an over the counter testosterone booster.
The benefits you can expect to find when using GAT Testagen are:
Increased testosterone levels.
Boosted libido.
Improved sexual performance.
Greater gains in the gym.
More energy.
Improve mood.
GAT Testagen Ingredients and How They Work
The GAT Testagen formula boasts 29 nutraceuticals on its ingredient list.
It starts off with vitamins and minerals like Vitamin E and B6 and Zinc.

Zinc is crucial to the body's testosterone producing processwhile B vitamins providing lasting energy with no crash.
The Mass, Strength, and Size Blend starts withprohormones – 3b-Hydroxy-5-Androsten-17 ONe and 3-(1Hindol-3-Yimethyl)-1H-Indole, and goes on to include Beta-Sisterol, Maca, Ginseng, Arctic Root Extract, Tribulus Terrestris, Mexican Wild Yam, Cnidium Monnieri, Mucuna Pruriens, Fenugreek, and Beta-Alanine.
The Absorption Blend contains Flaxseed, Ginger, Long Pepper, Fenugreek, and Bioperine.
The big news here is the prohormones.

These are not exactly steroids, but they can come close to providing similar benefits as steroids.
The first (3b-Hydroxy-5-Androsten-17 One ) is alternatively known as Epiandrosterone. It can convert to DHT.

And unlike other androgens, won't convert to estrogen and in fact contains anti-estrogen properties.

Epiandrosterone doses are usually in the range of 300-400 mg per day range, so the 20 mg in GAT Testagen may not have much of an effect.

The second–3-(1HIndol-3-Yimethyl)-1H-Indole – is also known as DIM which is thought to be an estrogen inhibitor, but the research in inconclusive.
After that is the long list of herbal ingredients that may have a positive effect on testosterone as well as other anabolic advantages.

Here's a brief rundown for some of them:
Beta Sisterol blocks the conversion of testosterone to DHT and supports prostate health.
Tribulus Terrestris is believed to increase strength and stamina, effects which may be due to increased testosterone.
Mexican Wild Yam can balance your sex hormones, estrogen v testosterone.
Mucuna Pruriens and Cnidium Monnieri are aphrodisiacs that boost libido as well as sexual stamina.
Instructions are to take 2-3 GAT Testagen tablets with breakfast and another 2-3 tablets with lunch.

You should cycle on for 6 weeks, take a month off, then repeat the 6 weeks again.Because of the prohormones in the formula, it's important to cycle off.

There's no mention of PCT, but never a bad idea after a prohormone cycle.
GAT Testagen Warnings
On the GAT Testagen label, you'll find a long list of warnings about who shouldn't use this stuff and why.

Warnings on supplement labels are pretty common.

Usually you see them cautioning to keep it out of the reach of children and not to use if you have medical conditions.

But the warnings for GAT Testagen go way beyond that.
The first warning is that you shouldn't use this if you are drug tested for performance enhancing drugs.

They don' t say which ingredient is involved, but they say it may cause a false positive. And that's just the beginning.

GAT Testagen is not for use by anyone under the age of 18. (One source says it's not for use by anyone under 40, but that's only one source, and I haven't seen an actual label to verify).
Here's what appears to be an image taken from the actual GAT Testagen label: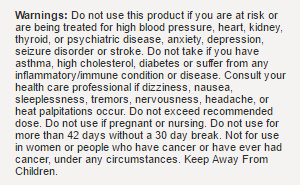 In case anyone being treated for anything can't read that fine print, it excludes everyone being treated for high blood pressure, kidney, thyroid, or psychiatric diseases, anxiety, depression, seizures, stroke, anyone with diabetes or high cholesterol, inflammatory disease, or immune issues.

It's not for use by women, women who are pregnant, or anyone who's ever had cancer.
I'm used to warnings on labels, and this is one of the most comprehensive.

Tons of people who use supplements have diabetes and/or high blood pressure, but GAT Testagen is off limits to all of them.
GAT Testagen Reviews and Customer Feedback
GAT Testagen is sold online through a bunch of different retailers.

The good thing about this for our purposes is that it means there's lots of real customer feedback to be found online. We love this because customer feedback is a great indicator of how well a supplement is working for actual people in the real world.
The consensus on GAT Testagen is that there is no consensus.

There are plenty of really positive reviews, but on the flip side, there's no shortage of negative reviews.

To illustrate the point, a the time of this writing, this is what the reviews stack up to look like on Amazon.com:
It looks like the majority of reviews are positive, and they are, at 58%.

But you'd be missing an important component if you didn't take note of the 20% of reviews that only give 1 star.

That's one out of five reviewers giving it the lowest possible rating, and that's significant.
Here are a few examples from both sides of the coin.
5-Star Reviews:
Getswole says It: "works well to help you gain size and strength without worrying about any side affects that you would get from most prohormones, No PCT needed but I have used their Testrol after the cycle just to make sure".
Joe says: "Gave Testagen a try and had some pretty solid results with it, Used it as a PCT and was able to keep the gains I had, Great product and solid estrogen control".
Joe makes an important point, that because of the estrogen control, you could use GAT Testagen as PCT after a steroid cycle.
Generally speaking, the 5-star reviews don't get very specific in their praise.

They just simply say it works.
And here are a few examples of the 1-Star Reviews:
Juan says: "No effects at all… Placebo perhaps, I was really hoping to see/feel results but I did not, lots of good reviews but no effect on me".
D Nix says: "I have taken several different products over the years looking for that edge in lean muscular development; I have had positive gains from a few but not Testagen; It just did not impress me; I lift in a variety of sets and weights, also varying reps, I cannot see where this product helped improve my lean mass in any way".
David says: "I have no idea what this is, and after research it doesn't look like anyone else does either; I noticed nothing from it".
GAT Testagen Pros and Cons
Advantages of GAT Testagen
There are several positive GAT Testagen reviews from customers who find it helps them in the gym.
It supports sexual health as well.
It claims to block the conversion of testosterone to estrogen.
It's made by a reputable company.
Disadvantages of GAT Testagen
You cannot take GAT Testagen if you get tested for banned substances.

They don't tell you which substances, but they do warn against taking it if you get drug tested.
There are plenty of GAT Testagen reviews from customers saying it doesn't work.
Where to Buy
You can purchase GAT Testagen through the GAT website.

A 120-count bottle which will last you 30 days if you take 2 tablets twice a day, costs $62.99. If you go through one of the online supplement retailers, you can pick up that same bottle for have the price.
Conclusion
I like most GAT products, but I'm not impressed by this one.I just don't see the super enthusiastic reviews that I would need to see to convince me that this testosterone booster is superior to the rest.The prohormones could be a powerful force for those willing to use them, but at such low doses, it's probably not worth even taking them at all.Add that to the fact that you have to worry about drug testing, and I just don't find a reason to recommend GAT Testagen.
There are more powerful sources of prohormones to be found over the counter and as far as testosterone boosters go, GAT Testagen does not do enough to warrant a glowing recommendation.
Have You Used GAT Testagen?

Leave Your Review Below!
Top 3 Testosterone BoostersAffiliate Disclosure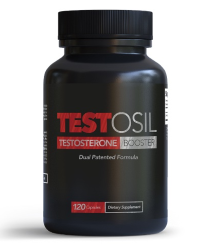 Testosil is the most effective testosterone boosting supplement on the market that I've tested.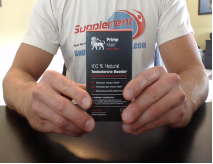 Prime Male is another very effective testosterone booster that uses clinically proven ingredients.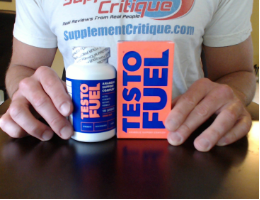 Testofuel is a VERY popular testosterone booster that contains ingredients to help older men.
Check Out My Top Choice For T Boosters - Testofuel

Click Here To Read My Review
Ask A Question
User Questions and Answers
No Questions Have Been Answered For This Article.