Hardon Helper Video Review – Supplement Critique Videos
By:
Rob Miller
Fact Checked On: 4-6-2020
---
Here we have yet another video review of a male enhancement supplement that has made a splash and name for itself, so let's dig in to see what it is all about.
Does Hardon Helper really work? Watch my video review to learn more. You can also check out my written review here: https://www.supplementcritique.com/hardon-helper-review-dr-seltzers-awesome-formula-and-my-results/
Video Transcript
Hey guys, Rob here again with Supplement Critique dot com, and in todays review were going to be talking about a product called Hardon Helper.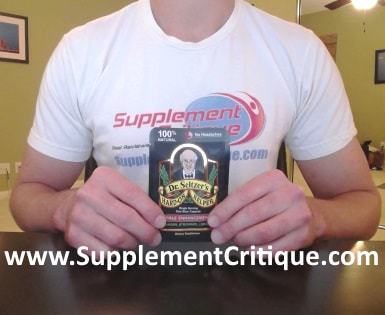 If you haven't guessed it from the name of the product, it's a supplement that's designed to help improve sexual function and control, and basically get you hard and keep you hard.
As always I'm going to talk a little bit about who makes this stuff, the ingredients, and all that fun stuff before I jump into my personal results, but if you'd like to skip ahead to my review just click the link in the description box below,
It will take you to my website Supplement Critique dot com where I go into my personal results with this particular supplement.
So Hardon Helper is a product that was developed by a gentleman named Dr. Seltzer.
He developed a product WAY back in the day called Hangover Helper, which as you may have guessed, was supposed to help with Hagovers.
He sold a ton of this product back in the early 1980's, and ended up selling it off to a company located in Boca Raton Florida for a bunch of money.
After this he ended up retiring to South America to pursue his main interest, women.
While he was there, he started noticing that he was having issues "down there", and started experimenting with various types of herbal remedies, smoked all sorts of stuff, and even worked with some local herbalists to develope some sort of a remedy.
And this is apparently how Hardon Helper was born.
If you take a look at the ingredients label here, you'll notice that it's substantially different from most of the other fast acting pills out there.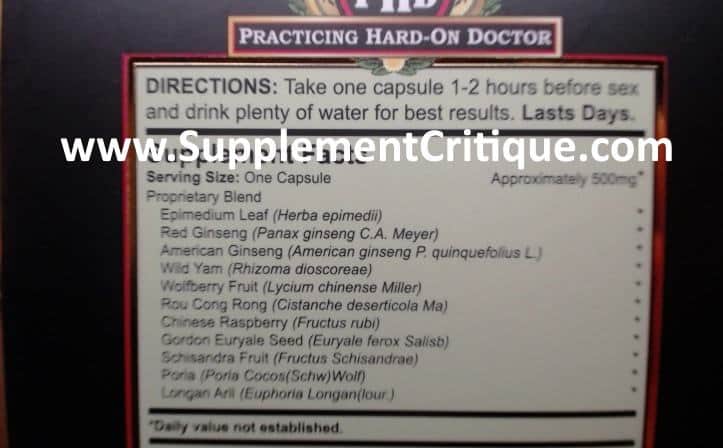 Normally you'll see things like L-Arginine, Yohimbe, Gingko Biloba, and Catuaba bark extract, but in this case the only ingredients that are relatively familiar to me are Epimedium extract, Red Ginseng, American Ginseng, and Wild Yam.
Almost all of these other ingredients are completely new to me, and I'm not gonna go into any details about how exactly each one of them work, but I have all of this info on my site so check it out there if you're interested.
The one thing that caught my eye about this product was that they actually show the exact amounts of each ingredient on their website.
This is actually VERY unusual….most companies hide behind what's known as a "proprietary formula", which is really just a fancy way of saying "we're not going to tell you exactly what we're putting in this stuff".
So anyway, as far as my personal results, if you've been following my videos for any length of time, you know that I've tested out dozens of these so called male enhancement pills.
Some of them have worked fairly well, most of them didn't do anything, and some of them worked REALLY well, but gave me some of the worst side effects you can possibly imagine.
For example, I tried out a pill called Rhino 8 not too long ago that actually worked REALLY well.
It gave me a great boner, I could definitely have sex for hours, and it even seemed like it lasted for a couple of days.
If you look on the label here they categorically state that there is "No Headache".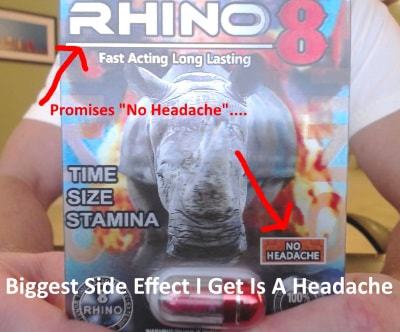 However, do you want to know what the worst thing about Rhino 8 was?
It was the headaches….
When I was originally contacted by the guys over at Hardon Helper, they asked me if they could send over for samples for testing.
So I said sure, why not, send them on over and I'll see if I can get around to testing it out.
Now mind you, if you look at the front of the their label, it says "No Headaches" pretty prominently in the upper right hand corner of the package.
As you can probably imagine I was a little bit, let's say, "hesitant" to try out this product.
I ended up getting a box of 24 pills from them a few days later and kind of just threw it on top of my boxes of supplements that I get sent on a constant basis.
As you can probabaly imagine, I get a ton of supplements sent to me.

I probably get anywhere between 2 – 3 requests per day, and in most cases we really don't even get around to testing them.
I mentioned in a previous review about a month ago that I'd recently been having some erection issues.
I attribute this to the fact that my testosterone levels seemed to have taken a pretty massive hit this year.
When I had them checked back in 2014, my FREE testosterone levels clocked in at around 15.8 pico grams per milliliters.
I was about 32 and a half at that point, and this was actually on the higher end of the spectrum.
Fast forward to last October, and they had fallen to 12.7 pico grams per millilliter, which is almost a 20% drop.
I don't think I have to explain that it's had a pretty substantial impact on my overall sex drive, and frankly has become sort of a pain in the ass.
So anyways, the pills sat on my big boxes of supplements collecting dust for maybe 3 or 4 weeks when I said the hell with it and decided to pop one of them.
I actually didn't think anything of it for the rest of the day, and decided to hit up the gym for a mid afternoon workout.
Then literally out of nowhere it hit me…
I was in the middle of doing squats and right as I was finishing up my 3rd or 4th set, I started getting this massive erection.
When I say massive I mean a MASSIVE boner.
It literally just came out of nowhere, and I kind of had to stealthly turn my back to the gym and do a sort of ninja-like tuck in into the top of my shorts.
I continued with my workout for another 30 minutes or so and thankfully it started to tone down a bit.
Then I was about 5 minutes into my drive home and I was thinking about this cute chick I saw at the gym, and in literally what felt like within seconds, BOOM I got another massive erection.
I got home like 10 minutes later, went straight ot my office, and rubbed one out as fast as I could.
I can say with like 120% certainty that this was one of the most massive boners and orgasm I've had it probably close to a year.
So then fast forward a couple of hours later, and my wife gets home from the gym she goes to and I like immediately see her in her yoga pants and tight tank top and she's just lookin real good and then again it hits me.
Huge boner….
I'm not going to go into the details here but I can assure you it ended well.
So one of the things they mention on the directions label was that it lasts for days.
This wasn't actually the case for me, I would say realistically it lasted for like a day and a half, tops.
I would probably attribute this to my metabolism, and also to the fact that I drink a ton of water everyday, so it probably got washed out of my system quicker than maybe it's supposed to.
As far as where to buy, as of this review I think it's available in some Adam and Eve shops in the Jacksonville Florida area, and of course can find it on their website, which I'll put a link to in the description box below.
A 1 pill package costs around $10, but they do offer discounts for larger orders which is pretty typical.
All in all, I would say that this is literally one of the best fast acting pills I've ever used.
Like I mentioned earlier, I've tested dozens of these fast acting pills, and the only ones that really ended up working were the ones that contained some sort of illegal ingredient in them.
So they would work really well, but I would get like the worst headaches from them and all other sorts of side effects that more or less didn't make it worth it.
This was not the case with this pill.
It gave me a great erection, there were no side effects at all, and it's definitely worth giving it a try if you've been having any problems in this area.
That's pretty much all I have for Hardon Helper, if you have any questions just leave them in the comments section below or send me an email to contact at Supplement Critique dot com and I'll try to get back to you as soon as possible.
And I'll be back soon with another video review, take care.
Ask A Question
User Questions and Answers
No Questions Have Been Answered For This Article.