Instaflex Advanced Reviews – Better Than The Original?
By:
Rob Miller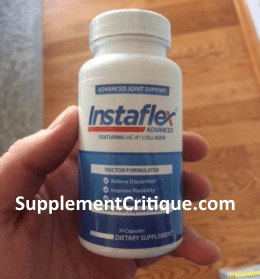 Note:This is just a review. Click Here to visit the official Instaflex Advanced website.
There has been a buzz throughout the supplement industry regarding the product Instaflex Advanced, developed by Dr. David Katz.

This product is supposed to improve joint health and reduce joint pain so let's see if it lives up to its claims.
Since joint problems can be painful and debilitating, improving joint health has the potential to extend an active, enjoyable lifestyle.

Today we will look at Instaflex Advanced, a nutritional supplement that has some bold claims in order to determine how effective it really is on improving joint health, while reducing inflammation.
If this product is anything like Instaflex, the original formula, it is likely to have similar ingredients, side effects, and overall results.

Here we will compare and contrast both of these products, while looking at reviews from others who have taken Instaflex Advanced.
Contents
How Does It Work?
Risk Free Trial / How To Cancel
User Reviews / How To Take
Difference Between Instaflex Advanced and The Original Formula
Where To Buy
My Personal Results
Warnings / Drug Interactions
Recommendation / Conclusion
How Does It Work?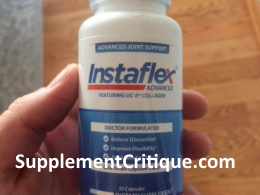 Instaflex Advanced is touted to be twice as strong as supplements that contain only glucosamine and chondroitin.

The company Instaflex claims that users should notice a huge difference in their joint function and find that their joints are more lubricatedwithin only seven days after taking this product.
According to Instaflex, Instaflex Advanced contains AprèsFLEX® Boswellia serrata extract, hyaluronic acid, UC-II® Collagen, turmeric extract, resveratrol, and BioPerine® black pepper extract.
Instaflex Advanced has potential drug and medical condition interactions.Click Here to readsome frequently asked questions we get regarding this, as well as a full list of prescription drug interactions.

Reviewed by Dr. Brian Straub, Pharm.D.
While the actual product doesn't have any published clinical studies, some of the ingredients in it have been shown to improve joint function by reducing inflammation and reducing joint friction.

The makers of Instaflex Advanced even encourage people with arthritis and gout to take this product, although it has not been approved for either of these conditions.

Let's break each one of these ingredients down and look at the science behind their joint enhancing properties.

Based on scientific studies, we should be able to determine the effectiveness of this product and decide whether consuming this supplement is worth the cost.
AprèsFLEX® Boswellia serrata extract – 100mg
According to PLTHealth.com, "AprèsFLEX® promotes healthy joints, connective tissues and respiratory and digestive function."
They also state that, "In a recent clinical study, AprèsFLEX® supplementation demonstrated significant improvements in joint comfort, function and mobility", although they don't mention their source and no search results are displayed at PubMed.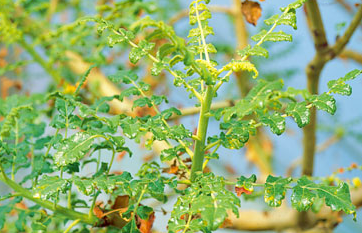 Seemingly baseless claims like this are what gives the supplement industry a bad name.

There are studies, most notably, this study, regarding Boswellia extracts in relation to its effect on inflammation, but no direct mention of AprèsFLEX®.
According to Examine.com, Boswellia serrata extracts don't have any independent studies that verify their anti-inflammatory properties.

However, Boswellia serrata has been shown to inhibit 5-Lipoxygenase, a pro-inflammatory enzyme.

More independent research needs to be conducted on Boswellia serrata and AprèsFLEX® in order determine their effectiveness.

It should be noted that a 30-day supply of Bosellia serrata extract can be purchased for $4.99 from ediblescience.com.
Hyaluronic Acid – 5mg
Hyaluronic acid has been used orally in order to treat osteoarthritis.In one study, 200mg of hyaluronic acid has been found to alleviate symptoms associated with knee osteoarthritis.

However, in doses of 5mg, it remains to be determined whether this ingredient would have any effect whatsoever.

On Amazon, hyaluronic acid can be purchased for $1.33 per gram, making the amount used in a 30-day supply of Instaflex Advanced worth about $0.20.
Undenatured Type II Collagen (UC-II®) – 40mg
Undenatured type II collagen (UC-II®) has been shown to be effective at 40mg a day in order to treat osteoarthritis and even rheumatoid arthritis. There are a number of studies on the effects of UC-II® in relation to joint issues including, Effects of oral administration of type II collagen on rheumatoid arthritis and Undenatured type II collagen (UC-II®) for joint support. There is also a clinical trial from the International Journal of Medical Sciences that has shown that 40mg of UC-II® is two times more effective than a combination of 1,500mg of glucosamine HCL and 1,200mg of chondroitin in relieving osteoarthritis of the knee.A 30-day supply of UC-II® is worth about $9 according to one product on Amazon.
Turmeric Extract – 200mg
Turmeric and more specifically curcumin have an amazing list of health benefits.Any product that contains turmeric has the potential to reduce inflammation.

The number of studies on turmeric and curcumin are vast and there is plenty of research to support its anti-inflammatory action.

According to the study, The spice for joint inflammation: anti-inflammatory role of curcumin in treating osteoarthritis, "Patients with osteoarthritis showed improvement in pain, physical function, and quality of life after taking curcumin." Turmeric extract powder is worth anywhere between $0.16 and $0.48 a gram, making a 30-day supply of 200mg a day worth somewhere between $0.96 to $2.88.
Resveratrol – 100mg
Resveratrol has been extensively studied and analyzed from a wide variety of perspectives. Not only does daily consumption increase life span in rats, but it has been shown to improve symptoms associated with osteoarthritis. Resveratrol has been shown to actually regenerate articular cartilage, thus reversing degenerative joint conditions at their root. Resveratrol in bulk is valued at about $1.19/gram, making the 30-day supply in Instaflex Advanced worth about $3.60.
BioPerine® – Black Pepper Extract – 5mg
BioPerine® is used in many supplements, as it has been shown to enhance bioavailability. According to their company website, BioPerine® is shown to improve bioavailability by an average of 30%.BioPerine® in bulk is extremely inexpensive, making the added cost in Instaflex Advanced negligible.
All in all, people who are motivated to purchase each ingredient contained in Instaflex Advanced separately would be looking at a total of about $18.80 for a 30-day supply.
Here's a quick picture of the label: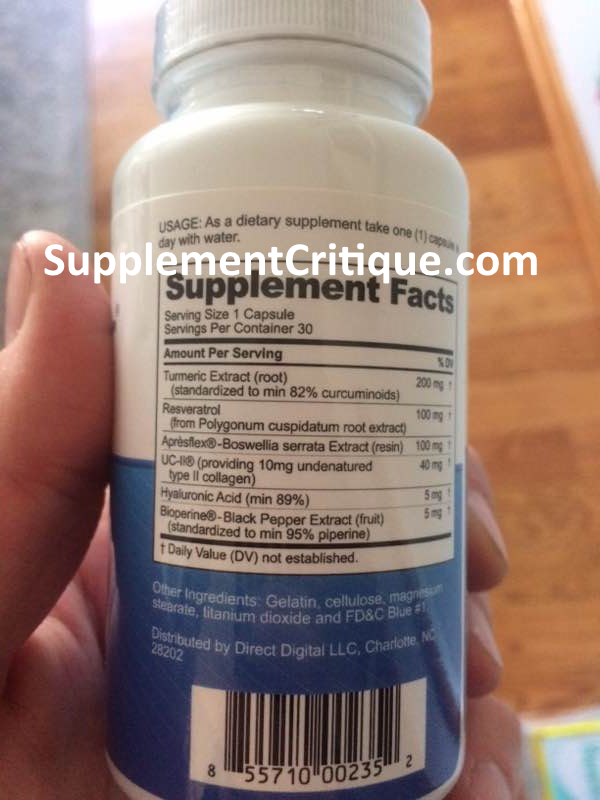 Risk-Free Trial of Instaflex Advanced

When buying directly from the company, Instaflex, realize that the free trial requires an *. Ultimately, the "free trial" is designed to sign up patrons in an autoship program.This sleazy tactic is used by numerous nutritional companies in an attempt to secure repeat orders.

When taking part in the risk free trial, just realize that nothing in this world is actually free.




With the risk-free trial offer directly from the company, Instaflex Advanced can be sampled for 18 days by just paying $4.99 for shipping and handling.
However, after 18 days, a bottle of Instaflex Advanced will immediately be charged to the payment method on file for $69.99 and $4.99 for shipping and handling.

Then, a new bottle will be sent every month with the same $74.98 charge.
This means that people who take part in the free trial will have to physically contact the company in order to avoid being charged for the first bottle and avoid being placed on autoship.Realize that Instaflex Advanced comes with a 30-day refund, minus the shipping and handling. In order to request a refund or be removed from the autoship program, call the company directly at 1-800-436-0920.
All in all, there have been numerous complaints about this "risk-free trial" and it doesn't appear to be worth the headache.
If you want to avoid the headache and just buy the product outright, you have the option as well.
Just visit their official website at the following link (www.Instaflex.com/sale), and you'll be able to buy it straight up.
No free trials.
No hidden "fine print".
Just a bottle of Instaflex Advanced shipped right to your door.

User Reviews Of Instaflex Advanced
Instaflex Advanced has received a 3.7 out of 5 star rating on Amazon.

These reviews span all the way from this product doesn't work

to this product improved my life substantially.

However, Amazon reviews need to be taken with a grain of salt, as many reviewers are paid to either improve a product's reputation or disapprove it entirely.
On Walgreens.com, users have given Instaflex Advanced a 3.7 star out of 5 star rating.

Again, many users have stated that they have seen notable joint improvement after taking Instaflex Advanced for a period of about 10 days to 20 days, more than the 7 days that Instaflex advertises.

On the other hand, a minority of users reported no change in their joints whatsoever after taking Instaflex Advanced.
Dosage And Instructions
According to the company, the correct dosage is one capsule per day with water.

Based on my research, some of the ingredients in Instaflex Advanced are more efficiently absorbed on an empty stomach so consider consuming it before breakfast.

The Difference Between Instaflex And Instaflex Advanced
For starters, there are some notable differences between both the original and the new and improved formula. Here's a quick side by side comparison of the labels: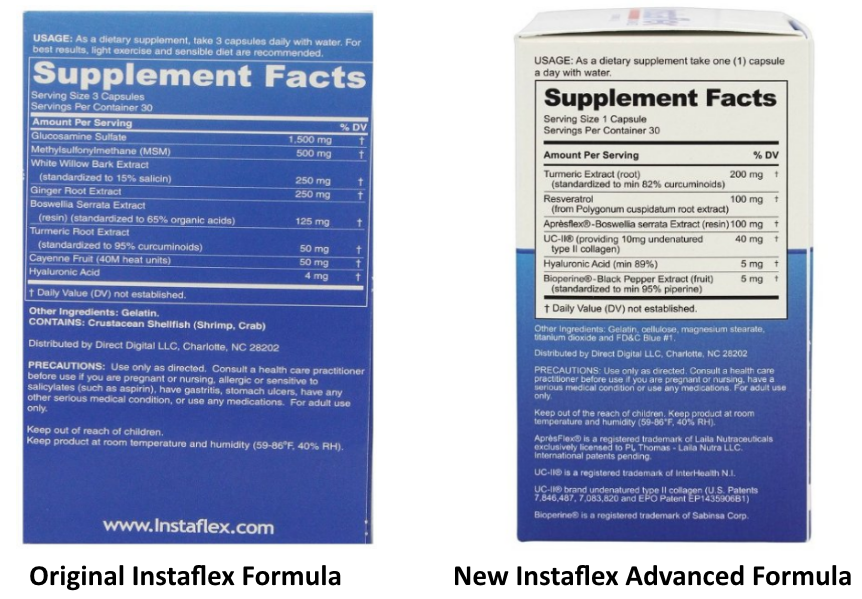 The original Instaflex formula contains glucosamine sulfate, while the Advanced version contains UC-II® Collagen. The benefit of not having glucosamine sulfate in the new formula means that people who suffer from shellfish allergies or don't want to experience other side effects associated with glucosamine sulfate can still take Instaflex Advanced.
Instaflex contains MSM, whereas Instaflex Advanced doesn't include this ingredient in their formula.

It isn't clear why Instaflex Advanced doesn't include MSM in their formula, as this product has plenty of research behind its effectiveness as a joint improving supplement.
The original Instaflex formula also has ginger extract, as it has been shown to reduce joint pain in addition to improving health overall.
White willow bark extract has also been excluded from the Instaflex Advanced formula.

White willow bark has been known to relieve pain for centuries, as it contains salicin, a chemical similar to the active ingredient in aspirin, acetylsalicylic acid.
Cayanne pepper has also been taken out of the Instaflex Advanced formula.

This is unfortunate because capsaicin, the active ingredient in cayanne pepper is anti-inflammatory and has been shown to reduce pain in arthritic joints.
I've also noted in my original Instaflex review that the customer reviews between the original and Advanced versions are not a whole heck of a lot different.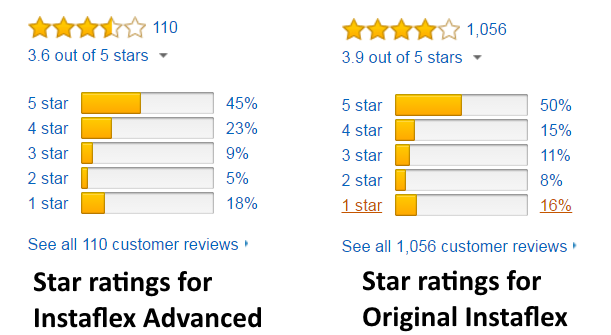 As you can see from the above image, the average rating is still pretty close. You would think that a new and improved version would see a marked increase in the number of 4 and 5 star reviews, but that's not the case here.
Where Can You Buy Instaflex Advanced?
Instaflex Advanced can be purchased directly from Instaflex, but most people don't want to have to deal with the autoship program as mentioned earlier.

Since the greater majority of complaints with this product are directly related to the shady "risk free trial" and automatic enrollment in autoship, not with the product itself, it may be best to buy Instaflex Advanced from a third party.
The good news is that there are a number of different retailers who sell Instaflex Advanced includingAmazon, GNC,LuckyVitamin.com,drugstore.com, and Walgreens.
Personal Results With Instaflex Advanced
I discontinued my typical joint formula for about a month so I could give Instaflex Advanced an honest review. I went ahead and bought Instaflex Advanced on Amazon and was happy when it arrived on my doorstep, as my knees were starting to hurt again.
I had a big volleyball game coming up in two weeks and wanted to be in top-notch condition so I took my first dose immediately.
In my experience with Instaflex Advanced, I noticed a reduction in joint pain after taking it for 10 days.
On day 14, the day of the big game, my joints also felt more lubricated, like I had a new set of shock absorbers.
While I am pleased with the results, I didn't notice much of a difference between the original Instaflex supplement and Instaflex Advanced.
While they contain different ingredients, the joint relieving effects were equally noted with both.
Since Instaflex isn't quite as expensive as Instaflex Advanced, I would encourage anyone who is considering one of these products to start with the original version first.
Visit their official website here: www.Instaflex.com
Instaflex Advanced Warnings
Instaflex Advanced could potentially interact with certain medications or medical conditions.
Use caution and speak to a doctor before using it.
We've hired a pharmacist who has answered many of the most common questions we get.Reviewed byDr. Brian Straub, Pharm.D.
*Click Here for a full list of potential drug interactions.
Can I take Instaflex Advanced if I have high blood pressure?
There appear to be no known contraindications for those wish to take this supplement and have high blood pressure.
Can I take Instaflex Advanced if I have LOW blood pressure?
There appear to be no known contraindications for those wish to take this supplement and have low blood pressure.
Can I take Instaflex Advanced if I have diabetes?
There appear to be no known interactions with this supplement and diabetes.
Are allergic reactions possible with Instaflex Advanced?
Depending on how the collagen is processed, it is best to avoid if you have egg or chicken allergies.
Can I take Instaflex Advanced with alcohol?
There is no evidence that this supplement interacts with alcohol.
Can I take Instaflex Advanced with Viagra / Cialis?
There appear to be no interactions between this supplement and either of these medications.
Can I take if I am taking anti-depressants?
There are no known interactions between this supplement and anti-depressant medications.
Can I take if I have a bleeding disorder?
It is best to avoid this supplement if you are taking blood thinners.

If you do choose to use this supplement, monitor for signs and symptoms in increased bleeding including bruising and bleeding gums.
Can I take Instaflex Advanced with caffeine or other stimulants?
There appear to be no interactions between this supplement and any stimulants.
Can I take this medication if I am pregnant or breastfeeding?
This medication is possible safe to take when pregnant and possibly unsafe to take while breastfeeding.
Are there any others medical reasons why I shouldn't take Instaflex Advanced?
Do not take this medication if you have:
Gallbladder Problems
Bleeding Problems
GERD
Hormone sensitive conditions such as breast cancer, uterine cancer, ovarian cancer, endometriosis, or uterine fibroids (although this is theoretical and it may actually have beneficial effects)
Iron Deficiency (if taking supplemental iron, be sure to space out when taking this supplement and iron supplement)
You should stop taking this supplement within two weeks of any surgery.
Possible Drug Interactions
Moderate
Blood Thinners

Aspirin
clopidogrel (Plavix)
diclofenac (Voltaren, Cataflam, others)
ibuprofen (Advil, Motrin, others)
naproxen (Anaprox, Naprosyn, others)
dalteparin (Fragmin)
enoxaparin (Lovenox)
heparin
warfarin (Coumadin)
and others.

Medications metabolized by the liver:

Liver Enzyme 3A4

lovastatin (Mevacor)
clarithromycin (Biaxin)
cyclosporine (Neoral, Sandimmune)
diltiazem (Cardizem)
estrogens
indinavir (Crixivan)
triazolam (Halcion), and many others.

P-glycoprotein Substrates

diltiazem (Cardizem)
verapamil (Calan, Isoptin, Verelan)
digoxin (Lanoxin)
cyclosporine (Neoral, Sandimmune)
saquinavir (Invirase)
amprenavir (Agenerase)
nelfinavir (Viracept)
loperamide (Imodium)
quinidine,
paclitaxel (Taxol)
vincristine, etoposide (VP16, VePesid)
cimetidine (Tagamet)
ranitidine (Zantac)
fexofenadine (Allegra)
ketoconazole (Nizoral)
itraconazole (Sporanox)

Other

Lithium
phenytoin (Dilantin)
propranolol (Inderal)
Rifampin
Theophylline
Does Instaflex Advanced Really Work?
Based on the ingredients found in Instaflex Advanced, this product has the potential to help individuals who have problems with joint pain and cartilage deterioration.

Since this product contains turmeric, resveratrol, and UC-II®, it should certainly offer some joint relief and regenerative qualities.
I wish this product contained more hyaluronic acid, as 5mg doesn't even come close to the 200mg used in studies on this substance. I also wish that AprèsFLEX® had a few independent studies to verify its effectiveness. In addition, some of the ingredients found in the original version, Instaflex, should also be in the advanced formula, most notably MSM and ginger extract.
Since Instaflex Advanced is produced by the same company that created Instaflex, the number one selling joint supplement at GNC, it certainly has some credibility.

In addition, Instaflex is a company with a solid reputation based on their A+ rating from the BBB so any products they produce are likely to be viable.
The real question is whether another company makes a similar joint formula that is equally effective, but without the extremely high price tag, as Instaflex Advanced is more than $2 a capsule.Since the ingredients in Instaflex Advanced can be purchased separately for under $19 for a 30-day supply, dishing out almost $70 a month for a joint formula seems to be excessive by my standards.However, if it works, it works, and any amount of money that reduces crippling joint pain is money well spent.
Since there are other formulas like the original Instaflex or Osteo Bi-Flex Triple Strength that contains similar ingredients, but has a more affordable price tag, it may be best to try those products first and see if they offer relief before experimenting with Instaflex Advanced.

On the other hand, if money isn't an issue, consider taking Instaflex Advanced.
Have You Used Instaflex Advanced? Leave Your Review Below!
Top 3 Joint HealthAffiliate Disclosure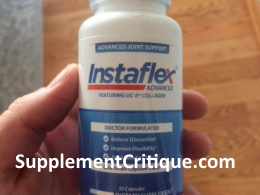 Instaflex Advanced is our #1 rated joint relief formula for a variety of reasons, learn why here.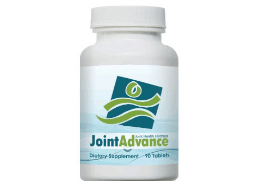 Joint Advance is an effective joint pain reliever, check out our review here.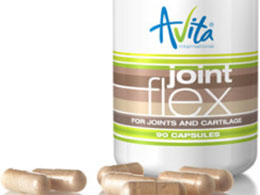 Joint Flex uses all natural ingredients to help you manage joint and muscle pain without drugs.
Visit The Official Instaflex Website Here

www.Instaflex.com
Ask A Question
User Questions and Answers
---

We used Glucosamine for years. A waste of money. We found Flex Sure. Fantastic. The best ever. Out of business. Why should we use Instaflex Advanced? What are the ingredients? -Marshall

The ingredients are Turmeric Extract, Resveratrol, Apresflex-Boswellia Serrata Extract, Undenatured Type II Collagen, Hyaluronic Acid, and Bioperine. The review explains each of the ingredients and the overall benefits and drawbacks more completely, along with my personal results.- Rob
Was this question helpful to you?
5 out of 5 people found this question helpful.
ASK A NEW QUESTION
---

I have a 3 year tkr revision with fractured kneecap. I have pain that is in the thigh, down the side of leg and behind the kneecap. Will Instaflex Advanced Joint Support relieve the pain I am experiencing? -Louise

It specifically works on pain from arthritis, so Instaflex will probably not be very effective.- Rob
Was this question helpful to you?
4 out of 4 people found this question helpful.
ASK A NEW QUESTION
---

Is it safe to continue taking Advanced Instaflex for more than a year? If so, do your knee joints continue to improve or just stay as is after about 90 days? -Barb

As long as it's working, there's no need to stop taking it after a certain amount of time. You may build a bit of a tolerance, so it's a good idea to  take a week or two off every couple months, but it will continue to  be effective as long as you take it.- Rob
Was this question helpful to you?
3 out of 3 people found this question helpful.
ASK A NEW QUESTION
---

Is it safe to take 2 capsules of advance Instaflex -Rey

The recommended dose is 1 pill per day. If you're taking that, and aren't getting results, you can try taking another pill, but I wouldn't recommend going any higher than that.- Rob
Was this question helpful to you?
3 out of 3 people found this question helpful.
ASK A NEW QUESTION