MitoBoost Review – 3 BIG Reasons to Skip It
By:
Rob Miller
---
Contents
What Is MitoBoost
MitoBoost Ingredients
Pterostilbene
How To Use MitoBoost
Clinical Studies
MitoBoost Reviews
Who Makes MitoBoost
Where to Buy
The Bottom Line
We all get older.

Most of us would probably prefer not to, but unfortunately we don't have any say in the matter.
One thing we do have a say in, to some degree anyway, is how well we age.

A healthy diet, regular exercise, and proper nutritional supplements can all play a huge role in this.

And as more is discovered about which particular supplements and nutrients can help us age better, more slowly, and more gracefully, supplement companies and their customers are taking note and making choices about what to make and use.
The way that many nutritional supplements can improve our lives in ways that you would never initially think of are endless and there are many reasons as to why someone would want to take them to enrich their life.
Vitamin D is a good example.

It is now known that the correct dose of Vitamin D can help delay cell aging, while too much or too little can have the opposite effect, at least in mice.

So lots of anti aging supplements now contain Vitamin D, but the amount is key.
Another ingredient with the potential to slow cell aging is called Niagen, and this is the primary ingredient in Mito Boost.
What Is MitoBoost?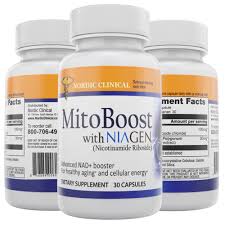 MitoBoost is an anti-aging supplement that promises to help restore youth to your cells.

The claims is that it does this by increasing the amount of a chemical called NAD+ within those cells.

By doing so, it can slow and reverse the aging of your cells, enhancing the growth of and abilities of mitochondria.

It also boosts cellular energy and even helps protect neurons, improving and preserving cognitive ability.
MitoBoost Ingredients
There are only 3 active ingredients in MitoBoost – Niagen, Resveratrol, and Pterostilbene.

The star of the show is Niagen.
NIAGEN
Niagen is a proprietary form of Nicotinamide Riboside Choride.It's been the subject of research papers written by doctors at Harvard Medical School.

Essentially, Niagen is a metobolic booster found in milk and whey that's actually been called the "miracle molecule".

It works as a precursor to the NAD+ that your cells so desperately want (and lose as you get older).

With more NAD+, you've got better cell communication, which changes everything!
NAD+ and its effect on mitochondria may very well be the next big thing in anti-aging. Mitochondria is basically equated to cell energy,and the simple fact is that it declines as we age. If NAD+ can help preserve and replace some, then we really might be onto something.
The MitoBoost formula provides 100 mg of Niagen per serving.
Resveratrol
Resveratrol is no anti- aging slouch either.

In fact, is becoming quite common in anti-aging supplements.

It's similar to red wine with its anti-oxidant properties, while it also increases your body's nitric oxide, opening up your blood vessels, allowing more blood to carry increased oxygen and nutrients to every cell of your body.
The MitoBoost formuls provides 30 mg of Resveratrol per serving.
Pterostilbene
Pterostilbene acts as an anti-oxidant similar to Resveratrol.

But its advantage lies in the fact that it is absorbed better by the body.

It also has neuroprotective qualities so the cognitive effects of aging are lessened as well.
The benefits of the anti-aging powerhouse also include a reduction of blood sugar and inflammation.

Reducing inflammation is hugely beneficial when you're goal is to feel young and energized.
The Mitoboost formula provides 60 mcg of Pterostilbene.
How To Use MitoBoost
Instructions on the MitoBoost bottle call for 1 capsule taken once per day.

This means a 30-count bottle will last a month.

Clinical Studies
While there haven't been any clinical studies performed on MitoBoost itself, there's plenty of scientific evidence for the ingredients, albeit some more than others.
The big one is of course Niagen, also studied under its generic name Nicotanimide Riboside.There is much excitement in the scientific community about the potential for NR (Niagen) and especially NR combined with Pterostilbene.
You can check out a nice summary of some of the research that's happening now here.

It gives you a good feel for the excitement surrounding the area of study as well.
One thing to note, however, is that the doses of both NR (Niagen) and Pterostilbene in the studies are significantly higher in the clinical studies than they are in MitoBoost
MitoBoost Reviews
There's not a whole lot of customer feedback available, but there is some.

MitoBoost is currently being sold on Amazon.com, so we were able to find some there.
Out of 11 reviews, MitoBoost is currently sporting a 3.6 star average, which I would say is not what they might hope for.
The few 5-star ratings don't say much more than "it's great".

Here are two perfect examples:
But there are a relatively quite a few 2-star reviews that have me wondering if this "breakthrough" product is really so revolutionary: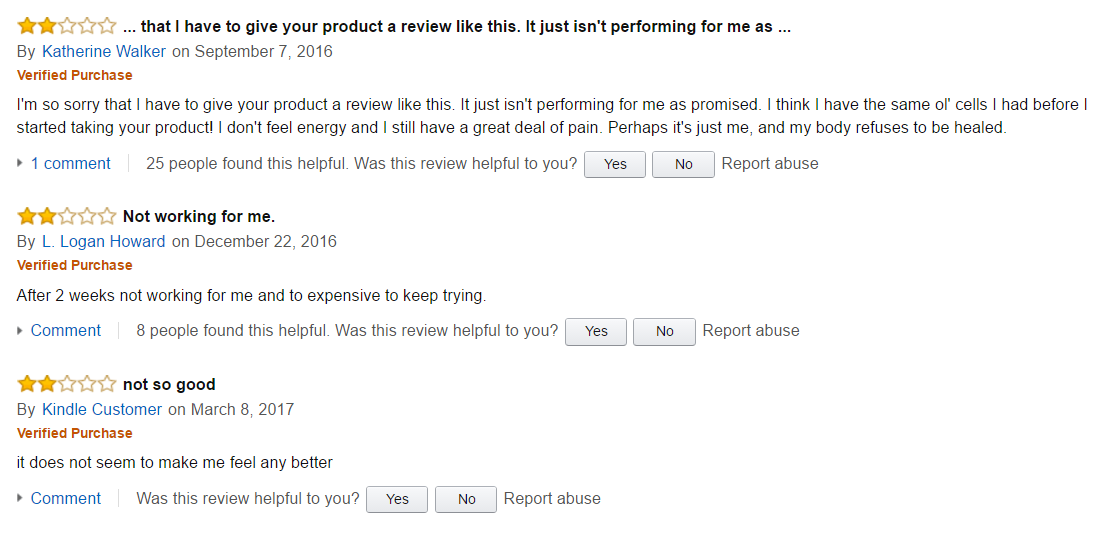 You can almost feel their disappointment.

My guess is these customers really wanted MitoBoost to work, and feel like they're back at the drawing board once again.
Who Makes MitoBoost?
MitoBoost is made by a company called Nordic Clinical.

According to the Better Business Bureau, they're in Ft.

Lauderdale, FL and they've been in business for about a year.
In that time, they've managed to rack up 16 complaints with the BBB, and a rating of C+.

The complaints are scattered among the categories of Advertising and Sales Issues, Delivery Issues, and Problems with the Product/Service.
They apparently run an aggressive direct mail marketing campaign to seniors and have received several complaints from several who wish to be left alone.

Other than that, the issues mainly involve customer not getting properly refunded when they try to enact the 90 day money back guarantee.
Where to Buy
MitoBoost is sold through their mailers, their website, and other online retailers like Amazon.com.At the official MitoBoost website, you can purchase a one month supply for $42.95. When you're going though the ordering process, they ask if you want autoshipping, which will ensure free shipping and "Locked In Savings".They don't explain at all what autoshipping is.

You could argue that it's self-explanatory, but that doesn't excuse them from laying out the terms of the deal they're presenting to potential customers.
If you order MitoBoost through Amazon.com, right now the price is $40.80.
The Bottom Line
The potential anti-aging benefits of NR and Niagen are indeed exciting, but I don't think MitoBoost is the way to go.The dosing is far below that which is being studied and shown effective.

That becomes obvious when you look at the customer reviews.
On top of that, the company has generated so many complaints in such a short time, it's difficult to imaging Nordic Clinical being the ones to bring this potential new ingredient to the forefront of the anti-aging supplement movement.
I would say to use your intuition and don't forget to pay attention to some of the less than favorable reviews as they just may be a warning of something that you should avoid.
Have You Used MitoBoost? Leave Your Review Below!
5 Star User Reviews

1.0 out of 5 Stars (2 Reviews)
Have you used this supplement?
There Are no 5 Star User Reviews
Ask A Question
User Questions and Answers
---

What are the amounts that were used in the study? -John

Here's a link to a study summary:  https://www.ncbi.nlm.nih.gov/pmc/articles/PMC5389020/  The level used were from 100 mg to 1000 mg.- Rob
Was this question helpful to you?
7 out of 7 people found this question helpful.
ASK A NEW QUESTION
---

where do you buy the dosage used in studies? -jo

From what I can tell, most brands contain in the 100-200 mg per pill range.- Rob
Was this question helpful to you?
3 out of 3 people found this question helpful.
ASK A NEW QUESTION