MyoRipped Review – Does It Get You Ripped?
By:
Rob Miller
Fact Checked On: 5-2-2018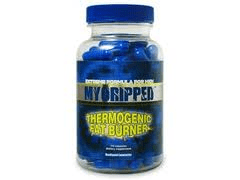 MyoRipped Overview
Men lose weight differently than women do, and we need a different kind of supplement to help. We want a supplement that works with our chemistry to boost our fat-burning and muscle-boosting abilities. Any weight loss supplement that doesn't do that doesn't have a chance. Recently, we found out about MyoRippedand wanted to take a closer look.
MyoRipped is made for guys who want to build muscle and get ripped, without adding fat. So most of the ingredients are geared more toward bulking up your muscle, with a little fat burning and appetite suppressant thrown in for added benefit. And speaking of added benefit, the testosterone boosters in MyoRipped will also get your libido up like you haven't seen in years.
MyoRipped Ingredients and How They Work
The MyoRipped formula has two main components: The Fat-Burning/Muscle Building Blend and the Essential Vitamins and Minerals.
The Fat-Burning/Muscle-Building Blend is made up of:
Caffeine for energy and fat burning.
Beta Alanine for increasing muscle output and overall muscle mass while it aids both anaerobic and aerobic endurance.
Creatine Ethyl Ester replenishes ATP sources without causing creatine bloat. It gives your muscles an instant boost to help them reach optimal performance quickly.
Tribulus Terrestris releases Saponins into your system and allows them to boost your body's energy with added testosterone production. With more testosterone, you'll get greater fat burning ability as well as increased sex drive.
Horny Goat Weed acts in many ways like testosterone by enhancing blood flow to the muscles and increasing muscle strength. It's also been known to boost your libido.
Cissus Quadrangularis for burning fat and healing and strengthening bones and muscles.
Coleus Forskohlii for improving blood flow, increasing energy, and improving fat metabolism.
20-Hydroxyecdysterone for increased red blood cell production, strengthening your immune system, DNA repair, and increased muscle strength.
Eurycoma Longfolia improves recovery times, increases mental focus, and strengthens immunity.
The Essential Vitamins and Minerals include Vitamin B6, Vitamin B12, and Chromium Picolinate.
It is recommended that you take 2 MyoRipped capsules once or twice per day before food or workouts. Some guys start to see the energy boost wright away, and the website claims that your weight loss results will astound by the end of 30 days. It is of course, recommended that you eat right and exercise for optimal results.
MyoRipped Pros and Cons
Advantages of MyoRipped
There is a money-back guarantee.
There are several testimonials attesting to the fact that it works.
MyoRipped reviews suggest that you'll get an energy boost right away.
Disadvantages of MyoRipped
It takes commitment to the supplement as well as to a diet and workout program.
You shouldn't take it too close to bed time as it may interfere with a good night's sleep.
Where to Buy
You can purchase MyoRipped online at the official website or other supplement retailers. The website sells a one month supply for $49.95. If you buy multiple bottles, you won't get much of a discount, but you will get bonus bottles of 3DFB, a supplement that helps remove toxins and waste that prevent you from gaining muscle and losing weight. The 90 day money back guarantee has you covered if you buy from the website.
Conclusion
If you're a man who wants to lose weight and build muscle, you need a supplement made to work for you. MyoRipped claims to be the one. It's got a decent ingredients list and lots of guys are saying that it's worked for them. Add in the guarantee, and we think MyoRipped is a solid product worth giving a try.
Have You Used MyoRipped? Leave Your Review Below!
Top 3 Weight LossAffiliate Disclosure
Instant Knockout is actually a new fat burning supplement I just came across, and got great results.
LeanBean Female Fat Burner is the BEST fat burner for women we\'ve ever tested.Read our review here.
Biohacks your body into instant ketosis to burn fat instead of carbs.

Weight loss, energy, focus, anti-inflammatory, anti-aging.
Ask A Question
User Questions and Answers
No Questions Have Been Answered For This Article.