Olympus Labs Ep1c Review – Does It Work?
Rob Miller | September 23, 2014
---
Product Reviewed:
Olympus Labs Ep1c
|
OUT OF 5 | Review by:
Rob Miller
Last Fact Checked On:
---
REVIEWS
QUESTIONS
COMMENTS
---
Home » Testosterone Boosters » Olympus Labs Ep1c Review – Does It Work?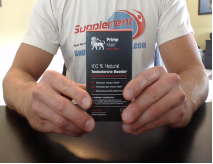 Prime Male is a VERY close 2nd to Testofuel, but contains ingredients to help older men.
Olympus Labs Ep1c Overview
In keeping with their theme of ancient Greece and Greek myths, Olympus Labs claims to make products that turn men into demigods.

Mostly, they offer prohormones, and the one we're looking at today is called Olympus Labs Ep1c.

It mainly functions as a Myostatin inhibitor, and by using it, you'll see extreme size, muscle, and strength gains.

Some of the benefits you can expect are:
Inhibition of myostatin.
Increased strength.
Increased follistatin.
Decreased LDL (bad) cholesterol.
Increased stamina.
The ability to demolish plateaus.
Olympus Labs Ep1c Ingredients and How They Work
Olympus Labs Ep1c contains L-Epicatechin.

Each capsule provides a full 300 mg of this natural ingredient that's been shown to reduce myostatin and increase muscle mass.

The recommended dose is 1 capsule taken twice a day.

According to reviews and forum discussions, these guidelines work pretty well, with only a small percentage of guys saying that they use bigger doses.

Because Olympus Labs Ep1c is not suppressive of your own hormone production process, you can use Olympus Labs Ep1c on its own or as part of your PCT.
Olympus Labs Ep1c is not recommended for anyone under the age of 18, specifically because it could negatively affect your growth plates.

It's also not recommended for women. Anyone with high blood pressure, high cholesterol, any serious medical condition, or anyone taking prescription medications should also avoid Olympus Labs Ep1c.
Olympus Labs Ep1c Pros and Cons
Advantages of Olympus Labs Ep1c
It contains the highest dose of the active ingredient L-Epicatechin available.
Most of the

Olympus Labs Ep1c

reviews I've seen from guys who've used it are very favorable.
It contains no fillers.
Disadvantages of Olympus Labs Ep1c
It's a bit expensive, especially considering that it's likely to be used as a stack.
There are lots of restrictions about who can use it.
Where to Buy
You can purchase Olympus Labs Ep1c through lots of online retailers.

The 60-count bottle sells for $49.99 just about everywhere.
Conclusion
Olympus Labs Ep1c is a solid product that fills a very specific need.If you need a prohormone that'll deliver myostatin inhibition as well as big muscle gains, you'll want to check this product out.
Have You Used Olympus Labs Ep1c?

Leave Your Review Below!
Our #1 Choice for Building Testosterone – Testofuel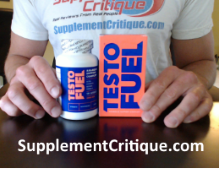 Low Testosterone levels affect close to 50 million American men, and are responsible for weight gain, energy loss, and erectile dysfunction issues.

Testofuel uses a specialized combination of all natural herbs and extracts to help give you a powerful boost in muscle mass and energy.
I recently had a chance to personally test out Testofuel for a period of 3 months, and have written up my full review and results.
How People Found This Review:
and ep1c reviews, and olympus ep1
Check Out My Top Choice For T Boosters - Testofuel

Click Here To Read My Review
Ask A Question
User Questions and Answers
No Questions Have Been Answered For This Article.