Omega XL Review
By:
Rob Miller
Fact Checked On: 11-20-2018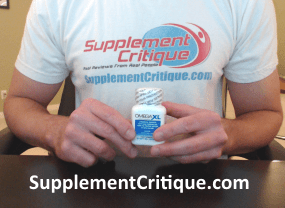 Contents
What is Omega XL
Product Guarantee
Detailed Analysis of The Ingredients In Omega XL
Omega XL Benefits
My Personal Results
Other Omega XL Reviews I Came Across
Where Else Can You Buy Omega XL
Recommendation
It's no secret that Omega-3 fatty acids have been shown through clinical trials to have demonstrated and duplicated health benefits, specifically related to cardiovascular, brain, and joint health. These fatty acids are called essential for a very simple reason. The human body absolutely requires them to perform certain cellular functions within its very complex metabolic and immune systems. From a cardiovascular standpoint, one study has shown that omega-3 and omega-6 fatty acids lower the risk of dying from cardiovascular disease by a very significant 8.3%.
With all of these apparent benefits, coupled with the fact that the American Standard Diet is probably lacking in these healthy fats, all sorts of supplements have popped up, ranging from the standard "Fish Oil Capsules" found on the local supermarket shelf; all the way to the designer supplements from the Scandinavian realms.
Click Here
to jump to my personal results with Omega XL.
What is Omega XL?
This leads us to our product to be reviewed today – Omega XL. One of the more interesting ad campaigns for an emerging supplement, Omega XL claims to be superior to store brand Fish Oil, and is even endorsed by none other than the infamous Larry King.
Of course, since fish oil can be found for literally next to nothing on said supermarket shelves, our mission leads us to inspect the claims of superiority by the company behind Omega XL as well as Mr. King himself.
So, it seems as though the makers of Omega XL have followed a pattern of distribution like many other brand name products. That is, you can buy it directly from them via their website or via their Amazon store.
Upon navigating to their store, you are met with Larry King's claim that he no longer has pain when he puts his shoes and socks on in the morning, to which he claims is solely because of his use of Omega XL.
He says this in a Youtube video posted back in June of 2014:
He does not address the issue of whether he tried other forms of omega-3 supplementation before switching to Omega XL, and thus, his claims do nothing to solve to main problem that arises from this product – and so many other "designer" brand name formulations of supplements containing proven beneficial ingredients.
What this means is that, to the real-world consumer who is trying to figure out whether he/she can fit the exaggerated cost of a supplement like Omega XL into his/her budget – Larry King's claims are of absolutely zero benefit in determining this.
So, why would one claim that Omega XL is superior to the grocery-store formulation of omega-3 fatty acid combination products?
Product Guarantee
The company that produces Omega XL offers a 90-day money back guarantee. Now, a quick look at their business profile with the Better Business Bureau shows that they have an A+ rating, having settled 160 complaints in an amicable manner.
What's even more interesting is although they are rated A+ on there, the customer review rating is VERY poor:
Only 14% of the people who left feedback claimed they had a positive experience with the company, which is very concerning.
Now, this is rather misleading, if you look at it from a more realistic point of view. For instance, let's assume that you went to the grocery store and purchased a pound of hamburger meat, only to bring it home to find out that it is spoiled. So, as long as the grocery store accepts your return and provides you with a refund or replacement, they have amicably solved the issue. However, this definitely does NOT mean that they have superior meat. So what is it about Omega XL that makes it "superior" to other supplements?
It comes down to one word, one issue.
Detailed Analysis of The Ingredients In Omega XL

Omega XL's primary ingredient is a complex formulation of 92 different fatty acids via a proprietary formulation of Perna Canaliculus PCSO-524. As such, Omega XL claims different omega fatty acids have "over 30 years of research" behind them, thus producing a uniquely superior product that costs more to make than other omega-3 supplements, which is why the company feels as though their price is justified in being is so inflated versus others.
Here's a quick snapshot of the label: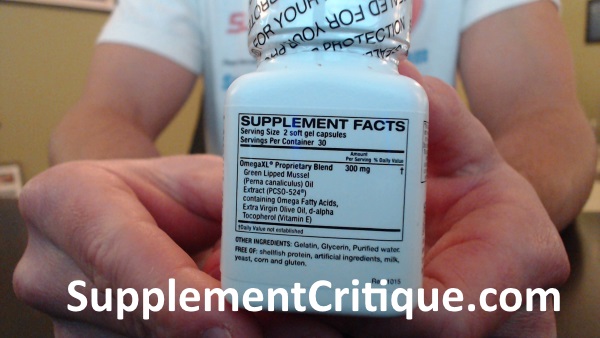 They source PCSO-524 from green-lipped mussels that are cultured in New Zealand. Does this really mean anything? Let's go to the reviews for real-world feedback.
Omega XL Benefits

It sounds like a solid product that undoubtedly has some verifiable benefits. However, we still have to look at what makes it stand out from other omega-3 supplements. Even though there is not much clinical evidence, there may actually be a synergistic benefit of having the large variety of different omega-3's and omega-6's taken together, such as the DHA, ALA, and EPA found in Omega XL. The logic for this is that the same mechanisms that trigger synergy in many types of prescription drugs may also provide this for those who supplement with this product.
What does this mean to you, the consumer, when determining whether to choose Omega XL over something like the very affordable Sundown Naturals Omega-3-6-9 combination supplement?
Well, it seems like so many other gimmicky supplements, that these benefits may just be in the eye of the beholder, or – placebo effect, to put it bluntly.
Simply put, Omega XL follows a business model like that of its competitors (this Nordic Naturals, for example), that claims their method of obtaining this patented formula are of superior purity than other mass-produced "fish oil" supplements.
Now, this is a sales gimmick that many companies are using to literally extort consumers into paying more for their product. They use the widely known fact that certain fish contain detectible levels of mercury and some very nasty compounds produced en masse during the first half of the 20th century known as polychlorinated biphenyls, or PCBs.
These supplement manufacturers that produce products such as Omega XL that portray their product as superior in purity are just that – portrayals. In fact, scientific testing and clinical studies have proven that this claim to purity is completely unfounded. Out of all the sample products tested, not a single omega supplement has been found to contain any detectable, much less harmful, levels of mercury or PCBs.
Unfortunately, these supplement manufacturers are using fear-based marketing to sell their products at a higher price instead of being satisfied with a competitive price that they could easily obtain by simply entering the same market as products like the aforementioned Omega-3-6-9 sold by Sundown.

My Personal Results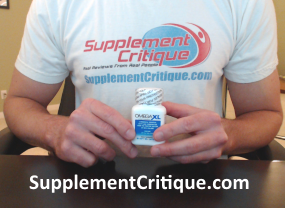 I actually haven't taken a joint relief supplement in a really long time, and thought this might be a good experiment. If you've read some of my other blog posts you know that I like to play competitive beach volleyball.
By competitive I mean 2 vs. 2, pro amateur style beach volleyball, not 10 on 10.
Over the years this has taken a toll on my joints, and typically I just revert to my standard dose of 2 advil twice a day to relieve the pain.
I figured why not solve the problem at the sourcerather than just putting a band aid over it.
I started taking the recommended dose of 2 soft gel capsules once a day for the first week, then gradually moved up to taking 2 capsules twice a day in week 2.
I definitely started to notice a difference at the end of week 2. At first it wasn't a radical difference, but I noticed I didn't seem to want / need to take any advil at night for the first time in years.
Typically I feel pain in my right elbow and shoulder blade, as well as my right knee just below the kneecap (this is called jumpers knee, very common in volleyball and basketball players).
The pain in my knee didn't go away, probably because it's not the joint causing the pain but rather the tendon.
However, the pain in my elbow and right shoulder blade subsided pretty dramatically.
The only thing I did different was take Omega XL, which I pretty much figured that's what solved the issues.
I only had a 60 capsule bottle of Omega XL, so I ran out of it towards the end of week 3 and the pain seemed to gradually come back.
Other Omega XL Reviews I Came Across

So, we all know that word of mouth reviews are the best indicator of product performance in the supplement world, because without real results, not a single scientific study in the world would suffice.
Truly, subjective benefits can definitely carry more weight than objective observations.
Now, in the spirit of full disclosure, this writer personally interviewed two people who are currently in their fourth week of taking Omega XL. So far, they do note that they feel more "lubricated" in their joints since taking the product.
One individual notes that it is easier for her to get up and start her day, from an arthritic point of view, that before she started taking it. She is a 65-year-old female who has suffered from arthritis for more than 30 years.
The next individual is a 60-year-old male who suffers from sore joints in general as a result of manual labor for 40 years.
He notes the same fluid-like feeling in his joints as the first person.
Now, aside from the 2 people that I am witnessing taking Omega XL, there is a plethora of reviews from verified customers on Amazon.
However, the most interesting situation when navigating this page, the product recommendations cell on the Amazon site show another "New Zealand Green-Lipped Mussel Supplement." The price is 7.47 versus the "discounted price" of $49.99 for Omega XL throws quite a few red flags up, especially with regards to the special formulation purity claims.
Overall, their Amazon rating is 3.4 stars, which is basically a very average performance rating. There are tons of complaints on there as well as several positive reviews. The positive reviews are short and concise, all the while consisting of claims such as "seems to work" and good quality" without any further explanation; another red flag.


On the other hand, the negative complaints are the most recent as well as the most detailed.

Some people even claim that the company does not honor their guarantee. Of course, the BBB page shows that the eventually did pay their guarantees, but one should never have to take a complaint to an elevated level in order to have a guarantee honored. Other negative complaints tell consumer to "do their research" before buying.
Another reviewer left a negative review that stands out from the rest. It makes a point to mention that the product does not specify its strength. While Omega-3 oils will probably just make you vomit if taken in excess, we all know that certain drug interactions can occur with supplement usage, and if so, the patient will need to know every medication and supplement being taken, as well as the dosage.
To not include the dosage strength on a supplement is very suspicious, and the negative reviews that all follow on Amazon seem to back up the inactivity of this product, which could be a reason why the company did not include the strength of the supplement – because it could actually be inferior to its competitors. The fact is, we do not know because they keep the dosage a trade secret.
The problem with reviews in general, however, comes from the fact that many of these people have never tried other omega-3 supplement with which to compare it to. Those who have seem to give negative reviews with quite a bit of explanation as to why.
With that said, the benefit of taking a premium omega fatty acid supplement such as Omega XL versus a more modestly priced, yet complete, Omega-3-6-9 from Sundown Naturals (above) or any other store brand combination fish oils supplement cannot be accurately determined.
Where Else Can You Buy Omega XL?
Apart from their website, it doesn't look like Omega XL is for sale in stores like GNC, Walmart, Walgreens, Rite Aid, or Costco. When you visit their website and try to order, you'll see that the US and Canada are the only two countries listed.
There's a phone number you can call (800-609-4818) if you live in some other country like Australia, the UK, France, Mexico, or India to see what your options for ordering Omega XL are.
I can't imagine that any of the ingredients that are contained in Omega XL are banned in any particular country, but the reason may be that they're not setup to ship to certain countries.
Recommendation
The bottom line with Omega XL is that the ingredients are not necessarily negative, the reviews of the product are, which is truly what matters to business. While the ingredients have proven benefit with regards to brain, heart, and joint health; the benefit of taking a premium-priced supplement such as Omega XL because of its sourcing over a moderately-priced store brand omega fatty acid supplement is not entirely clear.
While the manufacturer claims superior purity from unique sourcing as well as a 90-day money back guarantee, they also participate in what could be deemed a very negative manner in which to market this claimed superiority – capitalizing on consumer fear regarding mercury contamination in fish as an indicator of the same contamination in omega-3-rich fish oil supplements. However, recent scientific testing has proven this fear to be false, thus weakening Omega XL's claim to superiority even more.
On the flip side, if you read my personal results above it DOES indeed seem to help alleviate joint pain to some extent. I'm a bit torn on my recommendation, but if you've been trying joint supplements in the past without any significant results, Omega XL might be worth a shot.
Have You Used Omega XL? Leave Your Review Below!
Top 3 Joint HealthAffiliate Disclosure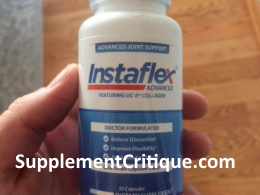 Instaflex Advanced is our #1 rated joint relief formula for a variety of reasons, learn why here.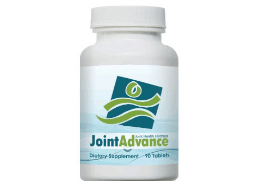 Joint Advance is an effective joint pain reliever, check out our review here.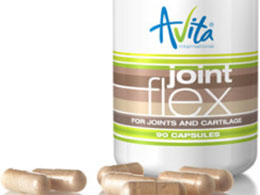 Joint Flex uses all natural ingredients to help you manage joint and muscle pain without drugs.
How People Found This Review:
and omega xl reviews
Ask A Question
User Questions and Answers
---

Can children take this product? -ricardo

The label warns that it should be kept out of the reach of children.- Rob
Was this question helpful to you?
0 out of 2 people found this question helpful.
ASK A NEW QUESTION