PenisHealth Overview
There are tons of pills out there, promising to give you a bigger penis, but we know better than to believe that.  Plain and simple, there is no pill that can make your penis bigger.  But, exercises on the other hand?  Maybe.  Lots of guys testify that they work, though clinical studies are scarce and basically inconclusive.  But the entire penis enlargement business
PenisHealth is a sold as an exercise program.  With your prescription you get access to a number of penis enlargement exercises online and/or on DVD, as well as a host of information and access to an online community of fellow PE enthusiasts.  What you can hope to achieve is:
An increase in sex drive.
Bigger, stronger, thicker, harder erections.
More control over when you ejaculate.
Increased enjoyment for your partner.
And all the confidence of knowing that your performance is beyond satisfying to all who experience it.
How PenisHealth Works
Once you sign up for PenisHealth, you'll have access to their (at present) 34 exercises.   They say they are always adding content, and they'll never charge you more when they do.  The exercises help you increase the capacity of your penis to hold more blood during erection.  Since the influx of blood is what erections are made of, this means yours are bigger when your penis can hold more blood.
How to Use PenisHealth
The program is designed around performing the exercises for 8 minutes a day.  Included are over 30 exercises, each designed for a specific benefit.  Some help you get longer, some thicker, some straighter.  All better, and all making you more confident.  PenisHealth provides specific routines, photo and video demonstrations of the exercises, an online journal of progress, and access to the member forum.
Some PenisHealth members report seeing results in just a few weeks, but the official time frame is closer to 6 months.
PenisHealth Pros and Cons
Advantages of PenisHealth
It's a safe and comprehensive system to help you gain more confidence through bigger erections and better sex.
There is a 6 month guarantee.
Several bonus gifts come with your PenisHealth purchase.
Disadvantages of PenisHealth
Gains may be minimal compared to the effort involved.
You can find lots of similar information online for free.
How To Purchase
If you're interested, you'd want to go to the PenisHealthwebsite to choose which package to buy.  The prices range from $54.95 to $95.  The most basic package includes complete online access.  The most comprehensive includes online access, DVDs, and personal email help.  Currently, there's a $50 voucher that makes the most expensive package the lease expensive, so that would be the way to go for now.
Conclusion
For the most part, there's nothing really new or unique at PenisHealth.  You can find just about the same thing at a couple of the free forums out there.  The main reason to buy, I'd say, would be if the way the system is organized appeals to you.  For some personalities, it's worth it to pay for someone else to organize a system for you.
Have You Used PenisHealth?  Leave Your Review Below!
Our #1 Choice For Male Enhancement – Vigrx Plus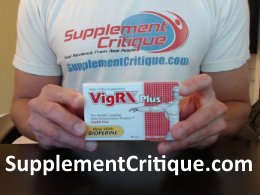 We have personally tested over 100 different male enhancement supplements, and Vigrx Plus stands out as the most effective in terms of results and customer reviews.  Not only is Vigrx Plus designed to help boost overall stamina and libido, but it's also the only product in its category to be clinically studied and PROVEN to work.
Click Here to read more about my specific results with Vigrx Plus
Want To REALLY Get Bigger?

Click Here To See Products That WORK!
Ask A Question
User Questions and Answers
No Questions Have Been Answered For This Article.