Premier Testosterone Review – Does It Work?
By:
Rob Miller
Fact Checked On: 5-30-2014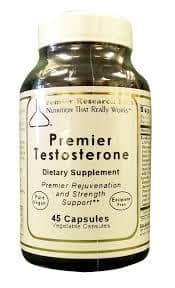 Premier Testosterone Overview
It's no secret. You lose testosterone every year.

It won't be noticeable at first, but start cruising past 35 or so, and you'll feel it.

You just don't have as much energy as you used to.

You gain weight more easily (we're talking fat, not muscle), you don't think about sex every 30 seconds like you used to.

It's inevitable for sure, but it's not a lost cause.

You can choose a natural testosterone boosting supplement to help stem the tide.
Premier Testosterone is an option I found online. It's made by Premier Research Labs, and it's available through their official website and a few other online supplement retailers.

As far as I can tell, you can't find it in stores currently, but that's not unusual.

From what we could gather, the benefits are what you would expect from a natural testosterone booster: increased lean muscle mass gained and retained, boosted libido, and an optimal overall hormonal balance.
Premier Testosterone Ingredients and How They Work
Premier Testosterone takes pride in letting you know that the pills are 100% Vegan and so can be taken by anyone.

The formula is split up into two components, and we'll explain some of the key ingredients in each:
The MacaBolic Blend includes mainly aphrodisiacs like Maca Root, Muira Puama, and Catuaba Bark.

Then there are some herbal testosterone boosters as well.

Tribulus Terrestris signals to the pituitary gland to secrete more Luteinizing Hormone which than signals to the testes to create more testosterone.

And Long Jack Root frees up bound testosterone by binding itself to Sex Hormone Binding Globulin (SHBG) so testosterone can't.
The SynerBolic Support Blend is more about provide energy and systemic support with herbal ingredients like Pumpkin Seed, Stinging Nettle, Epimedium Grandiflorum, Ginger Root, Cayenne, and Sarsparilla.
The recommended dose is 1 capsules taken 3 times daily.
Premier Testosterone Pros and Cons
Advantages of Premier Testosterone
It's ingredients are all natural.
The

Premier Testosterone

reviews from customers are mainly very positive.
Disadvantages of Premier Testosterone
Some of the online retailers seem to be out of stock, which may indicated that it won't be around too long.
A single bottle is only a 15 day supply.
Where to Buy
You can buy Premier Testosterone at their official website.

A 15 day supply costs $21.95. This is the same price I found at the other retailers that carry it.
Conclusion
My take on Premier Testosteroneis that it's good for you, but it's probably not going to be lifting your testosterone levels.You may feel good, and it will undoubtedly boost your libido, but if you really want a testosterone boost, you may need to go with something a little stronger.
Have You Used Premier Testosterone?

Leave Your Review Below!
Top 3 Testosterone BoostersAffiliate Disclosure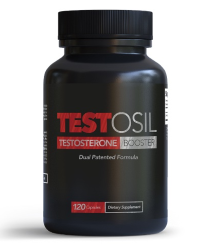 Testosil is the most effective testosterone boosting supplement on the market that I've tested.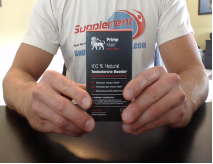 Prime Male is another very effective testosterone booster that uses clinically proven ingredients.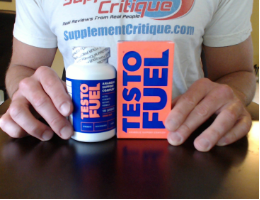 Testofuel is a VERY popular testosterone booster that contains ingredients to help older men.
Check Out My Top Choice For T Boosters - Testofuel

Click Here To Read My Review
Ask A Question
User Questions and Answers
No Questions Have Been Answered For This Article.