Pro Testosterone Review
By:
Rob Miller
Fact Checked On: 5-29-2018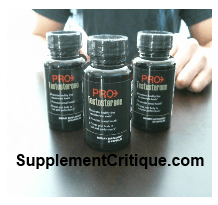 note: This is a review. Click here to visit the official Pro Testosterone Website.
Testosterone boosting supplements have been the latest craze in mens health products, and there have been shortage of products to address the issue. We came across the Pro Testosterone formula in our research, and decided to analyze it's effectiveness when stacked up against the competition.
What is Pro Testosterone?
Pro Testosterone is a cutting edge testosterone boosting formula designed to help alleviate some of the symptoms of lowering testosterone in men. The only ingredient is actually Fenugreek extract (600 mg), but a VERY high quality source of Fenugreek is used, hence the high price tag.

This ingredient has actually been shown in several studies to help alleviate symptoms of erectile dysfunction in most men. Click here for a picture of the label.
The makers also allude that their product can help promote healthy free testosterone levels, promote sexual health and libido, and prime your body to fuel peak performance. They list a number of reviews on their homepage in which many of the men said that Pro Testosterone made them feel more youthful and exuberant.
The company does also list that their product is 100% guaranteed, and you have 90 days to return unopened product for a refund (minus the costs of shipping).
Where To Buy Pro Testosterone?
Pro Testosterone does not appear to be sold anywhere else other than the companies official website, including popular online retailers such as Amazon and Ebay. We attribute this to the fact that it is a relatively new formula, and generally it can take as much as 2 years before you start seeing it in store.
What is refreshing is that the cost of Pro Testosterone does tend to go down as higher quantities are ordered. They give you the option to either pay via credit card and paypal, so you know your order is backed by legit merchants. The cost of a one months supply is $39.95 (not including shipping) and the best deal appears to be a 6 months supply which will run you about $19.99/ bottle.
Pro Testosterone also offers a secure checkout system, and the ability to insure your shipment for an additional $3.99. Standard shipping, as mentioned on the merchants site, generally takes about 5 – 10 business days, and is delivered via Fedex.
Pro's of Pro Testosterone
Positive Consumer Reviews
Appealing Website
Secure Shipping and Transactions
100% Money Back Guarantee
Relatively Cheap when compared to the competition.
Con's of Pro Testosterone
Unable to buy in stores
No Doctor Testimonials
Recommendation
Out of the dozens of other Testosterone boosting supplements that I have tried, I would definitely rank this one in my top 3. It contains all the essential ingredients that give you more power and performance in the bedroom, and on the playing field, and it's price point is on the lower end when stacked up to the competition. If your looking for a cheaper alternative to some of the more expensive supplements out there, Pro Testosterone is a great alternative.
Have You Used Pro Testosterone? Leave Your Review Below!
Top 3 Testosterone BoostersAffiliate Disclosure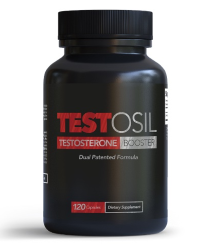 Testosil is the most effective testosterone boosting supplement on the market that I've tested.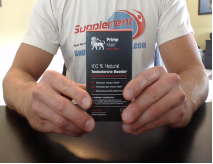 Prime Male is another very effective testosterone booster that uses clinically proven ingredients.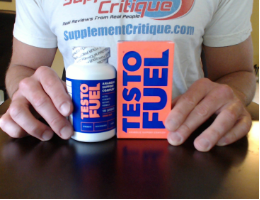 Testofuel is a VERY popular testosterone booster that contains ingredients to help older men.
Check Out My Top Choice For T Boosters - Testofuel

Click Here To Read My Review
Ask A Question
User Questions and Answers
---

I have just ordered some of your testosterone pills. I've never heard of them before and I have erectile disfunction. Will they help me to get a hard on? I've tried other pills like viagra and cialis but they only work on me for one short session, then it's down for the rest of the day. Will they help me to have sex more than once in a day? By the way i am 73 years old. -DAVID

Boosting testosterone will help, but for your ED, you are better off adding a performance enhancement supplement to your testosterone pills. Together, the stack will help you get the results you're after.- Rob
Was this question helpful to you?
2 out of 2 people found this question helpful.
ASK A NEW QUESTION