1.  What is Quadralean Thermogenic?
Thermogenics are a type of supplement used by athletes and bodybuilders primarily to help lose fat and increase their metabolism.
A thermogenic theoretically creates heat in the body, which is how it stimulates the metabolism.
One popular product we recently came across  that does this is called Quadralean Thermogenic.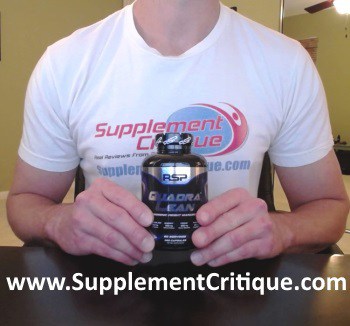 So what's the truth?
Does it deliver results as promised, or is Quadralean Thermogenic not worth the money?
Quadralean Thermogenic claims to burn fat while providing energy and focus.

According to the creators, it works to control the four primary factors of weight loss which are appetite, fat storage, energy, and metabolism.
2.  Quadralean Thermogenic Ingredients
The ingredients in Quadralean Thermogenic are promoted as being clean and simple.
They're broken down into 4 categories, including:
 Supports Weight Management: CLA and L-Carnitine
 Improves Energy:  Caffeine and Bitter Orange
Focus and Concentration: Choline Bitartrate and Alpha GPC 50%
Thermogenesis: Yohimbe Extract and Cayenne Pepper Fruit Extract (Capsimax)
Here's a quick snapshot of the label: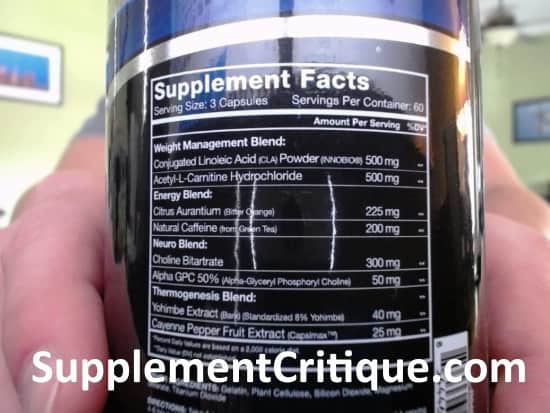 L-Carnitine (500 mg)

L-Carnitine is a primary ingredient in Quadralean Thermogenic.

It's an amino acid naturally produced by the body and used as a supplement by people who want to improve their endurance and athletic performance.

When someone uses L-Carnitine, it helps the body produce energy.

It also plays an important role in maintaining optimal heart and brain function and muscle movement.

There is some evidence showing L-carnitine might help improve mental and physical fatigue, while decreasing fat mass and improving muscle mass, especially as people age.

Also part of the energy blend is CLA, which stands for Conjugated Linoleic Acid.

CLA is a naturally occurring fatty acid, also used as a supplement to reduce body fat.

Natural Caffeine (200 mg)

Caffeine is included in this supplement.

Caffeine from natural sources can be helpful to improve energy levels, increase the metabolism, and also to help people maintain more focus.

Natural caffeine may also help release the stores of fat. The caffeine comes from green tea.

Also included as an energy booster is bitter orange.

Bitter orange is an herbal supplement commonly used in weight loss supplements.

Alpha GPC (50mg)

Choline is a precursor to a neurotransmitter that according to the makers of Quadralean Thermogenic can help with mood, concentration, and choline has other benefits as well.

It's believed to support healthy overall brain and nerve function, it's key for optimal liver function, and it helps with muscle movement.

Choline is part of many of the body's most important processes.

Specifically, Quadralean Thermogenic contains Alpha GPC and Choline Bitartrate.

Alpha GPC may have not only cognitive benefits but is used by athletes to improve endurance and support cellular health. Choline Bitartrate is sometimes described as a nootropic, promoting mental stimulation.

Capsimax (25mg)

Capsimax is super-concentrated natural capsicum extract that comes from red chili peppers.

There is some evidence indicating CapsiMax can also help in the mobilization of fat for energy production, and it can promote something called thermogenesis because it generates heat in the body.

Capsimax is not a stimulant and is included in many nutritional and dietary supplements aside from Quadralean Thermogenic.

Also part of the thermogenic blend of ingredients is Yohimbe extract.

Yohimbe is used to boost athletic performance and endurance, and it has stimulant properties.
How To Take Quadrelen Thermogenic

To use Quadralean Thermogenic, people are instructed to take one serving right away when they wake up in the morning.

They should then take another serving four to six hours later.

For people who are sensitive to caffeine, they're instructed not to take the product within six hours of bedtime.
Users are also instructed not to exceed two servings, which is six capsules in a 24-hour period.

For the best results, you're advised to take Quadralean Thermogenic with a healthy diet and exercise.
3.  Who Makes It?
Quadralean Thermogenic is made by a company called RSP Nutrition.

RSP Nutrition creates nutritional supplements for general health, bodybuilding or competition in endurance sports and strengths.

The company was founded by former student athletes.
They describe their mission as providing innovative nutritional supplements that inspire customers, and they say they strive to make RSP a lifestyle brand.
RSP offers customers a rewards program, aptly named RSP Rewards.

To participate in the program, users create an RSP Rewards account, which already earns 200 points.
Then, users earn 10 points for every dollar they spend online at RSP.com.

If someone likes RSP on Facebook they receive 100 points, a follow on Instagram earns 100 points, and referring a friend to the program earns a whopping 1000 points.
Then, members can redeem their points for various things like hats and t-shirts, free shipping on products, blender bottles, and coupons for $50 off products.
Other products from RSP Nutrition include:
Aminolean Energy Formula
Regen BCAA
O Preworkout
Truefit Lean Protein Shake
Whey Protein Blend
Amino Focus Energy Formula
4.  Quadralean Thermogenic Side Effects
So we've gotten to the part of this review you're probably pretty interested in—are there side effects of Quadralean Thermogenic?
Well, p Are they going to be severe?

Probably not as long as you take it as instructed.
In short, the potential side effects of Quadralean Thermogenic include:
Anxious or jittery
Insomnia
Headaches
Rapid heartbeat
Irritability
Nausea, vomiting, upset stomach
Sweating
Flushing
Of course, all of these potential negative effects are caused by the ingredients.
Side effects from Caffeine
The primary side effects of Quadralean Thermogenic are going to relate to the fact that it contains a relatively large amount of natural caffeine.

Caffeine can affect people in different ways.
For example, this could make users feel anxious or jittery, or create problems sleeping.

Too much caffeine can also cause headaches and gastrointestinal problems for users.
The caffeine in the product is something to be aware of, and can cause irritability and the occasional rapid heartbeat. (Source)
Side Effects from L-Carnitine
L-carnitine is considered a safe ingredient, when taken appropriately.

Side effects tend to be minimal and can be similar to caffeine, like nausea, vomiting and upset stomach. (Source)
Some people could also experience heartburn or diarrhea, and theoretically, these side effects could be more significant when this supplement is used along with caffeine.
Side Effects from Choline
Choline taken at normal doses tends to be fairly safe as well.

However, when people take high doses of it, it can cause side effects like a fishy body odor, sweating, diarrhea, and vomiting.
The recommended dosage of choline for adults is no more than 550 mg per day for men, and 425 mg a day for women, so users of this supplement should just keep those guidelines in mind.
Side effects from Capsicum
At normal supplemental doses, Capsicum is probably safe.
However, at high doses, it can cause side effects like stomach irritation, sweating, and flushing.
If people take very high doses for long periods of time, it can rarely cause severe side effects like kidney or liver damage.
Like most other nutritional and dietary supplements, while it's possible to explore the individual ingredients in Quadralean Thermogenic, there's not testing to look at how these ingredients interact with one another.
It's not FDA approved, but it doesn't need to be because supplements aren't tested by the FDA.
5.  Where Can You Buy Quadralean Thermogenic?
With some of the products we review, the options for buying them is pretty limited—not the case with this one.

There are plenty of places to buy Quadralean Thermogenic.
Buying Online
One place you might go is Amazon because of course there are all those great Amazon buying perks, like Prime shipping.

You can also buy it directly through the RSP Nutrition company on Amazon, as well as find it from other retailers.
It's also available on the official RSP website, www.rspnutrition.com .

If you're using their rewards program that's probably what you'll end up doing.
If you buy from RSP Nutrition, you get free U.S. shipping on orders of $75 and up.The Quadralean Thermogenic product is also less expensive directly on the RSP site as compared to Amazon, at least currently.
A supply of 90 capsules is just under $20 on the RSP site.You can order 180 capsules for $29.97, and if you want to try it out with 30 capsules, it's only $9.99.
Buying In A Store
I've seen Quadralean Thermogenic on numerous websites like GNC and Walmart, but it's unclear as to whether or not they sell it in their physical locations.
Your best bet is to just call or visit the store individually and ask.
From what I can tell, they don't sell it in CVS, Walgreens, Rite Aid, or any other major drugstore.
Related Article:  13 BEST Diet Pills Sold In Stores
Compared to a lot of nutritional supplements and thermogenics, it's a pretty good deal.
6.  Does Quadralean Thermogenic REALLY Work?
So along with side effects, this is probably the other part of this overview you're most interested in.What are people saying about this product and its effectiveness?
We looked on Bodybuilding.com first and found plenty of reviews on the product.

The following are some highlights from those reviews:
First, the overall rating from Bodybuilding.com is positive.

Of 751 ratings, the product has a 9,4 out of 10, and a verified buyer rating of 8.8 out of 10. Not bad.
Verified buyers say that they feel like this thermogenic is one of the best there is.

They don't feel jittery or strange when taking it, and many users on Bodybuilding.com do say they recommend it.
Other buyers say they were able to achieve their fat loss goals, even after they had plateaued before using it.
Buyers on Bodybuilding.com also point out that they feel like this product gives them a good energy boost and long-lasting results without a crash.
Here's a snapshot of one of those Quadralean Thermogenic reviews: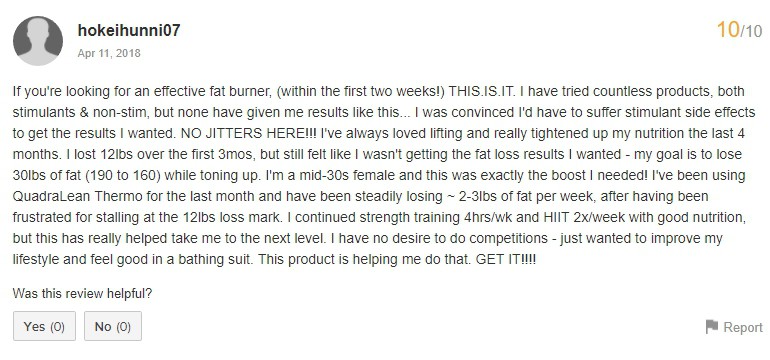 Amazon reviews for this product, for the most part, are favorable as well.
Highlights of Amazon reviews for Quadralean Thermogenic include:
Many users say it's a great product and even after using it for only a few days they see results like improved energy levels.
Along with most users saying it gives them increased energy, the reviewers who say they combine it with exercise seem to have the most weight loss results.
Users describe it as providing not only clean energy but long-lasting results.
Reasonably priced.
The fact that their are only a few negative reviews of this product on Amazon attests to it's potency.
People who rated Quadralean Thermogenic favorably FAR outweighed the ones who rated it unfavorably.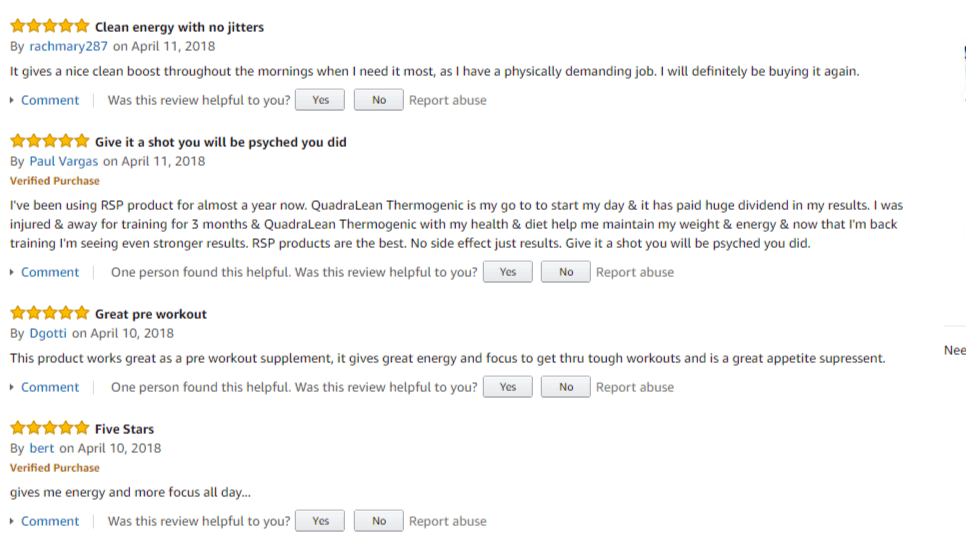 7.  Should You Try Quadralean Thermogenic?
Based on the price, the positive reviews and the ingredients, Quadralean Thermogenic may be worth trying.
In fact, we actually rated Quadralean Thermogenic as one of our best female fat burners.
Most customers across multiple retailers and outlets seem happy with it, especially if they follow instructions and make sure they're exercising and watching their diet while they take it.

Even for people who might not be bodybuilders or serious athletes, this product seems to boost energy without most of the negative side effects of similar products.
Have You Used Quadralean Thermogenic?  Leave Your Review Below!
Top 3 Fat BurnersAffiliate Disclosure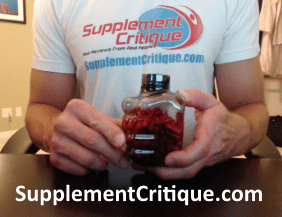 Instant Knockout is actually a new fat burning supplement I just came across, and got great results.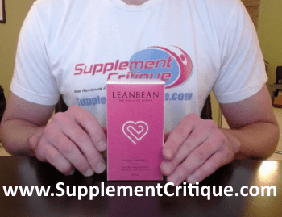 LeanBean Female Fat Burner is the BEST fat burner for women we\'ve ever tested.

Read our review here.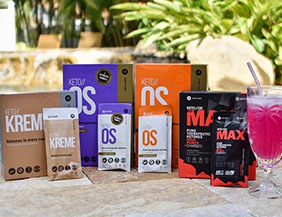 Biohacks your body into instant ketosis to burn fat instead of carbs.

Weight loss, energy, focus, anti-inflammatory, anti-aging.
Ask A Question
User Questions and Answers
No Questions Have Been Answered For This Article.