Roplex Overview
Roplex is an all natural supplement that claims to intensify male orgasms, improve prostate health, increase semen production, and lessen recovery time between orgasms.  Roplex is one of many supplements that make these claims.  Does anything make Roplex stand out from the rest?
Roplex – The Ingredients and How it Works
Roplex is manufactured by Medspan Laboratories, a company that also makes other sexual enhancement products.  There is no official website for Roplex but there is  information about the product available at several online retailers' websites.  It's explained that the name Roplex was inspired by a European slang term "the ropes".  This phrase is used to describe the number of contractions a man experiences during orgasm.  Roplex promises that you'll experience more "ropes" when you take this tablet once a day.
The formula for Roplex contains only two active ingredients: Saw Palmetto and Scandinavian flower pollen.  The exact amount of each botanical extract included in the proprietary blend is not revealed.  Saw Palmetto is often found in formulas used for prostate health and Scandanavians have long used flower pollen extracts to increase sexual pleasure.  Roplex combines the two ingredients to allegedly make the prostrate smaller and healthier so it applies less pressure and works more efficiently.  It also claims to strengthen the Vas Deferens, the tube responsible for transporting semen through the penis.
The recommended dosage is one Roplex tablet daily taken with an 8 ounce glass of water.  Results may vary, but it is recommended that you take Roplex daily for three months to see optimal results.
Roplex has no known side effects.
Where to Buy Roplex
Roplex can be found at several online retailers.  The price varies, starting as low as around $22 for a one month supply, so comparison shopping is in order.  There is a 30 day money back manufacturer's guarantee.
Roplex Pros
No known side effects
30 day guarantee
Competitive pricing
Roplex Cons
No official website
No clinical trial results
No testimonials
May take up to three months to experience optimal results
Our Conclusions
Roplexis not the first product to be named after "the ropes".  All men want to experience the best orgasms possibles, as many ropes as possible.  Will Roplex help you accomplish that?  Without more information available, without clinical trials or customer testimonials, it's difficult to answer that question.  The active ingredients in Roplex are natural and safe.Saw Palmetto is recognized as beneficial for prostrate health and if the prostrate is healthier, your sex life is better.  Although we would like to see more pertinent information provided from the manufacture, the price is reasonable and there is a money back guarantee.  If your main goal is to improve the quality of orgasms, and you're not seeking a supplement that claims to overcome erectile dysfunction, Roplex could be worth a try.
Have You Tried Roplex?

Leave Your Review Below!
Our #1 Choice For Male Enhancement – Vigrx Plus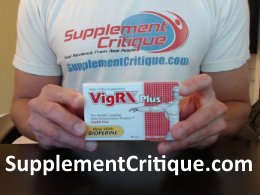 We have personally tested over 100 different male enhancement supplements, and Vigrx Plus stands out as the most effective in terms of results and customer reviews.  Not only is Vigrx Plus designed to help boost overall stamina and libido, but it's also the only product in its category to be clinically studied and PROVEN to work.
Click Here to read more about my specific results with Vigrx Plus
Want To REALLY Get Bigger?

Click Here To See Products That WORK!
Ask A Question
User Questions and Answers
No Questions Have Been Answered For This Article.