Sync Testosterone Review – Should You Use It?
By:
Rob Miller
Fact Checked On: 12-24-2014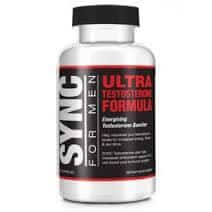 Sync Testosterone Overview
Without question, testosterone is necessary if you want a strong, lean, healthy body, and a libido to match.

It's simply a given. But how to get your levels up is a little more tricky.

There's hormone replacement therapy, with needles, creams, and gels, but that requires a prescription, and truthfully most guys don't need that much intervention.

For the rest of us, there are natural testosterone boosting supplements.

They use herbs and other natural ingredients to stimulate your body to increase the amount of testosterone it produces.

Now, even in this category, there are tons and tons of choices, so we take them one by one, break them down, and let you know whether or not they're worth your time and money.
Sync Testosterone is a relatively new contender, and it seems to be coming on strong with its promises of maximum lean muscle mass, increased energy, renewed confidence, boosted libido, and enhanced performance in the gym and in the bedroom.

That's all well and good, but the next thing we need to do is take a look at the formula to determine if these promises are even a possibility.
Sync Testosterone Ingredients and How They Work
The Sync Testosterone website provides a list of ingredients and includes a brief description of how each of them helps increase testosterone and improve your performance.

There's:
Tribulus Terrestris which signals for a release of an increased amount of luteinizing hormone from the pituitary gland.

The LH then signals the testes to produce and release more testosterone.
D Aspartic Acid has been clinically shown to increase testosterone levels.
Fenugreek contains antioxidant components to protect the health of cells, increasing energy, strength, and vitality.
Ginseng Extract which increases libido and testosterone levels.

It also helps the conversion of l-arginine to nitric oxide which helps you work out harder without getting fatigued.
Zinc which is a vital component in the testosterone production process.

It also has a role to play in sperm health.
B Vitamins which help burn fat and glucose for energy.

They also sharpen the mind so you're more focused and motivated for your workouts.
Vitamin D which may increase free testosterone levels, and prevent the conversion of testosterone to estrogen.
Selenium which is an antioxidant that the NIH (National Institutes of Health) believes my increase testosterone levels.
You are instructed to take 4 Sync Testosteronecapsules per day spread evenly throughout.
Sync Testosterone Pros and Cons
Advantages of Sync Testosterone
The ingredients are all natural.
There's a money back guarantee.
The website is informative.
Disadvantages of Sync Testosterone
Since it's so new, there really aren't any independent Sync Testosterone reviews to help us decide how good it is.
Where to Buy
You can purchase Sync Testosterone through the official website.

The single bottle good for a one month supply costs $57.45, and you'll get discounts if you buy more than one bottle at a time.There's also a 60 day money back guarantee so you can return it for a refund if you're not satisfied.
Conclusion
Sync Testosterone seems like it might be on to something, but without customer feedback, it's a bit tough to tell.

Given the reasonable price and the money back guarantee, I'd say it's definitely worth giving a shot.
Have You Used Sync Testosterone?

Leave Your Review Below!
Top 3 Testosterone BoostersAffiliate Disclosure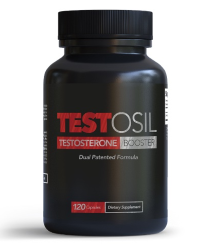 Testosil is the most effective testosterone boosting supplement on the market that I've tested.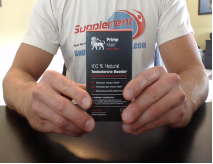 Prime Male is another very effective testosterone booster that uses clinically proven ingredients.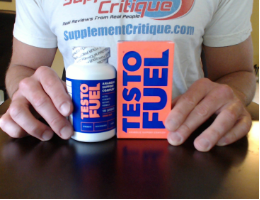 Testofuel is a VERY popular testosterone booster that contains ingredients to help older men.
Check Out My Top Choice For T Boosters - Testofuel

Click Here To Read My Review
Ask A Question
User Questions and Answers
No Questions Have Been Answered For This Article.