Troxyphen Video Review
Rob Miller | May 29, 2018
---
Product Reviewed:
Troxyphen Video
|
OUT OF 5 | Review by:
Rob Miller
|
---
REVIEWS
QUESTIONS
COMMENTS
---
Home » Testosterone Boosters » Troxyphen Video Review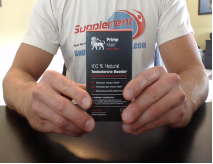 Prime Male is a VERY close 2nd to Testofuel, but contains ingredients to help older men.
Thinking about trying Troxyphen? I've personally tested it.

Watch my video and learn more about the ingredients, side effects, where to buy, my results, and more.


If you would like to read my written Troxyphen review, click here.


Video Transcription
Hey guys.

Rob here again with supplementcritique.com.

And in today's review gonna be talking about Troxyphen. This is an all-natural testosterone booster, which also reportedly acts as a fat burner.

I'm gonna talk a little bit about what the product is, what it does, the ingredients, side effects, all that stuff.

But if you want to skip ahead to my results, just click on the link at the bottom of this video here, and it'll take you to my website supplement critique.com where I talk a little bit more about my particular results. So anyway, this is all-natural product.

they got it at a GNC for about $52, based on the recommendations on one of their reps.It's made by a company called true derma, who makes a bunch of other different types of supplements in the health and wellness niche.

It contains a number of different ingredients, all of which are found on a lot of the other competing brands that are out there.

The main one is Troxyphen, which is basically fenugreek extract, as well as saw palmetto, tribulus terrestris, and a large 9. That is basically the testosterone boosting part of it.

There's also the thermogenic shred blend, which is basically a fat-burning blend, and that contains caffeine, and Yohimbe.

Now, obviously everybody knows what caffeine is, but yohimbe is an ingredient or substance that's used in a lot of different fat-burning products.

And it's one ingredient that I'm not so keen on, it produces a lot of bad side effects like fever, like symptoms nausea, stomach discomfort, and headaches.

So it's definitely something that you want to test out on your own, and at the very very smallest dosage to make sure that you don't have a bad reaction to it.

There's actually some guys out there that get huge results from it, but on the flip side they'll also get really sick from it.

And especially if you have high blood pressure, it's definitely not recommended to take anything that contains yohimbe.

As far as my personal results with it, I thought it were great.

It definitely boosted my energy, definitely gave me more energy for my workout.

I was lifting heavier lifting longer, my workouts increased from probably about 45 minutes to about an hour 15 minutes.

And when I got done it experience any kind of crash right.

But again like I said before, contains a Hindi, so I definitely felt some of the side effects from that, although they were pretty minimal because I think it only contains about three milligrams of the substance.

Anyway, so that's all I pretty much have for Troxyphen. I definitely think it's a decent supplement, especially for the price.

There's a lot of alternatives out there, and if you're looking for something that's stimulant free, I definitely would not recommend it.

But if that doesn't matter to you at all, then you know, I say by all means give it a go.

If you have any questions about this particular product or any of the products that review, you could always leave them in the comment section below here or shoot me an email to info@supplementcritique.com, and I'll try to get back to you soon as I can.

And I'll be back with another review soon.


Our #1 Choice for Building Testosterone – Testofuel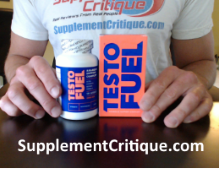 Low Testosterone levels affect close to 50 million American men, and are responsible for weight gain, energy loss, and erectile dysfunction issues.

Testofuel uses a specialized combination of all natural herbs and extracts to help give you a powerful boost in muscle mass and energy.


I recently had a chance to personally test out Testofuel for a period of 3 months, and have written up my full review and results.


Ask A Question
User Questions and Answers
No Questions Have Been Answered For This Article.