Troxyphen Review – Should You Use It?
By:
Rob Miller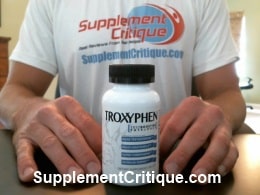 Contents
Troxyphen Overview
Troxyphen Ingredients and How They Work
My Personal Results With Troxyphen
What Other Troxyphen Reviews Are Saying
Troxyphen Pros and Cons
Where to Buy
Conclusion
Troxyphen Overview
Update! I finally got a chance to personally test out Troxyphen, Click Here to see my official review and results.
Is it a testosterone builder or is it a weight loss pill for men? Well when it comes to Troxyphen, the answer is both. TruDERMA, the makers of Troxyphen, have put together this combination because for a lot of men, low testosterone is the reason for their weight gain and/or their difficulty taking the weight off. It is true that lower testosterone levels lead to less muscle mass and more fat deposits, so Troxyphen may be on to something. And it doesn't stop there. Troxyphen also includes a thermogenic (fat burning) component to round out the formula as a total weight loss supplement.
The promise of Troxyphen is that when you take it, you'll raise your testosterone levels, gain muscle, lose fat, and increase your energy levels and stamina. So the next step is to see what goes into Troxyphen and determine whether or not it's likely to be effective.
Troxyphen Ingredients and How They Work
The Troxyphen formula is divided into two blends.
The Testosterone Boosting Blend is a total of 500 mg and contains:
Testofen which is a derivative of the fenugreek. It's been clinically shown to increase testosterone levels.
L-Arginine helps the body make creatine which provides energy to your muscles.
Tribulus Terrestris raises testosterone levels through the pathway of increased luteinizing hormone.
Potency Wood Extract is an aphrodisiac.
Saw Palmetto supports prostate and overall sexual health.
Muira Puama Leaf Extract is also an aphrodisiac.
DHEA is a precursor to testosterone.
The Thermogenic Shred Blend is a total of 223 mg and contains:
Caffeine which increases energy and thermogenic burn.
Synephrine Caprylate (aka Bitter Orange) is a stimulant and appetite suppressant that became popular as a substitute when ephedra was taken off the market.
Yohimbe HCL which blocks alpha 2 receptors and keeps them from storing fat.
The recommended dose is 1 Troxyphen capsule in the morning and 1 in the afternoon. It is not advised that you take Troxyphen within 4 hours of bedtime, as it is likely to interfere with a good night's sleep.

My Personal Results With Troxyphen
I got a chance to personally test out Troxyphen recently, and wanted to share my results here. I bought a one month supply of it, and began taking it exactly as the label described which was one capsule in the morning and one capsule in the afternoon with a class of water. They also noted to avoid taking it 4 hours before bedtime, and I can see why…I was awake staring at the ceiling for hours after attempting to go to bed!
I realized why after reading the label. Troxyphen contains 150 mg of caffeine (about the equivalent of a large cup of coffee) and 3 mg of Yohimbe, a powerful stimulant that has aphrodisiac qualities. I have to say my libido went through the roof, but not without a price. Because it contains yohimbe, I started feeling the side effects almost immediately. Some of the side effects included nausea and fever like symptoms, all of which took hours to go away.
There are several more side effects that are known to come along with yohimbe, some of which are quite dangerous and have caused it to have a somewhat bad reputation in the supplement community as of late despite its potential for good results.
I continued taking it over the course of the next few weeks and those side effects did seem to lessen as time went on. However, I didn't feel any lasting power or energy from taking the supplement, at least nothing dramatic. I didn't lose any weight or gain muscle as is suggested by the manufacturer, but my libido definitely saw an increase.
I also used a home testosterone test kit before and after taking it, and there was no significant difference in overall testosterone levels, although I don't really think its flat out intended to do so.
My Video Review of Troxyphen
[youtube https://www.youtube.com/watch?v=8Yl25vchanc]
What Other Troxyphen Reviews Are Saying
Looking at various Troxyphen reviews show that it could be a legitimate supplement that helps you burn fat and boost testosterone, although it hasn't gotten much of a buzz on the internet yet.

Almost every time a new obesity fighting supplement hits the market, there is always something that someone has to say.

Health experts come out to either approve or disprove the claims associated with whatever product in question, dieters join in on forum discussions to give their personal accounts and opinions on what they have experienced and so forth.
One poster claims that her husband has been using Troxyphen for several weeks and is having a great experience.

Additionally, the ingredients in this supplement appear to have some solid evidence of boosting testosterone as well as boosting energy levels.

Testofen is a derivative of fenugreek, as mentioned above.

Fenugreek has some very positive reviews on Webmd.com, and unlike many other supplement ingredients, many of the results that are talked about directly relate to higher energy, more testosterone and even better physical performance.
This is perhaps why Troxyphen seems to be gaining some traction when it comes to popularity, a considerable amount of reviews are positive.

That is not to say that there aren't negative reviews and there are dangers with this supplement like any other.
In a recent post The Electronic Retailing Self-Regulation Program (ERSP) stated that various claims about Troxyphen should not be advertised and cannot be substantiated.

This is not all that surprising since these regulatory agencies go after many different companies and try to impose their will.

However, it is another reminder that you have to be careful what you believe to be true and not everything you read is 100% fact.
A lot of times, taking a closer look for yourself and seeing beyond the veneer that any given company puts up will show you that your time and money may be better spent on another supplement.
Troxyphen Pros and Cons
Advantages of Troxyphen
It's dual focus on testosterone and thermogenics could be an effective weight loss aid.
There is a money back guarantee.
The full ingredient list is available.
Disadvantages of Troxyphen
The amount of caffeine along with the presence of synephrine and yohimbe might be problematic.
The safety of synephrine has been called into question, and the FDA has recommended against using yohimbe because of its potential to cause dangerous side effects such as racing heart and drastic blood pressure changes.
Where to Buy
You can purchase Troxyphen from GNC or through the truDERMA website. The 60 count bottle (a one month supply) sells for $59.99 at both places. The truDERMA site offers a money back guarantee, but the details of how it works and how long it's good for are not revealed.
Conclusion
Troxyphen looks like it may very well be effective when it comes to weight loss, but we think that may have more to do with the stimulants than the testosterone boosting effect. And that brings us to our main concern, which is safety. With Yohimbe, Synephrine, and a whole bunch of caffeine, we think it's very likely that Troxyphen will make a lot of guys feel uncomfortably jittery. And without customer reviews to look at, we'd say leave this one on the shelf until we've got more definitive information about potential side effects and reactions.
Have You Used Troxyphen? Leave Your Review Below!
Top 3 Testosterone BoostersAffiliate Disclosure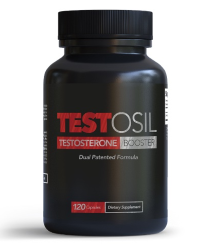 Testosil is the most effective testosterone boosting supplement on the market that I've tested.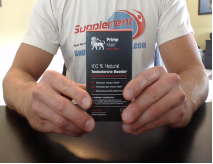 Prime Male is another very effective testosterone booster that uses clinically proven ingredients.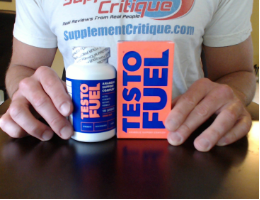 Testofuel is a VERY popular testosterone booster that contains ingredients to help older men.
User Reviews

3.8 out of 5 Stars (13 Reviews)
Have you used this supplement?
Great
This is probably one of the best supplements I have ever taken, especially since I usually only take a pre-workout and protein. No jitters, plenty of energy, and saw an increase in intensity the very next day. I will say this to everyone who gets jitters for this. DO NOT DRINK COFFEE OR ANYTHING WITH CAFFEINE. Rule 1 of taking a weight-loss or energy supplement is to not take any additional caffeine. It will raise your heart rate, blood pressure, and give jitters. You will not need coffee anyways after taken this. Great product.

Was this review helpful to you?
7 out of 8 people found this review helpful.
---
By
thomas klopf

,
Jul 14, 2013
this product is very good no jitters at all i thought it would too but it works well been taking it for about a week

Was this review helpful to you?
3 out of 3 people found this review helpful.
---
This product is not for me. I took Troxyphen as prescribed and it raised my blood pressure from 130/80 to 169/91. I felt very bad and stopped taking it immediately. I had lots of water while taking the product so it was not dehydration. I advise anyone who wants to buy think twice before purchasing.

Was this review helpful to you?
3 out of 4 people found this review helpful.
---
By
Tom Kresnicka

,
Aug 12, 2013
I have tried Troxyphen a number of times and always became very jittery (to the point of nausea). I have taken many weight-loss supplements in the past with mixed results, but feel that I'll have to stay away from this one.

Was this review helpful to you?
3 out of 4 people found this review helpful.
---
By
Oscar Chattman Jr

,
Aug 8, 2013
This is probably the best weight loss/diet pill i've ever taken! When i first started taking the pill(as directed), i noticed a nice spike in my energy level. After 2 days, i noticed i was no longer as tired as i once was(having to take an afternoon nap everyday) and i could get through a whole graveyard shift at my job without being sleepy or tired. After 2 weeks of use, i noticed my stomach area shrunk about 3 inches. No jitters either, but i don't drink a lot of caffeine-rich beverages anyway(trust me, you don't want to if you take this pill regularly!). The only drawback i have with it is the price. It's a bit expensive($60.00 for a one month supply), but it is well worth it if you want to lose a few pounds and not kill yourself working out to do so.

Was this review helpful to you?
2 out of 2 people found this review helpful.
---
Check Out My Top Choice For T Boosters - Testofuel

Click Here To Read My Review
Ask A Question
User Questions and Answers
---

Does this work -Rob

In my experience, it does not.  And it comes with a few side effects as a result of the combination of stimulants.  You'd be better off with a stack of Instant Knockout as a fat burner with Testofuel as a testosterone booster.- Rob
Was this question helpful to you?
4 out of 4 people found this question helpful.
ASK A NEW QUESTION
---

Can you buy this in Walgreens, Walmart, etc.? -Mark

I don't believe so. The only "brick and mortar" store where it's available that I know of is GNC.- Rob
Was this question helpful to you?
3 out of 3 people found this question helpful.
ASK A NEW QUESTION
---

what about alcohol , is beer and/or wine ok in moderation or should i abstain while taking troxyphen? -mike prendergast

There are no warnings against it, so moderation is likely okay.  Just remember alcohol is a lot of empty calories.- Rob
Was this question helpful to you?
3 out of 4 people found this question helpful.
ASK A NEW QUESTION