Viagrow Overview
Viagrow is a male enhancement products that claims to work like many of the prescription products on the market.  It makes the claim that it is the only herbal pill that can completely correct erectile dysfunction.  How much truth is in their claim?  Lets take a look at a the product, and see how it measures up.  When you go to their site, you will find that they list a lot of their benefits, but they do not really have any sort of clinical studies to back up that claim.  However, there are many different testimonies of customers that have tried the product and been satisfied with it.
How Viagrow Works and Ingredients
Viagrowhas a few key ingredients.  One of the main ingredients is yohimbe bark, which is found on an African tree.  It has long since been used as an aphrodisiac, but it can really have some pretty intense side effects as it is listed by the FDA as being potentially unsafe.  Some people have experienced heart palpitations, high blood pressure and dizziness along with this particular ingredient.  Other ingreidnets include epimedium, ashwagandha root, maca and several other key ingredients that are found in many other male enhancement products.  The thing is, while this product may be effective in increasing libido, it is really not possible to say that it effectively cures ED, as this is something that only prescription medication has been able to overcome completely.
Pro's and Con's
Viagrow has a variety of different pros and cons.  Make sure that you are very well informed so that you can make the right decision on whether or not this is the right product for you.
Advantages of this product:
Offers a free sample
Money back guarantee – only for unopened bottles
Good testimonials
Disadvantages of this product:
Lack of audio and video testimonials
Potentially unsafe ingredients
Much more expensive than some of the other formulas on the market
Where to Buy Viagrow
If you want to buy Viagrow, then you will likely want to turn to their site.  They have several different packages for you to choose from.  You can get a single bottle, or you can get a complete six month supply.   They also offer you the opportunity to try a free sample.  If you purchase just one bottle, you will pay around $60.  However, if you buy a six month supply, you will pay $300- which allows you to save $60 off of the retail price of the product.  The key to the money back guarantee is to not open the bottles.  Any opened bottles may not be returned.  Be sure to keep this in mind when purchasing Viagrow.
Conclusion
I cannot give the go ahead for Viagrow, for one main reason- the ingredients that are included are not all considered safe for consumption.  Including the yohimbe bark makes it have a potential for danger, and that is definitely not something that you want to toy around with.  Instead, look for many other great herbs that are safe and effective that can be found in a variety of other male enhancement products.  You are sure to find that there is something out there that will give you the results that you desire.
Have you tried Viagrow?  Leave your review below!
Our #1 Choice For Male Enhancement – Vigrx Plus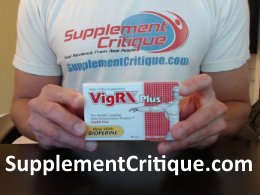 We have personally tested over 100 different male enhancement supplements, and Vigrx Plus stands out as the most effective in terms of results and customer reviews.  Not only is Vigrx Plus designed to help boost overall stamina and libido, but it's also the only product in its category to be clinically studied and PROVEN to work.
Click Here to read more about my specific results with Vigrx Plus
How People Found This Review:
and viagrow pro
User Reviews
ViaGrow
By
Desmond Muir
Apr 28, 2015
I suggest anyone contemplating purchase of this product to be cautious as in my opinion it is absolutely useless and simply does not work in anyway whatsoever.

Was this review helpful to you?

---
Want To REALLY Get Bigger?

Click Here To See Products That WORK!
Ask A Question
User Questions and Answers
No Questions Have Been Answered For This Article.