If you're looking for a supplement to help you with your weight loss efforts, you've probably very quickly found out that there are literally hundreds to choose from. Some work. Some are junk. But how can you know?

Are you supposed to try each and every one of them until you find one you like?

Well, seeing that that would be impossible, it's a good thing you're here.

We take each supplement, one by one, and break it down as simply as possible, so you know you're making the best possible choice you can.
Since there are so many choices, a successful weight loss product will come out with a hook, a unique angle that sets it apart from the others.

For Vintage Burn, that hook is the concept that this is the first muscle preserving fat burner on the market.

Since we all want muscle and we know that muscle burns more calories than fat – leading you to burn more fat – this is a great thing if it's true.

So we took a look at the promises, the formula, the customer feedback, and the price of Vintage Burn, all to come to the best conclusion about whether or not you should go with this one or move along with your search.
Vintage Burn Benefits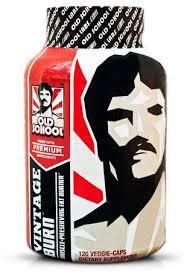 Like all fat burners, the main goal of Vintage Burn is to help you lose weight.

But this product gets a little more precise by promising not only that you'll lose pounds, but these pounds will be comprised mainly of fat, not muscle.

Most of the time, when you go on a diet, you lose fat, yes, but you also lose muscle at the same rate, making it harder to lose all the weight you set out to lose.

It's a vicious cycle that works against you.

Muscle burns 3 times as many calories as fat, so when you start losing muscle, you also decrease your fat burning capacity, leading to slower and even stalled weight loss.
Vintage Burnchanges that by focusing on three main goals:
Fat Burning
Muscle Preservation
Improved Focus and Mood
The purpose of fat burning is obvious, the purpose of muscle preservation is so that you can continue losing weight all the way to your goal, and the purpose of improving your focus and mood is to keep you motivated to stick with your new healthier lifestyle.
So far so good, right?

These sound like 3 simple and to the point benefits that will get you where you're going.

But up to this point, they're just words.

In order to know if Vintage Burn has any shot of delivering, we need to take a look at the formula.
Vintage Burn Ingredients
Unlike a lot of supplements, The Vintage Burn product webpage offers complete ingredient information for the components in its formula, which pretty comprehensively covers all the bases.
There's:
Green Tea Leaf Extract which provides two benefits – antioxidants for better overall health of your cells, and increased metabolism through the activation of fat mobilization.
Green Coffee Bean Extract which boosts your mood and focus while prompting your body to use fat and preserve the protein needed for lean muscle development and maintenance.
Raspberry Ketones which help suppress your appetite and increase your energy, both crucial benefits if your efforts are going to pay off.
Olive Leaf Extract which boosts metabolism through the mechanism of activating thyroid hormone, and also helps with post workout recovery.
Caffeine which is well known to boost mood, metabolism, motivation, and energy.
Bacopa Leaf Extract which boosts mood, keeps you focuses and motivated, and also blocks the slowdown of your metabolism as you lose weight.
Garcinia Fruit Extract which works to prevent the build up of fat storage by preventing the formation of new fat cells.

It also helps curb carbohydrate cravings.
Chrysin which regulates your body's estrogen levels, leading to increased preservation of lean muscle, which then leads to a higher resting metabolic rate.
Forskohlii Root Extract which encourages the breakdown of stored fats while leaving muscle intact.
How to Use Vintage Burn
When you first start using Vintage Burn, you'll want to assess your tolerance to the stimulant ingredients (ie caffeine) by taking just one capsule before each of your first two meals of the day. Follow this protocol for three days.

If all goes well, up your dose to two capsules twice a day with your first 2 meals.

At full strength, you can take two capsules three times a day with three meals, but be careful not to take it within 4 or 5 hours of when you plan to go to bed, or you may have trouble falling to sleep.
Vintage Burn Reviews
Vintage Burn is sold on Amazon, which is always a good thing when you want customer feedback.

In this case, it's overwhelmingly 4 and 5 star reviews.

Here are some of the things we've seen customers express about Vintage Burn:
Zahi says: "The fat burning is continuing and I've managed to put on some lean mucle mass."
And Melissa says: "Great stuff I use it twice a day before big meals and you can notice a big difference on your appetite.

I love that it doesn't get me jittery like other supplements and I'm always full after my meals.

Actually I dont snack like I use to I'm fulfilled with my usual meals..

I can notice a big difference on my body and most of all my midsection it's my most difficult to lose since I had children. Thanks to this product!!!

Overall I'm toning and not losing muscle.. So happy!!!

Also they have great customer service!!!

I'm going to keep using this product throughout my weight loss journey!!!

Can't wait to see my end results!!!"
Who Makes Vintage Burn?
Vintage Burn is made by Old School Labs, a California company that promises to be different than the rest.

The bottles are retro cool with an image of a circa 1970s macho man with a mustache, and their tag line is "Supplements That Make Sense".

Their product line is still pretty small which supports their notion of making products that aren't cheaply mass produced.

And they talk a lot about using premium quality, all natural ingredients, picked at the peak of their season for maximum effect.
They don't have a presence with the Better Business Bureau, but when we looked around to see if there are frequent and/or outstanding complaints about Old School Labs, we didn't find any, which is definitely a good sign.
Where to Buy
You can purchase Vintage Burn through Amazon.com.

The 120 count bottle will last for 20 days if you use it at the highest recommended dose of 6 pills per day, longer if you use less.

The cost at this time is $49.99. Even though you buy through Amazon, you're covered by a 100% money back guarantee from Old School Labs.Simply contact them and let them know you aren't satisfied, and they'll return your money.

If it's the first time you've used the guarantee, they won't require you to return the used or empty bottle.
Vintage Burn Pros and Cons
Advantages of Vintage Burn
The ingredients are all natural.
There's a focus on muscle preservation.
Old School Labs is responsive to customer needs and concerns, and they provide a money back guarantee.
Most of the reviews are very positive.
Disadvantages of Vintage Burn
The formula looks good, but they don't knock it out of the park, and it may not serve its primary stated function, which is muscle preservation.
Conclusion
A good fat burner is hard to find, and it's even harder to put your trust into products and companies as you go through the process of choosing your best option. Vintage Burn has a good chance of working to help you lose weight, and the solid money back guarantee makes it an easy choice to go ahead and try it.
Have You Used Vintage Burn?

Leave Your Review Below!
Our Top Choice For Fat Burners – Instant Knockout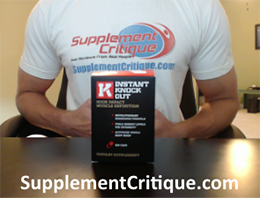 Instant Knockout is a revolutionary formula that's designed to not only boost energy levels, but also help to burn body fat.

This supplement can easily help to not only rid your body of that excess fat, but also boost your metabolism.
We tested a one month supply to determine it's effectiveness, and the results shocked us.
Click here to learn more in our official review.

Ask A Question
User Questions and Answers
No Questions Have Been Answered For This Article.