Viri'Boost Review – All Hype and No Heft?
Rob Miller | April 23, 2013
---
Product Reviewed:
Viri'Boost
|
OUT OF 5 | Review by:
Rob Miller
|
---
REVIEWS
QUESTIONS
COMMENTS
---
Home » Male Enhancement » Viri'Boost Review – All Hype and No Heft?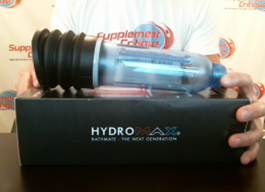 The Bathmate is a proven water-based vacuum pump that can help dramatically increase your size.
Viri'Boost Overview
Viri'Boost is a male enhancement product based on the power of Maca, which it calls "Natural Peruvian Viagra".

Made by Viarex Labs, Viri'Boost promises that every man can get a phenomenal erection.

After just one dose you'll have:
Increased desire leading to immediate erections.


Harder, stiffer, longer lasting erections.


Control over when you ejaculate.
Intense and multiple orgasms.


Up to 3.5 inches in increased length and girth.
More penile sensitivity.


The only thing it doesn't do is make you breakfast afterwards.


Viri'Boost Ingredients and How They Work
The Viri'Boostwebsite is the most graphic we've seen, and we've seen a lot of male enhancement product websites.

The vulgarity detracts from the professionalism for sure, but the necessary information is pretty much all there if you look for it.


The main active ingredients are:
Peruvian Maca, Wild Yam, Dry Oats, Red Ginseng, Licorice, Eleutherococcus, and Ptychopetalum Olacoides.


The website makes wild and odd claims about what these ingredients do.

Suffice it to say that these ingredients can have some positive effects on libido, testosterone levels, and energy.

Beyond that, we think that what they are claiming is a bit of a stretch.


Viri'Boostis a fast acting supplement.

You don't need to take it every day.

Just take it as little as 15 minutes before you expect to be intimate.

They don't specify how much to take.


Viri'Boost Pros and Cons
Looking for both the good and the bad helps us make balanced, well-thought out decisions.


Advantages of Viri'Boost
It is all natural.


Viri'Boost is doctor recommended.


There are bulk order discounts.


Disadvantages of Viri'Boost
The website is extremely graphic and quite unprofessional.


There is no information on the recommended dose.


There is no mention of a money-back guarantee.


It does not contain any ingredients designed to increase blood flow to the penis.


While there are testimonials on the website, we could not find any independent Viri'Boost reviews.


Where to Buy
You can buy Viri'Boost from its website.

A 30 count bottle costs $34.95.  Discounts can be had for purchasing more than one bottle at a time.If you buy 4 bottles, you'll pay $27.50 per bottle, and you'll receive a couple of free gifts.Again, there does not seem to be a money-back guarantee so I would caution against buying multiples until you know whether or not it works for you.


Conclusion
As a Viagra alternative, we would not recommend Viri'Boost.

The website it so hyped and exaggerated, not to mention practically pornographic.

And the ingredients just aren't there to back up the claims.

It would seem that this company has put its money and effort into trying to titillate you with their ads instead of creating and marketing an effective product.

Even in the male enhancement supplement market, there are some reputable companies who offer good solid products.
Have You Used Viri'Boost? Leave Your Review Below!


Our #1 Choice For Male Enhancement – Vigrx Plus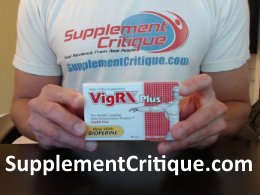 We have personally tested over 100 different male enhancement supplements, and Vigrx Plus stands out as the most effective in terms of results and customer reviews.

Not only is Vigrx Plus designed to help boost overall stamina and libido, but it's also the only product in its category to be clinically studied and PROVEN to work.


Click Here to read more about my specific results with Vigrx Plus
How People Found This Review:
and viriboost, and viri boost, and viriboost reviews, and viri boost reviews
Want To REALLY Get Bigger?

Click Here To See Products That WORK!
Ask A Question
User Questions and Answers
---
Tryed viri boost once do I still have account to buy more? -Jerry
You'll have to contact the company you ordered from to place another order. SupplementCritique.com is a review website.- Rob
Was this question helpful to you?

ASK A NEW QUESTION
---
Where can i buy the pills? -siegfried
They're available to purchase through the official Viri'Boost website.- Rob
Was this question helpful to you?

ASK A NEW QUESTION
---